GIRLS: Gurrola has 38 in Matador win
Updated: January 13, 2019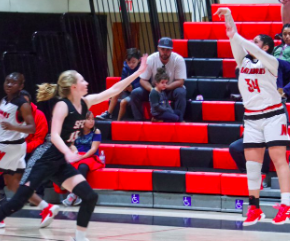 LALLI GURROLA puts up a shot against Santa Fe Christian on Saturday. / SD County Hoops Report photo
2019 EAST COUNTY PREP GIRLS BASKETBALL
EastCountySports.com staff report
SPRING VALLEY – Mount Miguel senior LALLI GURROLA was on fire on Saturday, making eight three-pointers in the first half on the way to a career-high 38 points as the third-ranked Matadors crushed visiting Santa Fe Christian, 67-20, in a non-league contest.
Gurrola tacked on four more treys in the second half, setting a school record in the process (12).
"It is such a blessing and a huge accomplishment for me," Gurrola said. "I've been working on my shot with my assistant coach JERICA WILLIAMS and she gave me lots of important tips to help me improve my shot.
"Scoring 38 points is an amazing feeling. Winning the game is just the cherry on top.
"It's my senior year and I got to leave a mark. I'm definitely enjoying tonight's win and accomplishments. After that, gotta get back to the gym and focus on Tuesday's game against West Hills."
The Matadors improved to 16-4.
EL CAPITAN 47, MONTGOMERY 38 – The Lady Vaqueros got off to a slow start, trailing 11-8 after one, but turned up the heat over the second and third quarters, outscoring the visiting Aztecs, 27-11, to assume control on the non-league contest on the road.
Sophomore MACKENZIE CURTIS, who was recently named WBCA National Player of the week for region 8 for the second time this season, poured home 31 points to lead El Capitan.
Curtis scored 18 points in the first half.
POWAY 65, FOOTHILLS CHRISTIAN 47 – The Knights took on a tough challenger in the eighth-ranked Poway Titans in a game played at Mount Miguel High on Saturday.
Knights junior ELLIE TURK scored 26 points, including seven three-point field goals. She also had eight rebounds, five steals, four blocked shots and four assists.
Sophomore ARANTXA FONSECA added 10 points and five rebounds for FCHS (14-6).