Pats get not-so-close look at Boogie, Bucs
Updated: January 16, 2019
KOBE SANDERS isn't distracted during his three-point attempt over Boogie Ellis on Tuesday. / photo by Dave Dickens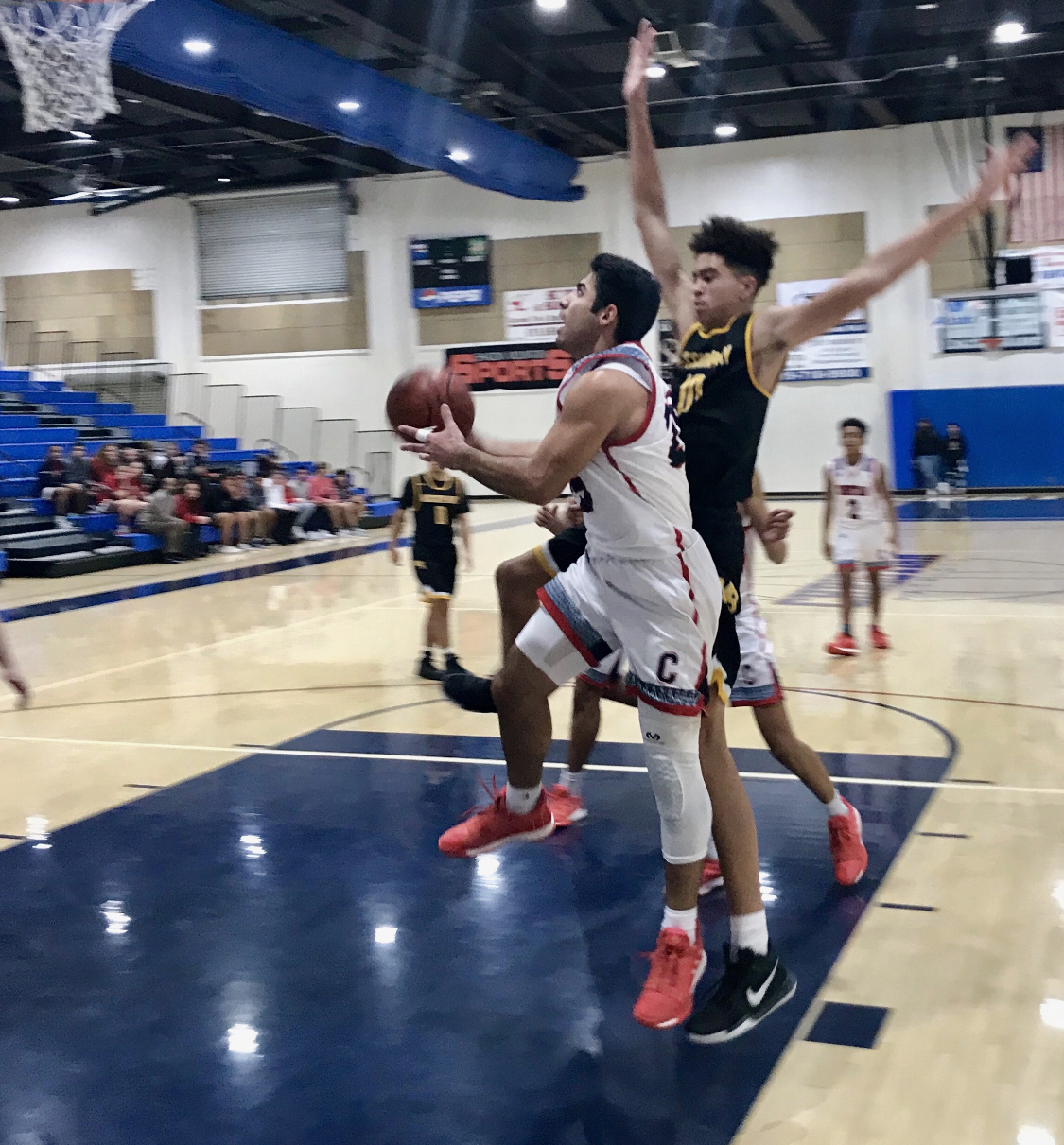 2019 EAST COUNTY PREP BOYS BASKETBALL
MISSION BAY 97, CHRISTIAN 69
EastCountySports.com staff report
EL CAJON – The Christian High Patriots and their fans got an up-close look at Mission Bay senior guard Boogie Ellis, and while the Duke commit was spectacular, the faithful at Ryan Athletic Center couldn't have liked what the saw as a final result.
The third-ranked Bucs came in and nearly put up a hundred on the Pats, taking a 97-69 Western League decision on Tuesday night.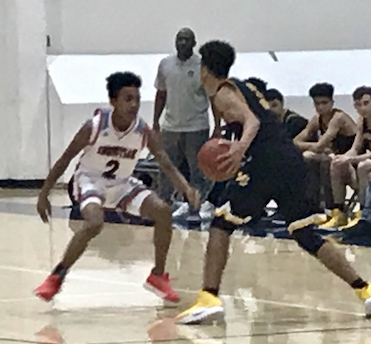 The Patriots continue to battle the injury bug, which didn't help the proceedings.
Ellis scored 33 points, grabbed nine rebounds and had eight assists during his tour stop in El Cajon.
Perhaps more impressive, however, was the 22 points and amazing 26 rebounds by Mission Bay's Ronnie Latting. Jay Norton added 25 points for the Bucs.
While the game registered as a blowout, Christian High was seemingly in the game after a blistering second quarter.
After trailing, 22-10, after one period, the Patriots scored 25 points in the second quarter and headed to the locker room down, 46-35.
Patriot senior KOBE SANDERS had the hottest hand, knocking down four three-pointers in the second quarter.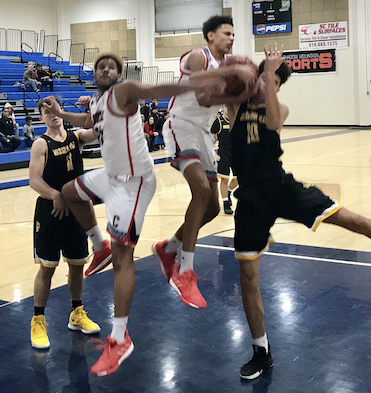 Christian High had seven treys in the period, as VINNY SIGNORELLI, JACKSON LARSEN, and DESEAN LYNCH all found the net from downtown.
Sanders led the Patriots with 25 points, including two more three-pointers in the second half to finish with six three-balls on the night.
Signorelli, a freshman, had a trio of three-pointers in the contest.
Larsen finished with 17 points for the Christian High (9-11, 3-3), which entered the game ahead of Mission Bay (10-8, 2-1) in the Western League standings.
Junior MILES WILLIAMS and senior JAVIER JIMENEZ both added a three-pointer to the Christian tally of 13 field goals from beyond the arc.
The Buccaneers didn't necessarily let up, even when ahead by 30 in the final minute.
The crowd got a kick, however, when Ellis picked up a loose ball following a steal but missed a show-boat slam, shorting his partial windmill attempt on the front rim.
"We just weren't ready to compete on defense," Christian High head coach DAVION FAMBER said. "We are still learning how to play hard all the time. Not just when we are in offense.
Famber said 6-foot-9 junior PAT ROBERTS has been cleared to play and expects him to return in the next day or two
"We have had so many injuries to start the season and have been needing guys to step up but that hasn't happened," Famber said. "We will get better."
The Patriots will host the Serra Conquistadors at the RAC on Thursday at 7:30 p.m. in a Western League contest.