ROUNDUP: Sultans, Matadors, Knights win
Updated: January 16, 2019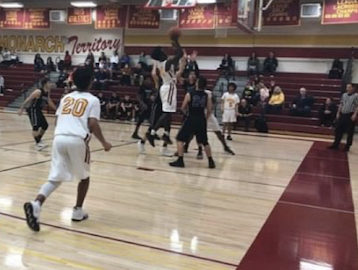 2019 EAST COUNTY PREP BOYS BASKETBALL
EastCountySports.com staff report
SPRING VALLEY – The Santana Sultans staked their claim to a spot at the the crowded top of the Grossmont Valley League standings with an impressive 59-49 road win at Monte Vista on Friday night.
DERRICK WILEY got the Monarchs off to a solid start with eight first-quarter points, as Monte Vista scored 31 points in the first half.
Wiley finished with a game-high 12 points, while also grabbing seven rebounds.
Sophomore ERNIE ARAMBULA canned a pair of three-pointers in Monte Vista's 18-point second period.
DEMARCUS MCKAN had six points, nine rebounds and four assists for the Monte Vista (7-13, 0-3 Grossmont Valley League).
No information was reported for Santana (8-13, 2-1 Grossmont Valley League).
The Sultans will host Valhalla on Friday at 7 in a battle between two of the four teams currently tied for first in the league standings.
The Monarchs will face Mount Miguel in a neighborhood battle on Wednesday at 6 before hosting Granite Hills on Friday at 7.
MOUNT MIGUEL 59, WEST HILLS 47 – The Matadors improved to 3-0 in the Grossmont Hills League with a win over the Wolf Pack in Santee.
Mount Miguel senior MARQUISE EDWARDS was a one-man wrecking crew.
Edwards had another big scoring night, as the Matadors (14-5) led 31-22 at halftime.
Senior guard MICHAEL TOTAH made three three-pointers for West Hills and finished with 13 points.
"We battled against a really good team tonight," Totah said. "I had some success on offense but just wasn't enough. We felt if a few more rebounds it might've been a different outcome
West Hills sophomore KYLE DOBYNS had 10 of his 16 points in the second half.
"Our league is tough this year and we knew Mount Miguel is a good team," Dobyns said. "We had heard a lot about Edwards and I was looking forward to going against such a good player."
West Hills senior MATHEW MCDONALD added 10 points.
The Pack drop to 10-8 on the season. Next up is a home game versus Helix this Friday night. Tip-off is set for 7 p.m.
"We know we're battle-tested for this close of a league and will be ready to roll for Friday," Totah said.
FOOTHILLS CHRISTIAN 81, ARMY-NAVY ACADEMY 45 – Knights freshman guard JADEN LABEL scored a career-high 18 points in the road win.
Foothills Christian, which is ranked fifth in the county, improved to 2-2 in Coastal League play and 12-5 overall.
HIGH TECH SAN DIEGO 59, LIBERTY CHARTER 49 – Sophomore TYLER SNELL had 21 points for the Lions, while senior teammate DAVID MILLER added 13 points.
Liberty trailed 33-22 at halftime but outscored the Storm 20-13 in the third quarter, pulling to within 37-35 on a three-pointer by Snell midway through the period.
High Tech San Diego leads the Summit League with a 3-0 record.
The Lions fell to 1-3 in the league and 7-9 overall.