Patriots down Serra with 30-point third
Updated: January 18, 2019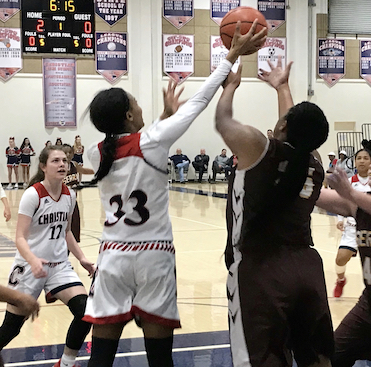 Christian's SIMONE JAMES goes up for the rebound against Serra on Thursday. / photo by Dave Dickens
2019 EAST COUNTY PREP GIRLS BASKETBALL
CHRISTIAN 80, SERRA 59
EastCountySports.com staff report
EL CAJON – The Christian High Patriots outscored Serra High, 30-11, in the third quarter to break open a seven-point lead at halftime to conquer the Conquistadors, 80-59, at Ryan Ahtletic Center
The Patriots outscored Serra, 16-6, over the opening eight minutes, but the Q's trailed 32-25 at intermission.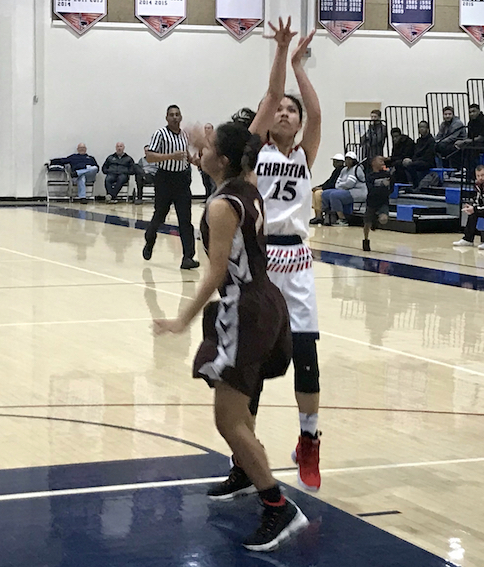 "I don't think we started off playing our game and definitely did not execute Lady Patriot style," Christian High head coach VICKIE CARRINGTON said. "I'm trying to get our girls to be consistent and to figure out what kind of culture our program has and bring it every single game and we're getting better at identifying that.
"I want everyone to play the same way, hustle the same way, have the same heart believe in each other and just play unselfishly and most of those we do but we just need to learn to be consistent."
Christian ran a veritable scoring parade against the visitors, turning up the volumn in the third quarter after Serra had pulled to within three points.
The Conquistadors were an impressive 24-of-26 from the free throw line.
"Our highlight quarter was that third quarter," Carrington said. "(Serra) is a good team, they're very good defenders and they are scrappy. (They have) lots of potential. They're young and they have a lot of heart, so again hats off to them. 
"At one point we were up by 40 and we ended up winning the game by 23 and that was my fault as I subbed in maybe too early, but we were up by 40, all 11 of the girls played good minutes the entire game, but I felt like with four or five minutes left in the game, the girls who were on the bench could handle their business.
"I believe in every player in my program, but again our fouls put them at the free-throw line too much and I think that was the difference between us keeping that 40-point lead and actually winning by 23 points."
Junior guard ALLIE CARREON scored 20 points, including a trio of three-pointers for CHS, along with nine assists.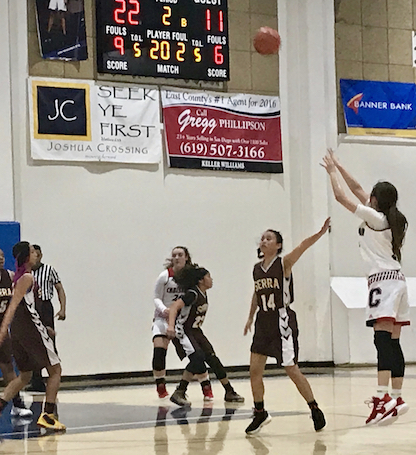 "Our game plan was just to come to this game with heart and energy," Carreon said. "We just needed to play our game no matter who we faced off with. As a team, we just play for the Glory of God and everything else seems to fall into place."
Patriot junior guard AMAYA HOWARD scored 13 points.
Junior SIMONE JAMES added 10 points, while senior YESINIA SMITH added nine points for Christian.
Perhaps the best contribution of the night came from MAILANI AGUILA, who eight points in the first half, including six in the first half, leading the team in field goals over the first two periods.
Sophomore KRISTIN WILLIAMS also had eight points, as did senior ZOE NORDLING.
"I love that Zoe scored, and Mailani, SHYANN (VAN KIRK) and SERENE (WECKBACK) had great minutes," Carrington said. "Always get heart and hustle from RAELYN (MUECA) and JASMYN (CRAWFORD) each game.
Weckback had five blocks.
"The game plan was to just come out and ball," Williams said. "We knew who were shooters and who we needed to stop. I think our game plan was to just play as a team and play for God. I think we should have beat them in the first quarter but we weren't playing together. We picked it up in the second and finished the game with a W."
Christian High won its sixth-straight game improved to 5-0 in the Western League and 14-5 overall.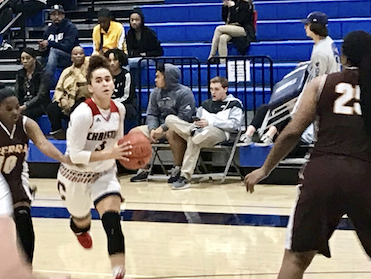 "I do want to give credit to Serra because maybe we came out underestimating their ability," Carrington said. "I know that in the first quarter, fouling helped them and they hit their free throws.
"We knew coming into the game that they were going to be scrappy and that they were going to try to put pressure on the ball handlers, so our goal was to push the ball attack the rim and if the defenders were in the paint to kick the ball out for the three. 
"I don't think we did a great job in the first half of executing our game plan but in the third quarter, fortunately for us, we came out on fire in respect to our defense, they hustled and showed school pride."
Now, the Patriots and the rest of East County's girls' basketball fans await Saturday's local showdown between Christian High and the Mount Miguel Matadors at Ryan Center at 7:30.
"We are putting Christian girls basketball on the map, so we are planning for a cause," Carrington said. "We represent the most-high and we have to do that four quarters. We have to learn to play with passion and purpose for four quarters."