Monarchs, Knights, Lions win league games
Updated: January 19, 2019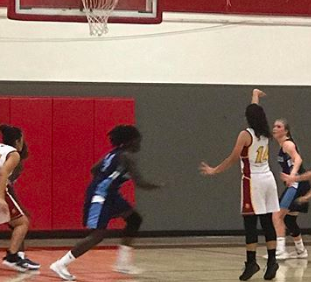 Monte Vista at the line on Friday night. / photo MonarchSports
2019 EAST COUNTY PREP BASKETBALL
EastCountySports.com staff report
SPRING VALLEY – Monte Vista senior SARA TAHA scored all 23 of her points in just three quarters as the Monarchs won, 55-11, over visiting Granite Hills in a Grossmont Valley League game on Friday night.
Taha had four three-pointers in the game.
Senior TORRI HONORE added 11 points for Monte Vista, while ALYSSA MEDRANO contributed eight points.
Senior ALYSSA MEDRANO set the tempo early for the Monarchs, scoring six points in the first quarter. Taha had seven points in the first, as well.
"The ladies came out strong tonight," Monte Vista coach SABRINA JIMENEZ said. "We were able to get a good lead in the first quarter. Torri and Sara did a great job taking care of the ball and working Granite's defense. Our rebounding was much better as a team, and Mariah stepped up in the key."
Granite Hills sophomore JAYLEE JONES knocked down a three-pointer in the third quarter.
The win improved Monte Vista to 2-2 in the GVL. The Monarchs had a big league game on Tuesday when they visit Valhalla at 6.
FOOTHILLS CHRISTIAN 66, CLASSICAL ACADEMY 27 – Junior ELLIE TURK scored 31 points, while teammates ARANTXA FONSECA and NATALIE BRAVO combined for eight points, as the Knights (17-6) improved to 4-0 in the Ocean League.
Fonseca had 16 points, 13 rebounds and three steals.
Turk had five assists, eight steals and five blocks.
Bravo added four rebounds, five assists and four steals. 
The FCHS defense held the Caimans scoreless for the first 12 minutes of the game. 
LIBERTY CHARTER 43, DEL LAGO ACADEMY 14 – The Lions (12-6) led 23-2 at halftime to improve to 3-1 in the Summit League standings.
Liberty will have its biggest game of the league season next up at High Tech Chula Vista on Tuesday. HTHCV has won six-straight games and is 4-0 in the Summit.