Cougars shine in overtime against ECV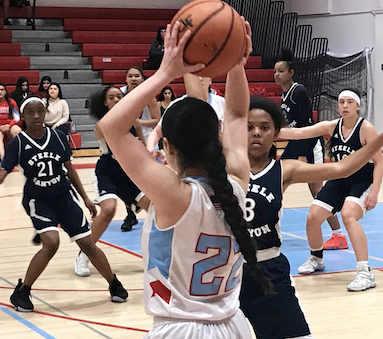 Steele Canyon's LALA WADLEY defends the inbounds play along with teammates on Friday night. / photo by Dave Dickens
2019 EAST COUNTY PREP GIRLS BASKETBALL
STEELE CANYON 41, EL CAJON VALLEY 33 (OT)
EastCountySports.com staff report
EL CAJON – Steele Canyon's KAILEE ROCHFORD made a pair of free throws to force overtime and combined with teammate MAHKAYLAH CLINE for eight points in overtime, as the Cougars improved to 3-1 in the Grossmont Valley League with a 41-33 win over host El Cajon Valley on Friday night.
KHYLAYA BRANDY made a big three-pointer in the fourth quarter on the way to 12 points for the contest, then the Cougars dominated the extra session.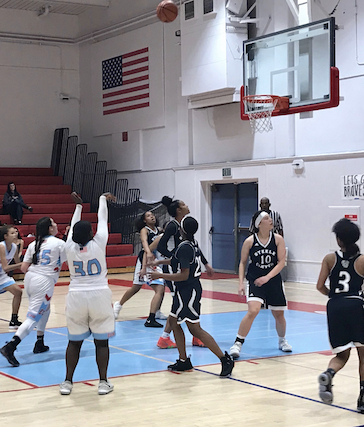 Cline finished with 10 points, including a pair of free throws with just over 30 seconds left in regulation.
Senior LALA WADLEY had a three-pointer in the third quarter for Steele Canyon, which tied the game.
For El Cajon Valley (1-3 GVL, 13-5 overall), junior VEAN GORGEES had a three-pointer in the first quarter and finished the game with 11 points.
Steele Canyon held a 12-11 lead early in the second quarter, but El Cajon Valley led at halftime, 19-14, behind seven combined points from Gorgees and MIA JAMESON, who finished the game with eight points.
Senior LILIAN AKINTONDE had three points, including a key bucket late in the fourth quarter and the Braves' only field goal in the overtime period.
"I'm proud of how hard my kids played and battled the entire game," El Cajon Valley coach RANDY ROBINSON said. "I want them to restore their pride and be proud of their effort."
The Cougars (8-8) will host Granite Hills on Tuesday at 6, while the Braves with host Santana on Tuesday, also at 6.