Henry, Hillers knock down El Capitan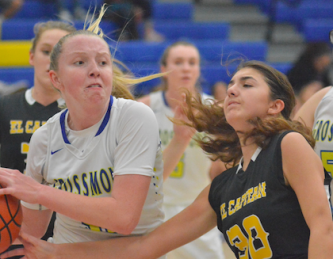 Grossmont's SARAH HENRY battles with El Capitan's JORDAN GRANDY on Friday night.
2019 EAST COUNTY PREP GIRLS BASKETBALL
GROSSMONT 57, EL CAPITAN 49
EL CAJON – Grossmont High junior SARAH HENRY went 10-for-10 from the free throw line – all in the first half – and scored 20 points, leading the Foothillers to a 57-49 win over visiting El Capitan in a key Grossmont Hills League contest on Friday night.
"I came out knowing I had to step it up," said Henry, who also grabbed nine rebounds. "We wanted to get this win, especially for the coaches."
The game was a tight contest in the first half, with El Capitan leading 31-29 at halftime.
The Vaqueros' SHIANA PERES had two three-pointers in the second quarter. She also knocked one down in the fourth.
Grossmont outscored the Lady Vaqueros, 28-18, in the second half, but it wasn't that lopsided. The Hillers led just 45-40 after three.
"My team really stepped it up and we did what we had to do overall," Henry said.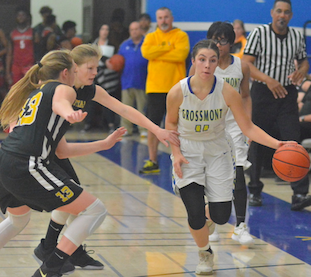 Foothiller senior ATHENA SOTELO had a pair of key buckets in the fourth quarter to end with eight total points and was assigned to top scorer, MACKENZIE CURTIS, of the Vaqueros.
"Athena's defense held Curtis to 11 points so that really helped," Henry added.
Grossmont's DANECA PEREZ had 11 points and three steals, while MARISSA GILES made a pair of threes in the game and finished with 12 points.
"We had a game plan and the girls bought in and executed our game plan to perfection," Grossmont head coach GRACE CAMPBELL said. "After that loss to Eastlake (40-32 on Jan. 14), we had to regroup.
We respect El Cap so much and we knew we had to be on our 'A' game to beat them. The players earned this victory. I'm proud of them.
Just went the game was at its crucial point, with Grossmont starting to pull away by more than a couple of possessions, Curtis got twisted up with an opponent and strained her knee.
"We didn't come to play," Curtis said. "We were just going through the motions and it showed.
"Grossmont did the same thing we do to most teams. I'll give props to them on that. People were finishing tonight but just not enough."
Curtis would have to leave momentarily but just before she was about to return, junior star JORDAN GRANDY, who earlier made a three-pointer as El Cap got within striking distance, went down for an even longer count, after landing on a foot, twisting her ankle.
"I know that Mackenzie just had some pain with her knee but she felt better afterward," Grandy said. "We had many good plays, but also had many mistakes. It's not anything we can't fix. I know we can get them next time (Feb. 5)."
Grossmont moved into sole possession of second place of the GHL at 2-1. El Capitan is 2-2 in GHL play.
Grossmont is scheduled to meet Francis Parker on Saturday morning at 8, but return to Grossmont Hills League play next Tuesday, hosting Helix at 4:30.
El Capitan will travel to meet 4-0 Mount Miguel on Tuesday at 6.