Thacker, Braves whack Vaqueros late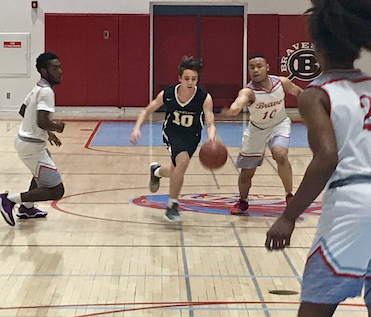 El Cap's HARRISON MORTON dribbles up the court against the Braves. / photo by Dave Dickens
2019 EAST COUNTY PREP BOYS BASKETBALL
EL CAJON VALLEY 56 , EL CAPITAN 46
EL CAJON – El Cajon Valley's MASON THACKER came up huge in the fourth quarter, scoring nine points, helping the Braves get back in the Grossmont Valley League race with a 59-49 win over visiting El Capitan on Friday night.
El Cajon Valley senior DAEVION ROGERS scored 16 points, had eight rebounds, seven steals, and six blocks shots.
EAST COUNTY PREP BOYS BASKETBALL: @ECVHS senior @rogers_daevion lifts a shot over El Capitan on Friday night. Rogers scores 16 points to help the Braves to the win over the Vaqueros. pic.twitter.com/zgqUENLSCB

— Ramon Scott (@RamonScottPoker) January 19, 2019
El Cajon Valley picked up its second league win and is back to within a game of first-place Valhalla. Four teams are tied for second place.
The future is now for the Braves, at least in terms of a league title. Their next game is at Valhalla next Friday.
This season truly has been special— Daevion⚡️🔋(14-3⚜️) (@rogers_daevion) January 19, 2019
DASHAWN HENDERSON also had a key performance, scoring 13 points for El Cajon Valley.
This game was tight throughout.
A 12-all tie after one quarter, El Cajon Valley got out by three at halftime, 28-25.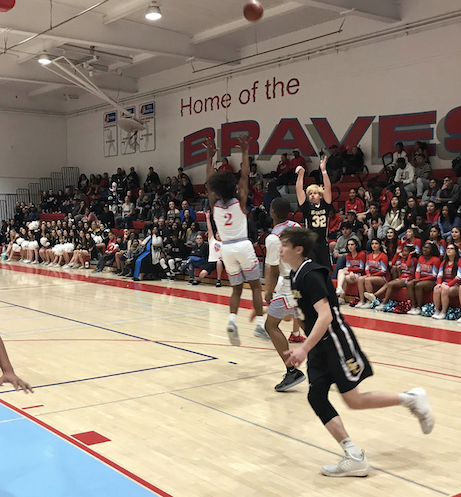 The Vaqueros' HARRISON MORTON had three balls in each of the first two period.
El Cap junior JAKE PFITZNER, who shoots like a guard but drives to the rim like a power forward, had 21 points, including three three-pointers.
Pfitzner had 13 rebounds.
"We've got to keep our turnovers down and stay out of foul trouble," Pfitzner said. "We had over thirty turnovers (38) and that's what killed us."
El Cap senior center RANDY TUCKER had nine points and five rebounds but fouled out.
"Just kinda irritating with the fouls they were calling on me," Tucker said.
El Capitan is still 2-2 in the GVL and will host fellow 2-2 squad Granite Hills on Tuesday at 6.