BONITA VISTA LADIES' SOLID PLAY DEFEATS AZTECS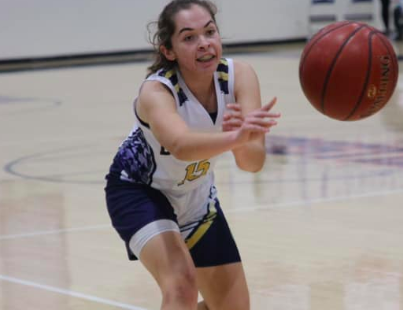 2019 PREP GIRLS BASKETBALL
By Dave Dickens
EastCountySports.com
CHULA VISTA (1-23-2019) – The visiting Aztecs of Montgomery High School, came into the Bonita Vista gymnasium with something to prove.

"Montgomery is always going to give it their best," said Bonita Vista Barons girls head coach Tristan Lamb. "They play hard and always make it a great game."
The Aztecs would win the tipoff, however, the Barons quickly took possession to hit the three-point field goal to go up 3-0.

After the first quarter, the Barons led by a narrow margin, 14-11.

The second quarter of play was a battle, however, as the Aztecs were held to two buckets and one free throw made at the line, as the Lady Barons scored 11 with a three-pointer to close out the half, 25-16, Barons ahead at the intermission.
"We started off pretty rough and our energy level just wasn't as high as it usually is," said MaxPreps Player of the Game JULIA COSALAN. "My
squad and I had to do something to change that. We huddled up, spoke to each other with encouragement to really change our mindset for the second half."

Bonita would put up an astounding 27 points in the third quarter of play, with four three-pointers to boot.

Cosalan finished with a game-high 24 points, plus two assists, four steals, and four rebounds.
"Julia really caught fire in the third to help us close out the game," said Lamb.

The final quarter was a battle, as the quarter began with the Lady Barons up 40-33.

Bonita would tack on yet another nine points via the three-point shot, but the Aztecs rallied for 15 points in the final quarter.
However, the Lady Barons just had too much talent, athleticism, and especially the third quarter directed by Cosalan, this was to meant to be a Barons win, 58-48.
"We played hard and are playing better together as a complete team," Lamb said.
"We could have executed better than we did, but I believe we can bounce back from it, execute our plays the way they are intended to be executed, in order to build our discipline level," said Cosalan.

Up next for the Lady Barons (11-9; 4-1) is the Eastlake Titans (10-12; 1-4) on Friday the 25th at 6 p.m. at Eastlake. Bonita Vista won the last meeting.