GIRLS: League leaders win big games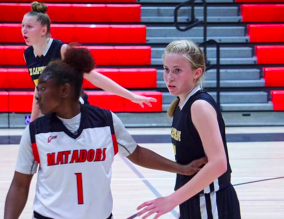 Mount Miguel's MICHELLE CORELY (1). / SD COunty Hoops Report photo
2019 EAST COUNTY PREP GIRLS BASKETBALL
EastCountySports.com staff report
SPRING VALLEY – The El Capitan Vaqueros were hobbled and short-handed which made for poor timing in the rematch against stalwart champion Mount Miguel.
The second-ranked Matadors rolled to the first 15 points of the game and cruised to a 61-24 victory to improve to 4-0 in the Grossmont Hills League.
Mount Miguel seniors LALLI GURROLA and MICHELLE CORLEY both had 17 points.
Gurrola had four of her five three-pointers in the first half, while Corley had three triples from downtown.
Matador sophomore SYLENA PETERSON came home with 15 points, five rebounds, seven assists and six steals.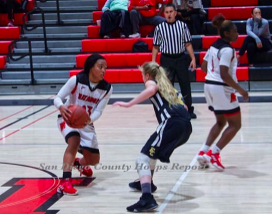 "(We) knew from the start that we shouldn't come into game daydreaming or losing focus on this competitive El Cap team," Peterson said. "From the beginning, (we wanted) to make sure we 'jump on them from the start' as coach ROB (SANDOVAL) puts it.
"But, to just get up in them, defensively, and that's what we did. Our defense played a huge part in this game my team came prepared and ready for this matchup.
"(The) first half was set out great on our end but the main focus was to not let up in the second half of the game. The whole team did their part, rebounding, cutting, making open shots. It was just good execution on our end."
Sophomore MACKENZIE CURTIS had 11 points for El Capitan, while sophomore teammate EMMA DRISKILL added nine points.
The Matadors limited the Vaqueros to just one field goal in the first half.
SANTANA 45, EL CAJON VALLEY 38 – The Sultans remained undefeated in the Grossmont Valley League, turning away the challenge of the upset-minded Braves.
Lakaila Aquiningoc-David scored 16 points, two assists, and two steals for Santana, which improved to 5-0 in the GVL.
Sultan freshman Bella Terry added 11 points, five rebounds and a pair of blocked shots blocks.
Junior Brianna Jerig had nine points and four rebounds for the Sultans (10-12).
Santana senior Aaliyah Stone contributed nine points, 13 rebounds and a pair of blocked shots.
CHRISTIAN 87, LINCOLN 30 – The Patriots moved to 6-0 in league play as junior SIMONE JAMES paced the Patriots with 18 points.
Sophomore KRISTIN WILLIAMS and senior YESINIA SMITH both had 14 points for the Patriots.
Fourth-ranked Christian (16-6) held Lincoln to one point in the second quarter.
"Our entire team did a good job," Christian head coach VICKIE CARRINGTON said. "I don't know if the way that we played was indicative of the purpose in which they were playing for, but they definitely showed up and showed out.
The Patriots were playing their "pink game" in honor of breast cancer awareness, according to Carrington.
"We honored three very special women who are dear to our program," said the coach. "Peggy Marshall, one of our elementary teachers and the wife of our Superintendent; Shyann Van Kirk's grandmother, Rose Clough; Kathy Fuselier, a faithful friend whose daughter I coached for many years. 
"In addition to honorIng those three amazing women, the team dedicated their game to Sarah Moyer's mom, Lisa LeCakes, who is currently in treatment and is filled with so much joy, she is one of our biggest fans despite Sarah not playing this year. The girls went hard for Mrs. LeCakes.
"They swung the ball,  moved without the ball, talked, hustled and got out on the break. I hope and pray we build on things, and also I think they are a little perturbed that we lost the game versus West Torrance (65-54) on Monday night.
"I would like to recognize Sarah Moyer. She has been a tremendous blessing to us during her year off from basketball. She is like the team manager. She has such a servants heart and positive outlook on life. She's an inspiration, we can't wait to coach her. She's been a great leader on the bench and she encourages the team and coaches immensely. She's such a godly presence.
"Big props to Jasmin Crawford, Raelyn Mueca, Mailani Aguila, Serene Weckback and Shyann Van Kirk, as they made outstanding contributions by maximizing their minutes to help the team. Each girl is fully capable of being a big contributor on any given day. l appreciated that they played with heart and Hustle. Jasmin, Serene and Mailani were in the starting lineup, as well."
We definitely can't rest, as we have Bishop's and Cathedral in the next few days."
GROSSMONT 65, HELIX 44 – Grossmont dispatched the traveling Highlanders in the Grossmont Hills League contest.
The Foothillers improved to 3-1 in the GHL standings and 16-5 overall.
LIBERTY CHARTER 46, HIGH TECH CHULA VISTA 45 – After a stunning run to start the game by the Bruins, the Lions came back for a big win.
High Tech Chula Vista scored the first eight points of the game, although Liberty Charter quickly got back into the game and led 12-10 at the end of one period.
From there, the Lions (13-6) limited the Bruins (14-3) to just two second-quarter points for a 24-12 halftime lead.
Both teams are 4-1 in Summit League play.
MONTE VISTA 57, VALHALLA 49 – The Monarchs improved to 3-2 in the Grossmont Valley League with the road win over Valhalla, scoring 23 points in the fourth quarter behind senior SARA TAHA's three-pointers in the period.
"We started off kind of rough but second half our energy picked up drastically," Taha said. "As captain, I made sure we had a voice on our team
"I was also very proud of our chemistry. We just need to keep this energy up for Friday."
It was Monte Vista's 23-12 fourth-quarter edge the was a deciding factor.
Monte Vista will travel to Steele Canyon for a key Grossmont Valley game at 5:30 p.m.
"I'm not worried," Taha said. "We just have to come out strong and play our hearts out from the start."
Senior TORRI HONORE had a three-pointer in the fourth quarter and also was 6-for-6 at the line in the final stanza. She finished with 19 points.
"During halftime, our coach gave us a pep talk that inspired us to pick up our energy the next half," Honore said. "I realized that In order for everyone to feel as inspired as I did, someone needed to step up, so when the second half started, I decided to go as hard as I could.
"I jumped for every rebound, jumped for every steal and played the best I could play.
"Everyone began to pick up their energy as well. Offensively, I got to the free throw (three) times in the fourth quarter and made a majority of my free throws to secure our score for the win."
In the first quarter, MEADOW DELINO, a freshman, had a pair of field goal for Monte Vista, but the Lady Norsemen led 12-7 after one period.
Valhalla senior ANGIE ORANGE scored 12 points in the second quarter on the way to 19 points in the contest.
Senior MIRANDA ALKATIB had a pair of three-pointers in the second half for Valhalla, while teammate CASSIDY KALASHO had a pair of field goal in the third quarter.