BOYS: Sultans, Patriots, Knights win
Santana shoots over Granite Hills on Friday night.
2019 EAST COUNTY PREP BOYS BASKETBALL
SANTANA 62, GRANITE HILLS 52
EastCountySports.com staff report
EL CAJON – The Santana Sultans opened the game hot and that proved the difference against host Granite Hills in a Grossmont Valley League game on Friday night.
It was a big win for the Sultans, who improved to 4-2 in GVL play and moved into sole possession of second place, one-game behind league-leading Valhalla.
Seniors DESMOND WILLIAMS, BRANDON SIMMONS and JAKE KELCHNER all had three-pointers in the first quarter, as the Sultans outscored the Eagles, 18-12, including a 9-0 run to open the game.
Williams finished with five three-pointers in the contest and 24 points overall.
Simmons added 13 points for Santana (10-14), while teammate ALDEN RASMUSSE added nine points.
Santana led 24-24 at halftime.
Granite Hills' MCKAY ROBERTS had 20 points, while teammate JUSTUS MCCOMB added 12 points, including a pair of three-pointers.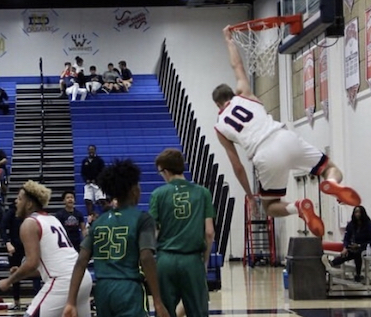 CHRISTIAN 75, PATRICK HENRY 62 – Christian High led 21-9 after one quarter and continued on for the league victory over visiting Patrick Henry.
Christian High led 44-28 at halftime, although Henry closed the gap to 60-51 after three quarters.
The Patriots improved to 5-4 in the Western League but have been eliminated from league championship contention.
No scoring information was reported.
FOOTHILLS CHRISTIAN 77, FRANCIS PARKER 57 – The Knights led 35-31 at halftime but pulled away in the second half for the victory.
Foothills Christian led 19-11 after one period.
Senior guard JAREN NAFARRETE scored 20 points for FCHS.
Foothills also got 15 points from JALAI O'KEITH and 12 from D.J. CARTER-HOLLINGER.