Norsemen keep it rolling; Lions win
EAST COUNTY PREP BOYS BASKETBALL
EastCountySports.com staff report
SAN DIEGO – The Valhalla Norsemen got a lot of attention for their three-point shooting performance on Friday night against El Cajon Valley.
Could the Norsemen do it again less than 24 hours later against the Crawford Colts?
Well, let's just say they probably could have.
Valhalla senior DOMINIC SAFARTA had 19 points and 11 assists to lead the Norsemen to a 78-43 win on Saturday at the Coaches vs. Cancer event at Montgomery High.
The Norsemen improved to 21-3 on the season.
Senior JORDAN GAINES added 18 points, 11 rebounds, and five assists, while sophomore JOE AVALOS knocked down 12 points, picking up where Valhalla left off the night prior against the Braves for four more against Crawford.
Senior TREVONE WIMS has been coming on strong of late for a Valhalla squad already with several great options.
Wims had 11 points and 11 rebounds on Saturday, along with four assists and three steals.
Another Norseman to keep an eye on is freshman MARCEL KALASHO. He had a trio of three-pointers in the win over the Colts.
Senior EVAN O'NEILL added nine points for Valhalla, which plays three of its last four games – all league games – at home.
LIBERTY CHARTER 46, MAR VISTA 43 – The Lions won at the Coaches vs. Cancer event at Montgomery High behind JONAH BELPREZ, TYLER SNELL and DAVID MILLER, who combined for 37 points.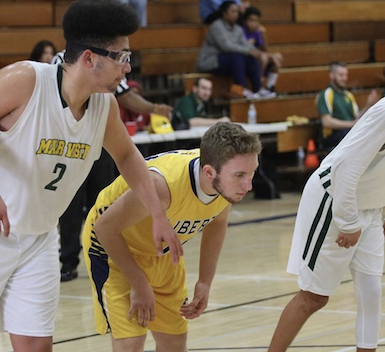 Snell hit a deep three-pointer in the contest for Liberty, which outscored the Mariners 13-6 in the fourth quarter.
The Lions were cruising along in the first half with a 21-14 lead, but Mar Vista outscored LCHS 23-12 in the third quarter.
Liberty Charter improved to 10-10 on the season.