BARONS MAKE HISTORY, SWEEP RIVAL TITANS
Updated: January 27, 2019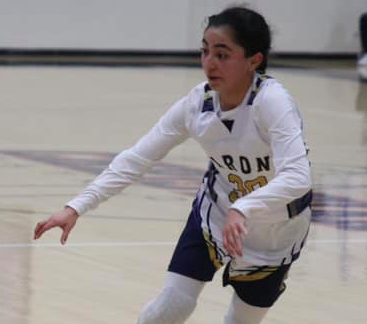 2019 PREP GIRLS BASKETBALL
By Dave Dickens
EastCountySports.com staff report
(CHULA VISTA (01-26-2019) – Don't look now but the Lady Barons of Bonita Vista have swept the Eastlake Titans for the first time in their rival history.

The stingy Bonita Vista defense held the Titans this time to an anemic 11 points in the first half.
"We showed we came to play. " said Barons head coach Tristan Lamb.
After a dominating performance from all phases, the Barons led the Titans, 23-11 at the half.
Bonita also handled the second half, 33-20. The Barons just didn't miss a beat, as Bonita's JAYLEAN ARENAS, the 5'3″ guard, led the team with three three-pointers on the evening.
"All the threes were definitely all key buckets, every time the squad went on a run Jaylean hit a three, or on defense caused a turnover, for an easy two points.," stated Lamb.
Less than 24 hours later, the Lady Barons had another road, non-conference contest in Solana Beach at Santa Fe Christian, which was no match for the red hot Lady Barons.
Again, the Lady Barons were stellar box-out specialists and didn't allow but 12 points in the first half and the Lady Barons outscored the hosts 34-17 in the second half.
The final outcome would be another blowout at the hands of the Barons, 64-29, over Santa Fe Christian (7-16).
No statistics available for this second game, however, the Lady Barons will be ready to take on the Otay Ranch Mustangs at home before a fired up crowd on Wednesday at 6 p.m.