Peterson a quick study to 1,000 points
Updated: January 27, 2019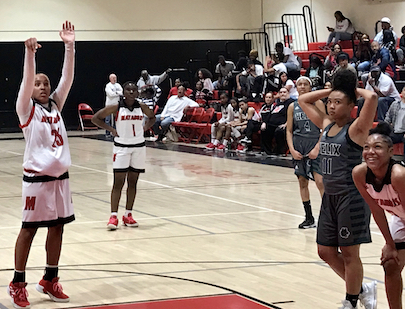 SYLENA PETERSON at the line on Friday night. / photo by Dave Dickens
2019 EAST COUNTY PREP BASKETBALL
EastCountySports.com staff report
SPRING VALLEY – Mount Miguel sophomore SYLENA PETERSON has many more accomplishments ahead of her.
So achieving 1,000 career points might not seem like a lot when the Matador star completes her high school career, but the big achievement is how early in her career she surpassed the mark.
Peterson scored 26 points in an 83-12 Grossmont Hills League win over Helix on Friday night.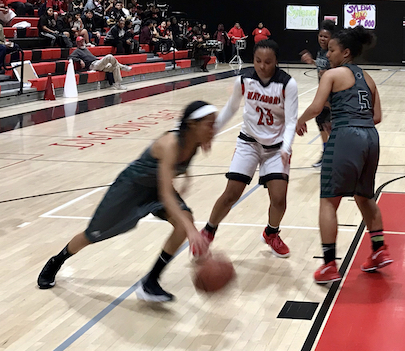 With still four regular season games plus several more playoff contests, Peterson could conservatively finish her second year of varsity basketball with over 1,100 points.
That would put her on pace to challenge the East County scoring record of 2,190, shared by Santana legend JORDAN FRANEY, the current Sultans' head coach, and El Capitan great ALLISON DUFFY.
The challenge for Peterson in the eyes of head coach ROBBIE SANDOVAL is championships and not her individual accomplishments.
Setting such a mark could prove difficult as a part of the Matador program, but that is a good thing.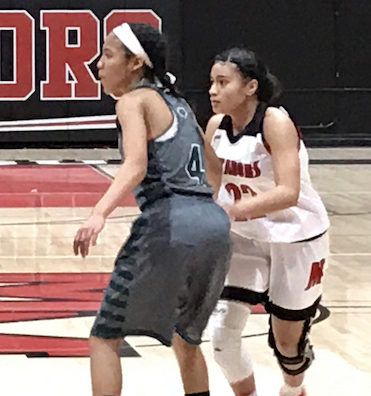 Peterson has possibly had to shoulder more of a scoring load than expected this season and Sandoval's talented program is capable of continuing to produce major contributors every year.
Still, this year's roster has five seniors who play key roles on this year's team, meaning the experience will by led by Peterson.
Peterson also had eight rebounds, six assists and four steals against the overmatched Highlanders.
Her early-game, thousand-point achievement was a distant memory by the time CITALLI GURROLA got rolling.
The senior shot is looking its best that it has all season after knocking down eight three-pointers in the win on Friday.
Senior MICHELLE CORLEY added 10 points, three assists and four steals for Mount Miguel (5-0 GHL, 19-5).
West Hills is up next on Tuesday for Mount Miguel before the now-official game of the season, at least in terms of the league championship, next Friday night when the Matadors travel to face second-place Grossmont.
The Foothillers are off on Tuesday.