Vaqueros defeat Dawgs; Patriots fall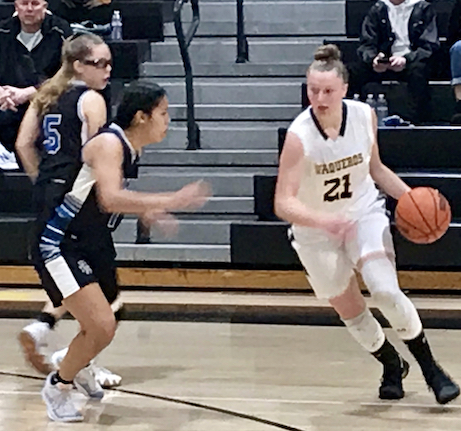 MACKENZIE CURTIS looks to drive to the basket on Saturday against Ramona. / photo by Dave Dickens
2019 EAST COUNTY PREP GIRLS BASKETBALL
EL CAPITAN 43, RAMONA 36
EastCountySports.com staff report
LAKESIDE – The El Capitan Vaqueros scored a 43-36 non-league victory over the Ramona Bulldogs on Saturday.
The game got off to a quick start for the hosts.
Sophomore MACKENZIE CURTIS keyed an early 8-0 run for the Vaqueros.
EMMA DRISKILL blocked a couple of shots for El Capitan and had six rebounds, in addition to four points.
Junior JORDAN GRANDY made a three-pointer that gave El Cap a 29-15 lead. She would finish with nine points after missing the last game nursing an ankle injury.
Curtis finished with 22 points, including 10 in the first quarter. Se also had five rebounds.
El Capitan, which led 35-23 after three periods, improved to 17-8 overall.
BISHOP'S 68, CHRISTIAN 47 – The Knights rocked the Patriots at the "Saturday Knight Special" in La Jolla matching up teams in the county top ten.
"We played poorly," Christian head coach VICKIE CARRINGTON said. "Completely out of sync and unfocused.
YESI SMITH and ALLIE CARREON each had 10 points for CHS, while SIMONE JAMES had 9.
"Bishop's guards are so quick and they are relentless in attacking the paint," Carrington said.
The combo combined for 39 points and the Patriots battled early foul trouble.
"We were really off the mark today," Carrington added "It was ugly. It was like we could do anything right. We missed almost everything we shot including layups."
Bishop's stormed past the Pats right out of the gate, leading 24-11 at halftime. The lead carried to 43-19 at halftime.
KRISTIN WILLIAMS had a three-pointer in the fourth quarter for Christian High (16-7).
MOUNTAIN EMPIRE 47, HORIZON PREP 31 – The RedHawks made the trip to Rancho Santa Fe worth the effort with the road win in a non-league game.
Mountain Empire (6-5) did it by dominating the second half.
The score was tied 22-all at halftime but the RedHawks outscored the Liones, 25-9 in the second half, including 14-2 in the fourth quarter.