Jaguars hold off Mesa; Coyotes topple Griffins
Updated: February 1, 2019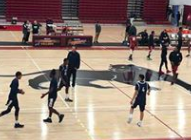 2019 COMMUNITY COLLEGE MEN'S BASKETBALL
East County Sports staff report

CHULA VISTA (2-22019). Forty-eight hours after South Division-leading Southwestern secured the outright division lead with a buzzer-beating shot, the Jaguars almost gave it all away in Friday's (Feb. 1) Pacific Coast Athletic Conference contest.

Leading 73-65 over San Diego Mesa with just over two minutes to play, the visiting Olympians scored two bucks, then got the ball back with 30 seconds remaining with a chance to force overtime, the Southwestern defense forced Mesa to misfire on a contested 3-point shot at the buzzer to survive in a 73-70 decision.

The victory kept the Jags (19-5 overall,5-0 PCAC) on-track to capture their first division title since 2015, although rising Mesa gave another strong effort against contending competition.

Jordan Cooke hit a jumper to give SWC an 8-point lead with 2:22 remaining, then Mesa made one final charge.

Adrian Lee scored from the paint, then Aren Thomas nailed a triple with 39 seconds left. Mesa fouled with 34 seconds left, but when the Jags missed the front end of a one-and-one, the Olympians (7-15, 3-2 PCAC) gained an opportunity to tie it before Southwestern survive at the buzzer.

Early on, it was all Southwestern, which built a 17-point lead before taking a 46-35 lead into the locker room at halftime behind Marq Stephens (12 points) and D.J. Wilson (10).

But when both finished with only 15 points, Mesa started its second-half comeback when Thomas tallied 10 of his game-high 18 points. The Mesa defense also limited SWC to 34.4 percent shooting (11-for-32) shooting in the second half.

Cuyamaca 78, Grossmont 68:  At Fletcher Hills, the visiting Coyotes snapped an 11-game losing streak to their crosstown rival Griffins after capturing Friday's (Feb. 1) PCAC contest. The last Cuyamaca win in the series came in January of the 2010-11 season

Grossmont held a 33-31 halftime lead, but Coyotes guard Frankie Gutierrez tallied 19 of her game-best 24 points in the second half to fuel the comeback.

The shooting by Gutierrez allowed Cuyamaca to shoot a season-best 53.2 percent (25-47) from the floor. Earlier in the week against Imperial Valley, the Coyotes shot 51.0 percent, just missing their previous best of 51.6 percent vs. American River College of Sacramento.

Following nearly a dozen lead changes early in the second half, holding a 55-51 advantage at the 9-minute mark.

However, Ryan Flowers hit a jumper and hit two foul shots for a 56-55 lead with 7 minutes remaining. When Flores was sent to the bench for a breather, Grossmont moved back in front, 59-58, but the final five minutes belonged to the Coyotes. An 8-2 run included 5 points by Gutierrez.

Cuyamaca (4-19 overall, 1-4 PCAC), received double-digit scoring from Chris Stanek (14 points), Moses Smith (12) and Devin Hilliard (10).

Grossmont (3-20, 0-5 PCAC) also saw three other players — Lamon Hudson, Marc Cabrera, and from off then bench Jamal Johnson — each added 10 points.

In another South Division ballgame, visiting San Diego City defeated Imperial Valley, 73-62. No game report was filed.

PCAC North

San Bernardino Valley 94, MiraCosta 78: At Oceanside, the host Spartans has an opportunity to gained a share of the North Division lead in the Pacific Coast Athletic Conference, but the Wolverines quickly slammed the door on those aspirations after mounting a 41-33 halftime lead.

SBVC (18-5 overall) completed the first round of division play with a 5-0 mark, a full two games better than Mt. San Jacinto, which was upset by College of the Desert, 104-86.

Elsewhere, Miramar stopped visiting Palomar, 91-72.
No game report from the host Jets.