Knights, Jaguars, Comets get wins
Updated: February 1, 2019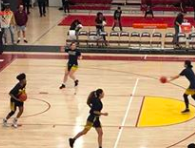 2019 COMMUNITY COLLEGE WOMEN'S BASKETBALL
East County Sports staff report
IMPERIAL (2-2-2019) – Following a month-long stretch of sub-par performances, San Diego City College came through with one of their better defensive efforts of the season.

The Knights held host Imperial Valley to season-lows in field goals (14) and shooting percentage (20.2) to surprise the Lady Arabs, 48-38, Friday (Feb. 1) at DePaoli Sports Complex.

IVC forward Destiny Salgado again came through with a strong effort, with game-highs of 24 points and 18 rebounds. But the rest of the team was stymied. While Salgado converted half of her 18 shots, the remainder of the Lady Arabs shot just 5-for-51 (9.8 percent) in their home court.

There were few signs of a problem through the first period, as Imperial Valley (11-11 overall, 2-2 PCAC) led 18-14.  But San Diego City (9-13, 1-3 PCAC) did not allow more than 8 points in any of the next three periods to gain its initial South Division triumph of the season.

Salgado also registered5 shot blocks and 3 steals. SDCC did not report its statistics.

Southwestern 83, San Diego Mesa 48: At Chula Vista, the host Jaguars completed the first round of South Division play in the PCAC with a perfect 4-0 slate after swamping the Olympians.
No other school in the division is the above .500 plateau, leaving Southwestern's magic number to cinch at 2.

It was a 2-for-1 special in the first half, as the Jags mount leads of 23-11 and 44-23 through the first two periods, thanks to a balanced scoring attack.
Kaleese Petties paced SWC (13-8 overall, 4-0 PCAC) with 14 points.
Maya Robinson and Sierra Simanek added 12 points, while Satera Bates had 11.

For Mesa (5-15, 1-3 PCAC), Aaliyah Williams led all scorers with 19 points, while Yusra Gharram added 14. Both players also grabbed 9 rebounds.
North Division

MiraCosta 81, San Bernardino Valley 26:  At Oceanside, it was an off day for the Spartans starters, as all of the leading scorers came from off the bench.

The leaders included Aly Murray with 15 points, followed by McKena Stoeff (12), Helena Betancourt (12) and Kiva Reyes (10).

Two starters also reached double-digits to give the Spartans six players ver the pleateau: Chynna Cochran (12) and Uneque Fradiue (11).

MiraCosta is now 16-6 overall (2-2 PCAC). The Wolverines fell to 4-16  (0-4 PCAC).

In the other PCAC South Division contest, first-place Mt. San Jacinto whipped College of the Desert, 82-46.

Palomar 86, Grossmont 36: At El Cajon, the visiting Comets raced to a 23-5 lead through 10 minutes to capture this non-division ballgame

For Palomar (18-6 overall), Julie Saelee registered 9 of her game-high 20 points in the first period, while Morgan Heise added 10 of her 14 points in the fourth period.

Grossmont (4-15) guard Drew Mendoza went 8-for-8 at the foul line to register a team-best 15 points. Chiara Mattern added 14, but Palomar won the battle of the boards, 48-30 in rebounding.