Incident mars Cougs' win over Pack
Updated: February 2, 2019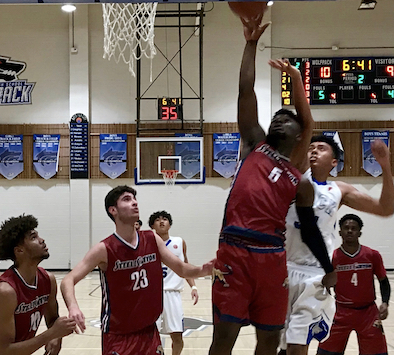 T-MAX NYUMAH goes up for a tap in on Friday night against West Hills. / photo by Dave Dickens
2019 EAST COUNTY PREP BOYS BASKETBALL
STEELE CANYON 66, WEST HILLS 65
EastCountySports.com staff report
SANTEE – The Steele Canyon Cougars held off the late charge of the West Hills Wolf Pack, 66-65, for a key victory in the Grossmont Hills League on Friday night.
The Cougars were led once again by the leadership and scoring of senior GRANT CHILDS.
Childs had a pair of three-point field goals in the second quarter as the Cougars led 22-20 at halftime.
Steele Canyon was on fire from distance in the second half, making seven threes as a team, including more contributions from Childs.
"Childs is a good player," West Hills head coach TIM BARRY said. "We ran different guys at him, but he is just a solid player. He created a lot of those shots from threes to driving to the rack. I was really impressed."
The play of the Cougars, including junior ALTON HAMISH and sophomore JOEY CLEAVES, help build a double-digit lead over the hosts in the fourth quarter.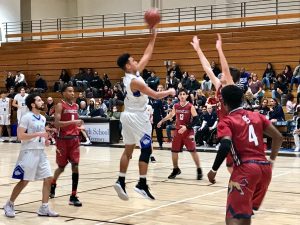 However, the game came to a startling halt a few minutes later
The fourth quarter was marred by an ejection to a Steele Canyon player for throwing a punch at a West Hills player.
"I thought coaches from both sides did a good job to calm the situation," West Hills head coach TIM BARRY said. "I think it was kind of chippy and physical during the game. I never expected that.
"(Steele Canyon head coach) JASON (ROBINSON) did a great job. He didn't come back for a good four minutes of the game (while counseling the player outside). I'm glad to see that game finished under control."
West Hills was the team that took control from that point but just didn't have enough time to overcome Steele's lead. The incident likely led to the Pack's momentum swing, although the atmosphere remained awkward throughout the rest of the game.
Steele Canyon's T-MAX NYUMAH had a key free throw with 7.6 seconds remaining.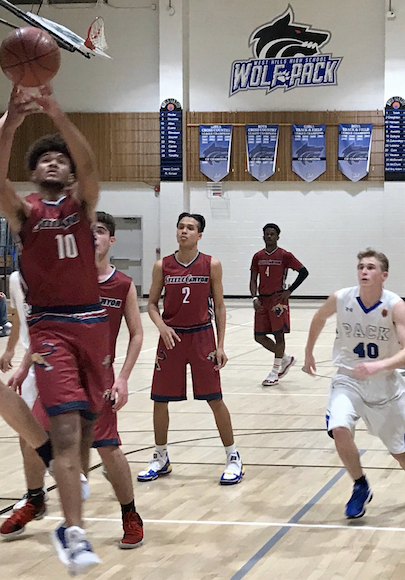 Sophomore guard CASH CREIGHTON had 14 points, including three three-pointers for West Hills.
Junior guard JAYDEN MORENO added 11 points, and also had three three-pointers for the Pack.
Sophomore KYLE DOBYNS contributed 10 points and seven rebounds for West Hills.
West Hills senior MICHAEL MCDONALD had 10 points and six rebounds.
Pack senior guard MICHAEL TOTAH had nine points and four assists.
The win was big for the Cougars, who remained well alive in the Grossmont Hills League championship race. Their 4-2 league record has them one game behind leaders Mount Miguel and Helix.
Steele Canyon will face Grossmont and the Matadors in their final two league games next week.