BOYS: Matadors, Knights are only Saturday winners
Updated: February 4, 2019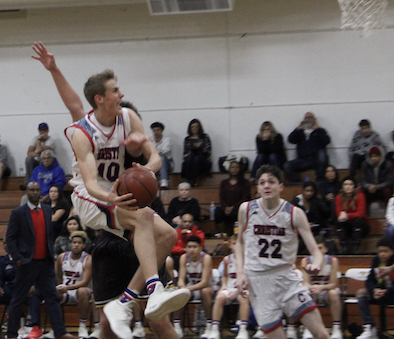 JACKSON LARSON floats to the hoop on Saturday against Francis Parker.
2019 EAST COUNTY PREP BOYS BASKETBALL
EastCountySports.com staff report
CHULA VISTA – The Mount Miguel Matadors tuned up for the most important week of the regular season by knocking off Otay Ranch, 67-57, in a game played at Montgomery High School on Saturday.
Senior MARQUISE EDWARDS scored 31 points, 21 of which came in the second half, as Mount Miguel improved to 19-7 overall.
"I don't worry about what people have to say about me," Edwards said. "I just play my game and when we don't have a game, I go into the gym and work on what I need to work on.
Senior MIKEECE DUNBAR continued to have a hot hand from three-pointer range, burying five more triples on Saturday, after making five on Friday, as well.
The Matadors led just 13-12 after one quarter but moved out to a 30-21 lead at halftime.
"It was a good game not only for me but also my teammates," Edwards said. "The points are great but winning as a team and proving the doubters wrong is more important."
Senior LAWRENCE GRAY added 14 points for the Matadors.
Mount Miguel is in line for a shot at another league title under head coach JAY ROWLETT and will play at third-place Steele Canyon in a big Grossmont Hills League contest on Tuesday.
"Playing under coach Jay is great," Edwards said. "He is about the team. He makes sure school comes first before anything."
The Matadors are tied for first with Helix with two games remaining this week.
FOOTHILLS CHRISTIAN 67, MISSION BAY 51 – The Knights knocked off short-handed Mission Bay in a matchup of county top-five teams at the Battle of the Bay Tournament.
The Knights led 15-9 after one period, then extended the lead to 34-22 at halftime behind 18 first-half points from senior D.J. CARTER-HOLLINGER.
A highlight moment came when junior YASSINE GHARRAM led Carter-Hollinger for a jam that made it 25-11.
Carter-Hollinger finished with 30 points on the evening, as FCHS improved to 19-5.
Foothills Christian hasn't lost since Jan. 11
FRANCIS PARKER 68, CHRISTIAN 59 – The Patriots couldn't complete a three-game in three-day sweep against top ten teams, running out of gas against the Lancers at the Battle of the Bay.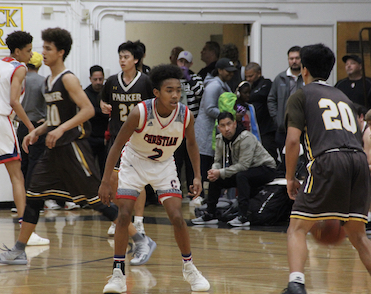 Junior MILES WILLIAMS continued to shine, however, for the Patriots.
The score was tied at 9-all approaching the midway point of the first quarter and the Patriots led 17-16 after one quarter.
Christian took a 38-32 lead by halftime, as JACKSON LARSEN had 12 first-half points, combining with Williams and KOBE SANDERS for 31 of the team's points.
Francis Parker went on an 8-2 run to tie the game at 40-all in the third quarter.
The Lancers took a 46-42 lead with 4:30 left in the third and led 54-49 at the end of three. Parker led by nine with five minutes to go in the game.
Williams finished with 17 points, seven rebounds and four steals, as Christian fell to 13-13 overall.
MONTGOMERY 83, HELIX 69 – The Highlanders couldn't keep pace with the up-tempo Aztecs at the South vs. East Challenge at Montgomery High.
Helix trailed 43-26 at halftime, but junior MAURICE HOLMES scored 13 of his 23 points in the third quarter, as the Highlanders closed the deficit to 58-50 after three periods.
"I am disappointed that I didn't come out to play like I did in the third quarter," Holmes said. "But I am proud of our team's fight in the second half.
"It is just unfortunate we dug a big hole in the first half."
Sophomore KAI JESSIE added 15 points for Helix, which fell to 15-10 overall. Junior JAHARI HILL contributed 12 points for the Scotties.
"We are focused on these two league wins we are about to get to secure the back-to-back-to-back (championships)," Holmes said.
Montgomery has one of the county's best records at 22-3.
SAN YSIDRO 85, EL CAPITAN 53 – The Vaqueros fell at the South vs. East Challenge at Montgomery High despite six three-pointers and 24 points from junior JACOB PFITZNER.
RANDY TUCKER added 10 points and 15 rebounds for El Capitan.
Sophomore R.J. LUGTU had a pair of three-pointers for the Vaqueros.
Senior NATHAN SCHUNK canned a consolation three at the final buzzer for El Cap.
EASTLAKE 69, STEELE CANYON 56 – The Titans outscored the Cougars 22-17 in the second quarter after the score was tied at 15-all after one period in a game at the South vs. East Challenge at Montgomery High.
The Titans led 34-23 with 1:54 left in the first half.
SWEETWATER 79, GRANITE HILLS 54 – The Red Devils knocked off the Eagles in a contest at Montgomery High as part of the South vs. East Challenge.