Matadors win 19th-straight league title
Updated: February 2, 2019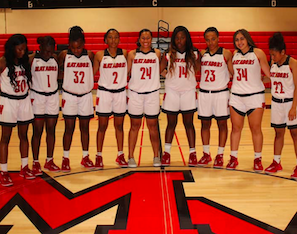 2019 EAST COUNTY PREP GIRLS BASKETBALL
MOUNT MIGUEL 63, GROSSMONT 29
EastCountySports.com staff report
EL CAJON – The Mount Miguel Matadors clinched their 19th-consecutive league championship on Friday night by defeating host Grossmont, 63-29, in a Grossmont Hills League contest.
Red-hot Mount Miguel senior CITALLI GURROLA scored 21 points, on seven three-pointers.
Gurrola is surely the hottest three-point shooter in the county right now. She had three treys in the first quarter and the Matadors built a 32-16 halftime lead.
Sophomore SYLENA PETERSON and senior TIAJA BENNETT both added 13 points. The pair each made a three-pointer.
Peterson, who scored eight points in the second quarter, also had six assists, four rebounds and four steals.
Senior guard DEYONNA MCBRIDE had eight points and eight steals.
Senior guard MICHELLE CORLEY had a team-high seven rebounds.
Grossmont sophomore ANYSSA CHARGUALAF has had a nice second half to the season. She led the Foothillers with 12 points.
Mount Miguel improved to 7-0 in the Grossmont Hills League and 21-5 overall.
The fourth-ranked Matadors, who will be the final attraction in the Coaches vs. Cancer Showcast at Mount Miguel High on Saturday at 7 p.m. when they face fifth-ranked Bishop's, entered the evening ranked sixth in the county power rankings.