Monarchs, Sultans, Cougars in title hunt
Updated: February 3, 2019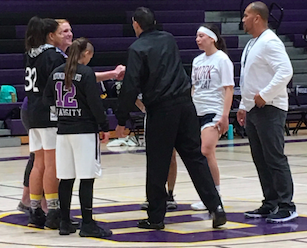 Steele Canyon and Santana captains and coaches meet at center court before the game.
EAST COUNTY PREP GIRLS BASKETBALL
EastCountySports.com staff report
The Grossmont Valley League just got real interesting following Friday results.
Now three teams are in the serious mix to win the league championship with just two games left to play this week.
MONTE VISTA 51, EL CAJON VALLEY 48 – The Monarchs moved into a tie for first place in the Grossmont Valley League with the road win over the Braves.
The Monarchs led 31-20 at halftime and had to hold off El Cajon Valley's charge in the second half.
Monte Vista's MEADOW DELINO continued on her rapid rise, scoring 14 of her 18 points in the first half, including a pair of first-quarter three pointers.
Monte Vista senior SARA TAHA scored 16 points.
"(In the) first half, we really took control and put the pressure on ECV," Monte Vista head coach SABRINA JIMENEZ said. "We were doing a great job forcing turnovers and keeping the pace uptempo. Meadow was doing a great job reading the defense and finishing."
Rapidly improving, FINEITA FOURNEY, of El Cajon Valley scored 15 points, including a 7-for-9 performance from the foul line.
The Braves' VEAN GORGEES also scored 15 points, including three three-pointers.
SILVIA ABOUD helped lead El Cajon Valley's rally with eight second-half points.
Monte Vista senior TORRI HONORE had seven points in the fourth quarter, however, to help secure the huge win.
"(In the) Third quarter the effort slowed down and we got away from what was working for us," Jimenez said. "Sara and Torri lead us through the fourth quarter and we were able to score during key plays. The girls kept their heads up and finished the game with a fight and composure."
The Monarchs will play at Granite Hills on Tuesday before hosting third-place Steele Canyon in the regular-season finale on Friday. If Monte Vista wins both games, it will get no less tha a share of the league title.
STEELE CANYON 55, SANTANA 50 – The Cougars remained alive in the Grossmont Valley League title chase by upsetting the Sultans in Santee.
Steele Canyon (5-3 GVL, 10-10) trail Santana and Monte Vista by just one game.
The Cougars railed 15-5 after one quarter but closed the gap to two points by halftime.
Steele Canyon outscored Santana, 17-10, in the fourth quarter.
Turnovers hurt the Sultans against the effective pressure of Steele Canyon.
Freshman BELLA TERRY led Santana with 16 points and five rebounds.
AALIYAH STONE and BRIANNA JERIG both added 11 points for Santana. The duo combined for 17 rebounds, while junior ISIS TAYLOR finished with eight points and six boards.
"There were glimpses of great basketball from us but we struggled with consistency," Santana head coach JORDAN FRANEY said. I never question the heart and hustle of my kids but that's not always enough to win big games. I'm a big believer in 'talk is cheap' so I'm looking forward to getting back on the floor, getting better, and taking care of the business we started.
That business comes next week when the Sultans face Valhalla on the road on Tuesday and host Granite Hills on Friday. A pair of victories will secure at least a share of the league championship.
Steele Canyon scoring was unreported.