Eagles have reasons to win home finale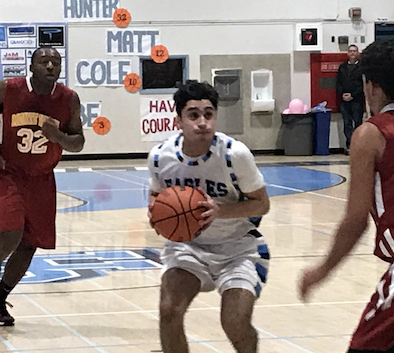 Granite Hills with the ball on Tuesday night. / photo by Dave Dickens
2019 EAST COUNTY PREP BOYS BASKETBALL
GRANITE HILLS 61, MONTE VISTA 53
EastCountySports.com staff report
EL CAJON – The Granite Hills Eagles had more than just Senior Night motivation against the Monte Vista Monarchs on Tuesday evening.
While everyone wants to win their last game on their home court, the Eagles want to live to play another game or more.
Saddled just inside the San Diego CIF Division III playoff bubble after some early injuries slowed their eventual progression, Granite Hills took the last of two steps to secure entry in the postseason with a 61-53 win over visiting Monte Vista.
MCKAY ROBERTS scored 17 points, grabbed 10 rebounds, and had five steals for the Eagles (10-15). HUNTER PIKE added 11 points.
Roberts also had 10 rebounds and five steals, while Pike brought down 14 boards for Granite.
"It is a team effort that allows us to win tough games like this," Pike said. "It also helped that our seniors had the crowd supporting us at home especially because it was a night for the seniors to have fun and just play the sport that we love.
Pike also had six blocks.
"I feel like my stats don't show the difference I make in games," Pike said. "The Monarchs put up a really good fight but I believe we won because it was such a special night and the team worked together so well. "
GABE SILVA contributed 10 points for Granite Hills
"It felt really good to play well, especially tonight," Silva said. "I think the keys were handling their press as a team and making sure we scored off of it.
Silva also went 4-for-4 from the foul line.
"I just went out and did my best to help my team win," Silva said. "Our team dynamic was keeping our composure when Monte Vista pressed and down the stretch in a close game like."
JUSTIS MCCOMB had seven points and five rebounds for the Eagles.
"Hunter Pike and Gabe Silva had great senior nights," Granite Hills coach DAN DUFFY said. "I'm happy for them.
"I'm so proud that even when we've had some bad breaks and shot poorly from time to time, we always play hard."
Monte Vista senior DEMARCUS MCKAN scored 17 points for the Monarchs.
"Demarcus did play well," Monte Vista head coach MIKE TULLY said. "(I) thought Granite simply made more shots down the stretch which was the difference."
Senior DERRICK WILEY contributed 11 points, all in the fourth period.
The Monarchs were outside the Division III playoff bubble heading into the final week.
The Eagles, meanwhile, end up with an intriguing season finale against Santana, another team just inside the current list of potential playoff qualifiers.
While a defeat won't necessarily spell doom for either club on Friday night, a win would go a long way in guaranteeing a spot in the playoffs.