MATADOR CORLEY TO ARIZONA WESTERN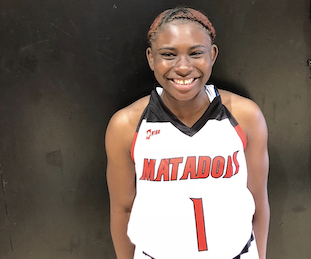 2019 EAST COUNTY PREP GIRLS BASKETBALL
By Dave Dickens
EastCountySports.com
SPRING VALLEY-(2-9-2019) – Senior sensation MICHELLE CORLEY is another superstar mentored by the "Coach."
We're speaking of one of the legendary high school basketball head coaches, ROBBIE SANDOVAL.
Not only has he coached his squads to 19-straight league titles, but he was also quite the baller himself, however, Rob would want as always to highlight his talented players.
Michelle Corley, now a 5-foot-5 guard has been a part of this phenomenal dynasty since she entered the program as a freshman.
"I started halfway through my freshman year after we played Etiwanda," Corley said. "Coach Rob really liked my defense."
Also, the fact that Michelle is a track star definitely assists on competing against the bigs.
"When looking for schools I also wanted something fresh and new," Corley said. "I'm excited more than nervous or scared. I always have wanted to get out of San Diego for school.
My four years at Mount Miguel were very successful. I'm going to miss everyone equally. There are different things I'm going to miss about the girls, but love them all like my blood sisters.
"I also miss Laila (Gurrola) and Cam (Douglas), but we still stay in touch."
Michelle has been chosen as the Max Preps Player of the Game three times this season and also was an EastCounty Sports.com player of the week this year.
Corley also put up 207 total points this season and 107 total rebounds.
"The summer leading into my freshman year, yes, I would say Coach Rob was intimidating," Corely said. "I didn't know what to expect.
"Over the years I just got used to his drive to maximize our potential. After four years I think it's a true blessing playing for Coach Rob.
"I picked Arizona Western because it's close to home, and they provide what I want to major in, which is Computer Science. I also loved the environment there."
Michelle fit right it with her new teammates coming up soon, and she enjoyed the visit on the campus.
Everyone on the floor when playing cheered each other on, Corley noted, and she even made a friend named during the visit.

She also spoke highly of assistant coach Daryl (Harrison) and head coach Pat (Cunningham), while at Arizona Western.