Henry steps up role for Foothillers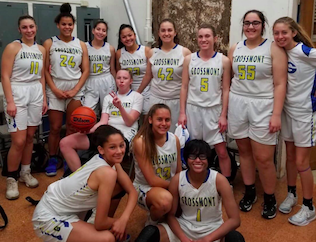 Grossmont following its playoff win on Tuesday night.
2019 EAST COUNTY PREP GIRLS BASKETBALL
EastCountySports.com staff report
EL CAJON – Grossmont High junior SARAH HENRY scored 14 points in the second half and the Foothillers defeated Canyon Crest, 53-45, in the first round of the San Diego CIF Division IV playoffs on Tuesday night.
Henry's traditional three-play play, which she converted after her layup rolled around and down, gave Grossmont a 10-point lead just two minutes into the third quarter.
The Foothillers led 17-14 at halftime when sophomore ANYSSA CHARGUALAF threw in a buzzer-beater at the end of the first half.
Chargualaf then opened up the third quarter with another converted three-point play. She finished with eight points in the game.
Moments later, senior MARISSA GILES knocked down a three-pointer for a 13-point lead. Giles would score 12 points in the contest.
However, Canyon Crest whittled the lead back down to 30-25 with under two-and-a-half minutes to play in the third quarter.
By early in the fourth, the Falcons trailed by just two points.
Henry, who finished with 16 points, made back-to-back layups with over five minutes to play, putting the Hillers back up by seven.
Senior ATHENA SOTELO scored nine points, including 5-for-6 from the foul line, in the final 4:40 to finish with 14 points.
Also raising her game was Grossmont sophomore SARAH FUNK, who had a pair of key rebounds in the fourth quarter.
Sixth-seeded Grossmont will next host 14th-seeded San Pasqual which upset The No. 3-seed Our Lady of Peace Academy, 69-62, on Tuesday.
The Hillers and Golden Eagles will play on Friday at 7.