Tigers' Sachs keeps Griffins off sacks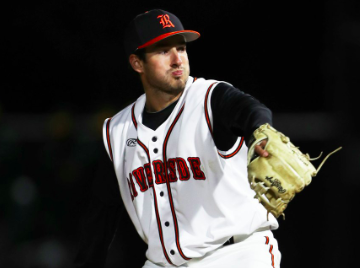 2019 COMMUNITY COLLEGE BASEBALL
By Nick Pellegrino
East County Sports staff writer
RIVERSIDE (2-13-2019) – Diminutive Riverside College pitcher Ethan Sachs, who is listed at 5-foot-10, 150-pounds, yet seems much smaller, fired five innings of 1-hit ball, as the host Tigers squashed Grossmont College, 4-0, Tuesday (Feb. 12) ay Evans Sports Complex.

Sachs, who is normally a freshman reliever yet was granted his initial career start, carried a no-hitter into the fifth inning when Griffins catcher Jayden Lombardo (Grossmont HS) registered the team's lone hit with a clean, one-out single to left field.

Riverside (7-3 overall; ranked No. 6 in the Southland) followed with three relief pitchers which did not yield a base hit in the 1-0 non-conference shutout. Included were three strikeouts over two frames by Drew D'Ambra, as RCC pitchers also coaxed a pair of double-play groundballs to further stymie the 15th-ranked G-House (4-2).

The Tigers registered the lone run they needed with catcher Steve Ramirez lifted a sacrifice fly in the third.

Meanwhile, five Grossmont pitchers combined on yielding just six hits, including a perfect frame by reliever Ivan Canales (Steele Canyon).
It's the second time Riverside has downed Grossmont this season, both at home by identical 4-0 scores for the griffins' lone setbacks.

The Griffins have already cancelled games Thursday at No. 14 Fullerton and Friday at home to No. 18 East Los Angeles due to expected heavy rains.
Meanwhile, it's wait-and-see on Saturday morning's game against No. 17 Long Beach to be played at San Diego City College's home field of Morley Field in Balboa Park.