Henry making Hillers championship option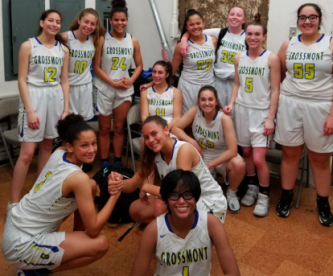 Grossmont following the win on Friday night.
EAST COUNTY PREP GIRLS BASKETBALL
SAN DIEGO CIF DIVISION II QUARTERFINAL
GROSSMONT 73, SAN PASQUAL 57
EastCountySports.com staff report
EL CAJON – The Grossmont Foothillers had reasons to be concerned prior to their quarterfinal against visiting San Pasqual on Friday night.
However, the Foothillers put any worries aside thanks to junior SARAH HENRY and defeated the Golden Eagles, 76-51, in a San Diego CIF Division II quarterfinal.
"So many fouls were called first half," said Grossmont head coach GRACE CAMPBELL. "I told my team during pre-game that for us to win at least four players must score six or more points and we can't depend solely on two players. And they did that tonight, we have been preaching that every player must step up."
The victory sets up a matchup of Grossmont Hills League rivals in the semifinals when the Hillers, winners of four-straight, travel to Lakeside to face El Capitan for the third time this season.
Henry, a strong presence all season around senior stars ATHENA SOTELO and MARISSA GILES, has quickly shown her full potential so far in the postseason.
Henry scored 28 points, making three three-pointers along the way, to lead Grossmont in scoring.
"The game was exciting and the crowd definitely hyped us up which helped," Henry said. "The win was great and by far one of the best of the season.
"Playing El Cap should be a good game. I just hope we pull through. Our defense needs to be on."
Giles scored 17 points and had four assists for Grossmont in the win over San Pasqual, which was a bit of a wild card coming into the matchup, having upset third-seeded Our Lady of Peace, in the first round.
"It was an intense game but everyone stepped it up," Giles said. "I think we ultimately came together as a team and played well as a whole. 
"We will be preparing a lot for (the El Capitan) game, and I know we will come ready to play."
Foothiller sophomore DANECA PEREZ continued to excel late in the season, scoring 12 points, and recording three steals.
It was the Foothillers' dominance in the second half that turned a two-point deficit into a double-digit win.
Henry, Sotelo and Giles combined for 34 points after halftime and Grossmont held San Pasqual to 23 points in the second half.
The Vaqueros may have earned the higher seed among the two teams with their power ranking, but it was the veteran-led Foothillers that finished in second place in the Grossmont Hills League, ahead of the Lady Vaqueros.
The decisive game in the standings was the Hillers' win – in Lakeside on Dec. 5 – by a 53-50 margin, giving Grossmont the two-game sweep.
"Beating a team three times is one of the hardest things," Campbell said. "We will not sleep either, we have to prepare for El Cap, we know we can't do the same things. It's a chess game."