Knights approaching new title heights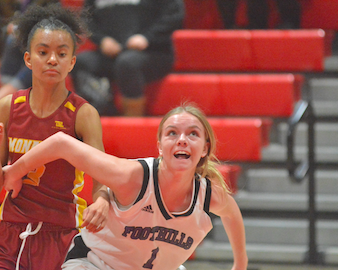 FOOTHILLS CHRISTIAN's ELLIE TURK boxes out on Friday night.
2019 EAST COUNTY PREP GIRLS BASKETBALL
SAN DIEGO CIF DIVISION IV QUARTERFINALS
FOOTHILLS CHRISTIAN 58, MONTE VISTA 47
EastCountySports.com staff report
SPRING VALLEY – Junior ELLIE TURK has helped the Foothills Christian girls basketball program garner an unprecedented amount of attention with her team leadership and scoring achievements.
The Knights girls basketball program is trying to reach a new goal by winning a CIF division championship. And with Turk leading the way.
But Foothills Christian's basketball success isn't likely to taper off after this monumental season.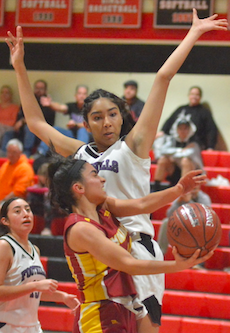 Sophomore ARANTXA FONSECA and freshman NATALY BRAVO not only give the Knights what they need now – in support of the county scoring champ – but also for the future.
The trio teamed to out-execute a successful Monte Vista squad, 58-47, in the San Diego CIF Division IV quarterfinals at Mount Miguel High on Friday night.
While Turk and Fonseca have become one of the county's best tandems, it has been Bravo that could shine past both of them one day.
Bravo was particularly impressive in her deft passing game, while a steal and drive to score in the second quarter was the quality of a seasoned veteran.
Turk and Fonseca teamed up to score 13 points in the first quarter as the Knights led throughout and maintained a 15-13 lead after the period.
Bravo did her damage with seven points in the second, including a three-pointer, as FCHS led 26-19 at halftime.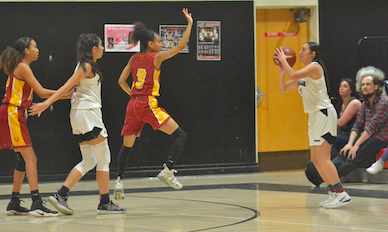 The Monarchs were impressive in their challenge, especially early on.
Senior SARA TAHA had nine points in the first half for the Monarchs.
"There wasn't really an issue with both of the teams' skill level," Taha said of the defeat. "It was mainly little mistakes. We fought the whole game even though we were only down by a few. I'm really proud of our effort tonight and I played my heart out because I treat every game as our last."
Taha finished with 23 points in her final game of a noteworthy prep career at Monte Vista.
"I did want to continue forward but we still made it this far and I am still happy about our accomplishments this year," Taha said. At least I can graduate knowing I left something for our school. Although home games are my favorite games, I know my team can play anywhere no matter the place no matter the fight. It's been a great season."
Senior TORRI HONORE and MEADOW DELINO both had three-pointers in the first quarter and third quarters.
However, the Knights were frequently speedy in transition following the Monarchs' offensive successes.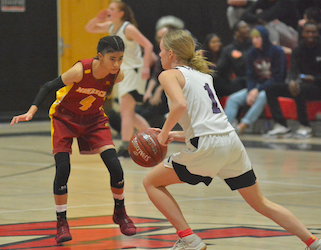 "We beat ourselves," Monte Vista head coach SABRINA JIMENEZ said. "Ellie and Fonseca played their game but their role players did their job, as well.
"That doesn't mean we didn't play hard. Sarah and Torri played their hearts out but it was a new environment for them. Meadow and JOURDAN (BARBER) did a great job on their scorers.
"Rebounding was hurting us throughout the whole game. Foothills Christian scored off of second-chance opportunities where we couldn't.
Turk finished with 29 points, 14 rebounds, 10 blocks, five steals, and four assists for an astonishing scoreline.
"it was a big one," Turk said of the win. "We've grown a lot as a team and players really stepped up tonight even with one of our starters out.
"Arantxa did have a great night. She hustled all over the court. Even though she didn't score very much she still stepped up in the rebounds."
Fonseca added 9 points, grabbed 20 rebounds, and blocked five shots
"Having a lot of our fans at a neutral gym made it way more exciting and gave us some hype," Turk said. "We had some really great plays throughout the game which gave us a lot of energy. The lows we never really let get to us.
Bravo had 10 points, five rebounds, four assists, and two blocked shots.
"It was a really hard-fought physical game," Foothills Christian head coach JOEY TURK said. "Both teams battled for every loose ball and rebound and scraped and scratched.
"It was one of those games that is really too bad someone had to lose I am so impressed with the toughness that Coach Sabrina has brought to their team and can see how they are really on the right path.
"This time of year when it is (win) or go home it takes the kind of effort our girls put out tonight. We are thankful and excited about the semifinals."
The Knights (24-6), the No. 2-seed in the division, will now face Coronado (22-6), the No. 3-seed, on Tuesday at 7.
Foothills Christian won at Coronado back on Dec. 18 behind 31 points from Turk
"If we play the way we did tonight and take care of business we will be fine in our next game but we need to come ready. thanks," Ellie Turk said.