Patriots' Open win nearly carbon copy
Updated: February 16, 2019
Christian High at the line on Saturday night. / photo by Dave Dickens
2019 EAST COUNTY PREP GIRLS BASKETBALL
SAN DIEGO CIF OPEN DIVISION QUARTERFINALS
CHRISTIAN 54, MOUNT MIGUEL 49
EastCountySports.com staff report
EL CAJON – For the Christian High Patriots, defense was the name of the game against the Mount Miguel Matadors in the East County prep basketball Game of the Year Friday night.
To win a CIF Open Division championship, Christian High has to show it has the defense to run the table against a playoff stable full of top scoring threats.
Whether or not the Patriots' 54-49 Open Division quarterfinal win over Mount Miguel was similar to their win over the Matadors almost a month ago was in the eye of the beholder.
But the path to victory was a bit different in the rematch despite the similar outcome.
Christian High took a 35-50 lead into halftime and held on from there. Back on Jan. 19, the Pats used a 22-10 third-quarter edge to beat the East County's other top-tier team.
Christian High's ALLIE CARREON, KRISTIN WILLIAMS, and SIMONE JAMES each scored 15 points in a coach's dream for the Patriots.
Now, Christian High, last year's section champions in Division III, advances to the Open Division semifinals to face league-rival Cathedral Catholic for the third time this season. The teams split two meetings this season.
"This was such a great win," James said. "Tonight was such a high energy game which made it fun but we were still focused on our assignments for the night.
"Energy from our bench, the crowd, our teammates, and our coaches definitely played a huge factor. All of us came to play."
Carreon had three three-pointers in the first quarter as the Pats led 19-13 after one period.
"This game was such an incredible win and I'm so proud of my team and the way we executed and stuck to the game plan," Carreon said. "Just knowing my teammates have my back is the best feeling in the world. I know that no matter what happens in the game we are still family and we are our sisters' keepers.
"God continues to help us and lead our paths. We give all our Glory to God. I think every moment is a clutch moment and just knowing that I have the opportunity to seal the deal is the best feeling in the world. I love my team and I hope that we make it far in CIF. This is our year, why not us?"
Williams added a three-pointer in the second quarter. She scored 11 points in the first half.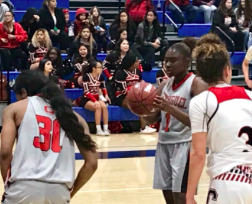 "I don't think there were any jitters just a lot of hype and we were very well prepared couldn't have done anything without our coaching staff and I couldn't have done anything without my teammates," Williams said. "Our main focus was defense locking up their two best players we knew we had the game."
The teams battled evenly in the second half.
The Matadors' MICHELLE CORLEY and LALLI GURROLA each made three-three-pointers in the contest.
Corley finished with a team-high 16 points for Mount Miguel.
"Both teams played hard, it was about who wanted it more," Corely said. "Who was more hungry? It was a tough loss but I know we gotta keep our head high and be ready for the state playoffs."
Gurrola and Matador star SYLENA PETERSON both finished with 11 points.
"The loss really hurts," Gurrola said. "I give Christian props for playing hard and giving us great competition. We knew the game would be a back and forth one. I believe once we got in the game, there was a little bit of nervousness in our team. Coach (ROBBIE SANDOVAL) wanted us to keep attacking the basket, not let Allie and Kristen shoot the three, and take charges from Simone when she attacked the basket. I'm very proud of this team and it's still not over for us. We still have state (playoffs)."
Peterson, a sophomore, scored 32 points in the first meeting between the teams, which like Friday's contest, was played at Ryan Athletic Center, Christian's home gym.
"Like most games, shots don't always go the way you want them to," Peterson said. "It was a game that we hope to look past and learn from."
A three from Gurrola got Mount Miguel to within 39-36 early in the third quarter.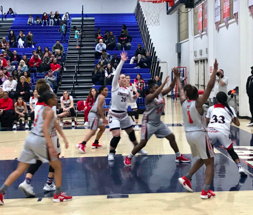 Then in the fourth, NYSA MAGA made a field goal to bring the Matadors to within a bucket.
The Matadors twice trailed by just three points with under a minute to play in the game.
"We were focusing on containing certain players and playing solid defense," James said. "We didn't have too many adjustments in the second half. We wanted to pull away and not let up.
"Defense was the name of the game. That has really been a focus of ours all season."
Now, the Patriots get another high-profile matchup and we haven't even reached in the championship game.
The Dons are the top-seeded team in the tournament, although the two teams split the Western League championship, winning on each other's home floor.
"Since this will be our third time playing Cathedral, the best thing we can do to prepare is to improve in areas we struggled and get better," James said.
"Cathedral is gonna be tough but if we prepare well enough I think it will be another great game."
For the defending champion Matadors, the second loss to Christian meant their reign as the county champions had come to and end.
"This game resembled the first game," Sandoval said. "Weopportunitiesnites but just couldn't get over the hump. We have to decompress and take a few days off and get ready for state."
The Patriots made the jump from Division III to Division I this season and are one game away from playing for the county's top-flight division championship.
"The one thing coach reiterated over and over was defense wins championships," said the Patriots' ZOE NORDLING. "We had prepared all week for this game, mainly focusing on our defense.
"Our game plan was to force everyone left, contain Sylena, give help when needed, and don't let Lalli shoot."
Now the Patriots have another set of star players to try and reel in on the Dons.
"I'm excited to play cathedral at their house because last time we had a great game and were able to pull it off," Nordling said. "It's going to be intense and close but nothing we haven't done before."
The semifinal game will be played on Wednesday at 7.