Knights defeat Islanders to reach championship game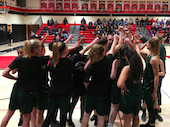 Coronado huddles prior to the start of Tuesday night's semifinal against Foothills Christian.
2019 EAST COUNTY PREP GIRLS BASKETBALL
2019 SAN DIEGO CIF DIVISION IV SEMIFINALS
FOOTHILLS CHRISTIAN 57, CORONADO 44
EastCountySports.com staff report
SPRING VALLEY – The Foothills Christian Knights left little to chance in Tuesday night's San Diego CIF Division IV semifinal win over Coronado at Mount Miguel High.
The Knights outscored the Islanders 17-6 over the first eight minutes en route to a 57-44 victory.
"Got the win," Foothills Christian head coach JOEY TURK exclaimed. "On to the finals."
Foothills junior Ellie Turk scored 20 points, had seven assists, six steals, four blocked shots and three rebounds for a fantasy basketball-like scoreline.
Sophomore Arantxa Fonseca added 13 points, 18 rebounds, three assists, three steals, and two blocked shot for FCHS.
Knights freshman Nataly Bravo came home with 15 points, five rebounds, two steals, and a pair of blocks.
Junior Angie Creel had a point, nine rebounds, two assists, 2 steals, and a blocked shot for Foothills Christian blk
Sophomore Christie Sarkis chipped in with six points, one rebound, one assist, and one steal.
Foothills Christian freshman Faith Wilson added two points and four rebounds, while senior teammate Ireen Issa also grabbed a board.
The Knights, who improved to a school-record 25-6 on the season, led 31-16 at halftime.
Foothills Christian will face the Madison Warhawks for the section division title on Thursday at 5:30 p.m. at Serra High.
The Knights were eliminated by eventual Division V champ Madison by 31 points in a section division final last season.
FCHS is returning to the CIF Finals for the second time in school history. Liberty Charter defeated Foothills, 64-39, for the D5 championship in 2014.
SOUTHWEST (El Centro) 58, LIBERTY CHARTER 50 – The Eagles eliminated the Lions (18-9) in the Division V semifinals behind a 32-21 first-half advantage.