City celebrates Charlens' 300th
Updated: February 23, 2019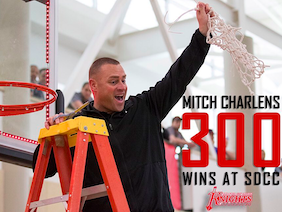 2019 COMMUNITY COLLEGE MEN'S BASKETBALL
East County Sports staff report
DOWNTOWN SAN DIEGO (2-23-2019) – San Diego City College men's basketball coach Mitch Charlens was reported to have hit a milestone as the regular season concluded Friday (Feb. 22).
According to the Knights, Charlens registered his 300th career triumph following City's 112-84 decision over visiting Imperial Valley College at Harry West Gym.
The victory clinched second place for City (16-12 overall, 7-3 PCAC) in the Pacific Coast Athletic Conference's South Division. Charlens has captured seven PCAC conference or division crowns in his 16 seasons for the Knights, plus winning the 2017 CCAA state championship.
Following the contest, Charlens was surprised when the players delivered "300 wins" t-shirts to the ballclub, as Charlens was allowed to climb a ladder to cut the net in celebration of the achievement.
City was stoked in reforming well for Charlens, racing to a 53-42 halftime advantage, then garnering a season-high 59 points in the second half to subdue the Arabs.
For the first time all season, three different Knights eclipsed the 20-point barriers, as Robby Robinson and Joseph Riley finished with 22 points.

Meanwhile, Nashom Carter added 21 points along with 8 assists, including 16 points in the first half to trigger the romp
For Imperial Valley (10-16, 3-7 PCAC), Timberland Mills came off the bench to score a team-best 22 points, including 12 from the foul line. Maurice White added with 18 points, including 14 from the foul line in the foul-fest (58 calls), including four technicals on the Arabs.
According to research by East County Sports, utilizing its archives, then gaining confirmation on history pages from the PCAC and the state CCAA website, Charlens actually owns 297 career wins (see chart).
No. 5 Southwestern 79, San Diego Mesa 64: At Kearny Mesa, the visiting Jaguars completed a perfect 10-0 slate through the PCAC South Division by downing the Olympians.
It's the first championship for 5th-ranked Southwestern and head coach John Cosentino since 2014-15. Before that, the Jas claimed back-to-back crowns in 2009-10 and 2010-11.
In his coach career, Cosentino served as an assistant at the University of San Diego when the Toreros captured their first championship as an NCAA Division I member school.
Freshman guard Marq Stephens led the Jaguars (24-4 overall, 10-0) PCAC) with 222 points  Marc Combs came off the bench to add 15 points, including 10 in the second half to stretch the lead.
For third-place Mesa (10-17, 6-4 PCAC), Cameron Hill registered a double-double with 17 points and 10 rebounds.
Thursday's Games

Miramar 74, Palomar 57:  At San Marcos, k before going into a 2-month slump, rallied back to take 3-of-4 games to cap the season, including Thursday's (Feb. 21) triumph at Palomar Dome.
Miramar (16-12 overall, 5-5 PCAC) gained a tie for third place in the North Division after guard Blake Seits hit 8-of-12 shots (including 6 triples) to post a game-best 26 points.
The host Comets (8-19, 2-8 PCAC), Jamario Harris tallied 20 points, while Michael Chatman added 17 points and 14 rebounds for a double-double.
No. 7 San Bernardino Valley 102, MiraCosta 80:  At San Bernardino, the Wolverines (22-6 overall, 9-1 PCAC) wrapped up the North Division crown by spanking the Spartans (11-17, 2-8) 11-17, 2-8) PCAC). SBVC poured home 60 second-half points to expand a 42-39 halftime lead.
Damani Washington paced the winners with 20 points, while point guard Nathan Pendarvis added 14 points, plus 11 assists, one shy of his career-high.
The Spartans' Xavier Allison led with 19 points, while Devyian Roberson and Dirk Helaire each added 16 points.
Elsewhere, 13th-ranked Mt. San Jacinto (22-5 overall, 7-3 PCAC ) stopped visiting  College of the Desert (14-14, 5-5 PCAC), 102-82, to clinch second place in the North Division.