Griffins edge champ Comets in opener
Updated: February 27, 2019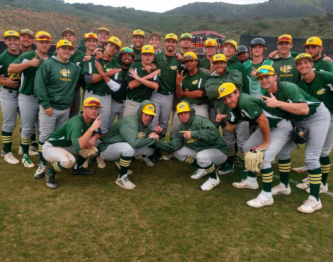 Grossmont following the win on Tuesday.
East County Sports staff report
SAN MARCOS (2-27-2019) – The Pacific Coast Athletic Conference season opened with the last pair of champions squaring off, with Round 1 going to the Grossmont Griffins.

On Tuesday (Feb. 26), Griffins starting pitcher Anders Tolhurst fired eight solid innings, then Michael Bovee survived a base hit in the ninth to garner the save, as Grossmont nipped defending champion Palomar, 4-3. The victory snapped a 10-game win streak by the home team in the series (five wins each), dating back to 2015.

Tolhurst struck out five and allowed five base hits. Bovee overcame a one-out single to strand the potential game-tying runner by coaxing all three outs on easy ground balls.

Grossmont (6-5 overall, 1-0 PCAC) snapped a 1-all tie with three runs in the 6th inning.

The two-out rally started on consecutive base hits by first baseman Trevor Hazelhurst and designated hitter Tyler Lowrey, the clean-up batter,to place runners on the corners.

Catcher Jayden Lombardo followed with a tie-breaking base hit to score Hazelhurst, then left-fielder Terrence Simmons bombed a triple to plate two more.
Simmons batted 2-for-4 with a run scored to lead Grossmont's 8-hit attack. Palomar fell to 8-5-1 (0-1 PCAC).

The ballgame was the first between the schools since long-time Palomar associate head coach Ben Adams took over the reigns. He replaced Buck Taylor, who left over the summer to become the pitching coach and a coordinator at Kansas State.

The 3-game set continues Thursday at Grossmont, then concludes Saturday back in the North County.