Carter-Hollinger has 27 in Knight finale
Tip off on Thursday between the Knights and Santa Margarita.
2019 EAST COUNTY PREP BOYS BASKETBALL
SANTA MARGARITA 76, FOOTHILLS CHRISTIAN 66
EastCountySports.com staff report
RANCHO SANTA MARGARITA – The Foothills Christian Knights fell to Santa Margarita, 76-66, in the CIF State Division I SoCal regional second-round playoff on Thursday night.
Santa Margarita is the 11th-ranked team nationally and fifth in the state.
D.J. Carter-Hollinger led FCHS with 27 points, while Yassine Gharram had 19 points, and Jaren Nafarette added 11.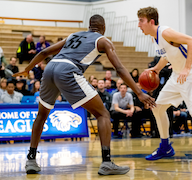 Foothills Christian trailed just 37-35, then the game was soon tied at 41-all.
After taking a five-point lead, once again the Knights closed, pulling to within 48-47.
Santa Margarita led 52-49 but went on a 9-2 run. Eventually, the Eagles led by 13 with three minutes to go.