Griffins look like champs once again
2019 GROSSMONT COLLEGE WOMEN'S TENNIS
By Nick Pellegrino
East County Sports staff writer
EL CAJON (3-1-2019) – The Grossmont College women's tennis gained the inside track to capture another Pacific Coast Athletic Conference championship after topping powerful College of the Desert, 6-3, in Thursday's (Feb. 28) dual match at Grossmont.

The Griffins (6-0 overall, 3-0 PCAC) are seeking their sixth consecutive conference crown under veteran head coach Megan Haber, owning a composite 61-4 record in PCAC play, including the decision against the Roadrunners, Grossmont's chief conference rival.

The Griffins are led by sophomore Katrinna Jasso (Serra HS), who advanced deep into the 2018 state tournament, reaching the round of 64 in singles, then the round of 32 in doubles play. However, the strength of the team is its depth.

Although Desert easily won matches at both first-flight singles and doubles, the Griffins took six of the remaining seven match-ups to take the dual easily.
Similar results occurred against other Southland powers this season, including triumphs over Saddleback and Glendale.

Unlike line-ups in the past, Grossmont owns mostly domestic roster with only one international player.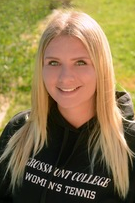 Against COD at No. 2 singles, Madelein Liljekvist of Sweden continued her season-long winning streak.

Grossmont High provided five current Griffins, including Alycia Franklin at No. 3 singles and Jillian Kan. Both sophomores won in straight sets.
SINGLES:
#1: Claudia Stepien (COD) def. Katrinna Jasso (GROS) 6-0, 6-0
#2: Madelein Liljekvist (GROS) def. Karla Munoz (COD) 3-6, 6-1, (10-6)
#3: Alycia Franklin (GROS) def. Annaya Zubick (COD) 6-2, 6-0
#4: Andrea Rapan (COD) def. Manuela Nelly Cordova (GROS) 6-4, 6-0
#5: Jillian Kan (GROS) def. Madison Burns (COD) 6-0, 6-2
#6: Lauren Macie Asbell (GROS) def. Vanessa Rodriguez (COD) 6-2, 6-1
 DOUBLES:
#1: Stepien / Munoz (COD) def. Jasso / Franklin (GROS) 8-1
#2: Liljekvist / Nelly Cordova (GROS) def. Rapan / Zubick (COD) 8-3
#3: Kan / Linquist (GROS) def. Burns / Rodriguez (COD) 8-2