Cougars club Knights; Barons double Pats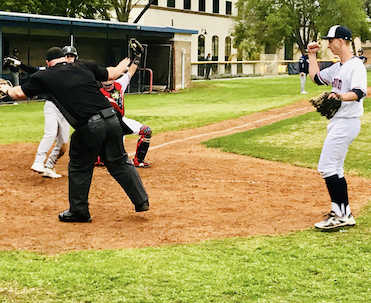 A Bonita Vista player is safe at home on a close play on Wednesday. / photo by Dave Dickens
2019 EAST COUNTY PREP BASEBALL
East County Sports staff report
BARONA INDIAN RESERVATION (3-6-2019)– Steele Canyon High pitchers Brad Barkley and J.J. Burns combined to allow just three singles, while center fielder Richard Pedrin added the icing on the cake with a 2-run homer in the 7th inning to propel Steele Canyon to their second straight triumph after defeating the Foothills Christian Knights, 10-3, in Wednesday's (Mar. 6) GMC Tournament game held at historic Stars Field.

Barkley struck out 7 batters and yielded just one earned run over five innings. Burns followed with a pair of no-hit innings.
"I had 90 pitches," Barkley said. "I wanted to get the full complete game but they don't want to push it too much so early in the season. I felt great.
"I strive every day to be the best. We have some great competitors on our team. I'm happy to see all the extra hours hitting in the cage paying off."

Cougars shortstop Eli Page batted 3-for-3 with a double, an RBI and scoring all three times. Meanwhile, Pedin and Jake Entrekin each added two hits among the 10 collected by Steele Canyon (2-3).
"Today was well-executed baseball overall for everyone on our team," Page said. "Brad had an amazing performance on the mound, and our whole team was hitting behind him. There's definitely more than we need to work on, but I was overall happy with our team today.

A 5-run outburst in the 2nd decided this contest. The rally started when Entrekin singled through the left side of the infield, then scored when Jonathan Ramirez followed with an RBI double to center. Page followed with a run-scoring single for a 2-0 lead.
"Today I felt pretty confident at the plate and was seeing the ball well," Page said. "I had guys behind me that could swing. Cade Stein had two sac bunts that put me in scoring position, and the whole team was running the bases pretty well today."

Stein put down one first of his two sacrifice bunts, as Page moved to second base. The bases then became loaded when Sebastian Granados walked (one of his 3 bases on balls on the day) and Pedrin was struck by a pitch.

With Billy Tellous at the plate, Foothills was charged with a wild pitch and a balk to score a pair of freebies to make it 4-0. Tellous would walk, then cleanup hitter Carlos Camacho singled for the fifth run.

For Foothills Christian (2-2), starting catcher Cade Cabral scored twice.
Kip Famolaro singled, scored a run and reached on an error.
"This was a tough one to swallow," Famolaro said. "We all were responsible for that outcome. All I can say is that our bats weren't there today and neither was our defense. We didn't show up to compete.
Foothills sophomore Brendan Campbell toughed out 4 2/3 innings.
"One great takeaway was that Brendan pitched great," Famolaro said. "I'm really proud of how he consistently pounded the zone and didn't let the muddy conditions get to his head.
"Foothills is hungry for a win, and after today I can assure you one isn't far away."
Junior Jalani Brown added a sac fly for the Knights.
"This was a rough game," Brown said. "We were not swinging the bats and we were making errors. Steele just had their way with the bats."
BONITA VISTA 6, CHRISTIAN 3: At Mitchell Field, a trio of Barons pitchers limited the Patriots to just four base hits, claiming Wednesday's (Mar. 6) GMC Tournament ballgame at Christian.

Starting pitcher Alex Gabaldon went four strong innings, then the bullpen combined to allow just one hit.
Bonita Vista is skippered by former West Hills pitching coach Dave Palet, who had a knack for getting the most out of an unheralded Wolf Pack staff.
Meanwhile, Bonita Vista (4-3) scored five times in the first three innings to take the wire-to-wire triumph.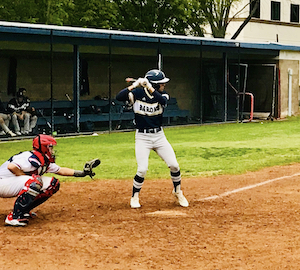 Christian (2-4) received doubles from Peyton Berroth and Braeden Ross, but the ballclub couldn't string much together in order to come back.
In addition, Mike Pohle stole a pair of bases for the Patriots, as he drew a walk and scored a run.
"It all comes to down to executing for us," Pohle said. "We are fortunate to have great coaching so it's on us.
"As I've said before we need to come through and hit. Once we do that we will build on it and do what we know we can do. Going into the next game against Montgomery we will go at it like any game."

For the Barons, Michael Barajas and Isaac Almendarez each recorded a pair of hits.

Both Bonita Vista runs in the 1st were unearned, but the three in the 3rd all came on a two-out rally, keyed by cconsecutive run-scoring singles by Barajas (1 RBI) and Isaac Almendarez (2 RBI).