Norsemen, Eagles, Matadors, Monarchs win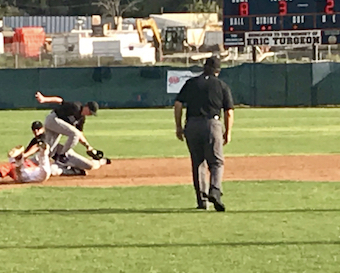 Valhalla steals second on Tuesday against Foothills Christian. / photo by Dave Dickens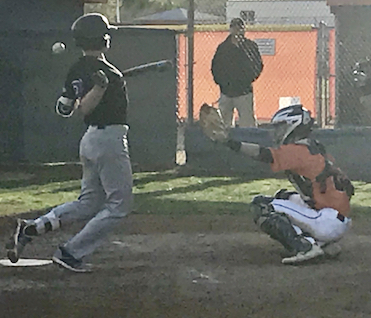 2019 EAST COUNTY PREP BASEBALL
EastCountySports.com staff report
EL CAJON – The Valhalla Norsemen improved to 6-1 with an 8-6 victory over the visiting Foothills Christian Knights on Tuesday in a Grossmont-Metro-City Tournament game.
Valhalla led 6-0 after two innings.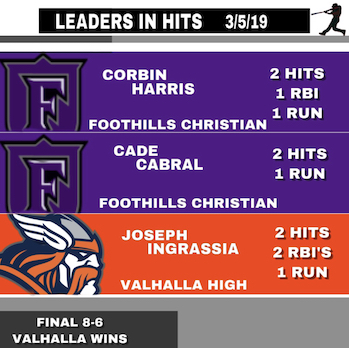 In the first inning, Valhalla's Luke Clark singled to drive in a couple of runs for a 2-0 lead.
Valhalla scored four runs in the second inning, as Ryan Perot, Trey Henige, and Clark, all drove in runs.
Foothills Christian scored four runs in the fifth to get back into the game.
A fielder's choice by Tyler Kennedy, a single by Cameron Nicks, and a single by Corbin Harris got the Knights back into the game with RBIs. Jalani Brown also drove in a run.
"They were hitting the ball but the outcome should have been different," Brown said. We made too many errors and that ultimately hurt us. We just did not play our game the first three innings."
Anthony Young got the win for Valhalla going four innings, allowing three runs on five hits and striking out two.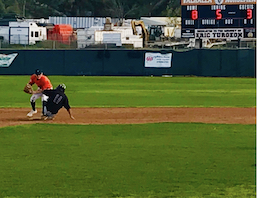 Kip Famolaro started on the mound for Foothills Christian. Tyler Kennedy threw 4 1/3 innings in relief.
"We came into that game with not as much energy as usual and it hurt our first few innings," Famalaro said. "I didn't pound the zone the way I know I can.
"Our coach made some smart changes that woke up the team early in the game and we started playing like ourselves again. Of course, it was dissapointing not to win it but we put up a good fight against a good team."
Valhalla had nine hits. as Clark, Kyle Casper, and Joseph Ingrassia each had two hits. Ingrassia also stole two bases.
Foothills Christian had eight hits on the day.
"Coach (Dave) Lewis made some defensive adjustments in the third inning that helped us," Foothills Christian's Jack Wurtz said. "Tyler Kennedy came in and pitched, showing a real warrior heart. He battled.
"This is particularly impressive because he has been out for a week and a half because he has been sick. Today was his first day back.
"We made some good defensive plays in the second half of the game. On offense, we fought hard and mounted a comeback. We just couldn't quite get it done."
FCHS fell to 2-4 overall.
GRANITE HILLS 5, MADISON 3 – It was the Madison Warhawks that emphatically ended the Granite Hills Eagles' postseason last year, clubbing the locals, 17-4.
On Tuesday, the Eagles won their fifth-straight improved to 5-2 with the GMC Tournament win over the visiting Warhawks.
Austin Smith went 5 1/3 innings, allowing three runs on six hits and striking out two to pick up the win.
"Austin Smith pitched a really good game for us," Granite Hills head coach James Davis said. "Mixed up his pitches well. Couple big hits at the right time. Madison is a good win for us."
Clay Fordham threw 1 2/3 innings in relief to earn the save.
"We certainly remember what happened last year in CIF and we were motivated to not let history repeat itself," Fordham said. "Playing center field getting a pretty good view of Smitty's pitching, I saw him work the corners and change speeds to keep hitters off balance.
Granite Hills starters Smith and Noa Ponicano have allowed just eight earned runs in a combined six starts so far.
"Ponce and Smitty couldn't have done any better than they have so far and it speaks for their individual talents considering how young they are," Fordham said. "Going into the game I carried the same mentality Smitty did. I focused on getting ahead while mixing up the timing.
I couldn't be happier with the group of guys I've had the chance to play with. Davis has done a great job with all of us and teaching us how to play good baseball.
Granite Hills had six hits. Max Bodtke and TK Parker both had two hits for the Eagles.
Smith improved to 2-1 in his starts.
"It felt good today to get the win," Smith said. "Fordham is the right guy to call when I come out of the game to finish it. I was sticking with the fastball all game and my defense was making the plays for me."
MOUNT MIGUEL 6, KEARNY 0 – Mount Miguel sophomore MICHAEL CAMACHO was flat-out dynamite on Tuesday, delivering a one-hitter to defeat the Komets in a GMC Tournament game.
Kearny's only hit came with one out in the bottom of the first.
Camacho walked just one and struck out six, facing just four over the minimum.
"Inside the dugout was very calm but also a fun atmosphere because we were winning and everyone on the team was very supportive and excited," Camacho said.
Camacho, the younger brother of senior star, Nico Camacho, already was showing signs of his potential last year as a freshman. He'll likely rachet that expectation up even more following Tuesday's performance.
"Michael Camacho was money," Mount Miguel head coach Frank Coit said. "We played well, good defense, we made the plays when outs were presented to us. Ran the bases well, and got some timely hits this time."
Mount Miguel won for the first time in six tries.
"It was a good win to give them a chance to regain some confidence after a rough first five games," Coit said. "We basically asked them to put it behind them and concentrate on improving and competing hard one game at a time from this point forward.
"We will be fine, we just got off to a slow start, lots of games ahead and hitting our stride by the time league starts is really our goal."
Another up-and-coming sophomore, JoJo Castillo, had a clutch single and three RBI in the contest.
Mount Miguel's Johnathan Frivaldo provided the GWRBI on a ground out in the second inning, scoring senior Trevor Darby.
"When Mikey got on the mound, I knew he was gonna do great and I just knew I had to do my job as his teammate and we all did," Darby said. "We did our jobs and had each other's back and that's what got us a nice team win."
Mount Miguel scored three runs in the third inning, as Thomas Ringer and JoJo Castillo each drove in runs during the inning.
Mount Miguel had seven hits as senior Cameron Beauzec and Darby each had two hits.
"We had a great day as a team," Beauzec said. "Played really well. Very few errors. The pitching performance was amazing especially since we didn't give up many free bases. Our defense was the best I've seen all year.
"Offensively, we are still figuring it out, but it is getting better. Once we all start clicking together, the opposition better watch out because Mount Miguel got its first win. We like the taste of victory and want to keep the flavor in our mouth."
The Matadors will face neighborhood rival Morse on Thursday.
"We put last week's rough start behind us it appears," Coit said. "New tournament, new approach with a clean slate. Hopefully the beginning of our turnaround."
MONTE VISTA 11, CASTLE PARK 1: At the GMC Tournament, the Monarchs scored six runs in the first inning and evened their record at 3-3.
Senior ANDREW SAVOY allowed three hits while striking out nine to earn the victory.
"Our team did a great job today with scoring runs and giving me a big cushion to work with," Savoy said. "That allowed me to relax on the mound and throw my pitches with confidence. My change up felt really good today and I was able to locate it really well. It allowed me to induce weak contact and allowed our defense to make the needed plays."
Senior CAMERON SCHULER, junior ABRAHAM SANCHEZ and sophomore JACOB LAVOY all doubled and drove in a pair of runs for Monte Vista.
"The dugout was very into the game and everyone was cheering on the hitter," Sanchez said. "We were all intense and aggressive to get an early lead."
Sophomore ERNIE ARAMBULA had two hits and scored two runs for Monte Vista. Sanchez also scored a pair of runs.
"I was going after them hard and thinking up the middle and at the end of the day I did my job for my team," Arambula said.
SERGIO CORTEZ had two hits, four stolen bases, a run scored and an RBI.
"The offense was clicking on all cylinders today," Monte Vista head coach CRAIG NEU said. "We played our style of offense and took it to them.  We love stealing bases and applying pressure to our opposition."
MAR VISTA 7, WEST HILLS 6 (8 inn.): At Imperial Beach, the Marines rallied to tie with three runs over the 6th and 7th innings, then after trailing again in the 8th, added three more markers to break the hearts of the visiting Wolf Pack in Tuesday's (Mar. 5) GMC Tournament ballgame.

While the starting pitching for West Hills (1-5) has been excellent, the bullpen needs to find its groove in falling for the fifth straight contest.
In the 8th, Mariners' right fielder Jeremy Longworth tied the war of attrition with a double, with the deciding run eventually scoring on an error.

The late rally ruined a solid day at the plate for reserve right fielder Parker Craft. The senior entered in the 4th, yet reached base and scored on all three plate appearances (2-for-2, safe on error), including the go-ahead run in the top of the 8th.

Craft drilled a triple to deep right-center field to leadoff. An out later, Kondyra was hit by a pitch, then Kyle Dobyns doubled to right and bring home Craft. Kondyra made it 6-4 on a sacrifice fly by Kole Klingerman.

However, the Mariners answered by loading the bases on a base hit, a walk and a dropped third strike before Longworth went long with his double.

A double by Mar Vista third baseman Chris Pardinas tied it in the 7th.
Wolf Pack starting pitcher Christian Schmid was solid, allowing three runs (all unearned) over 5 1/3 innings. However, the pitching staff was hampered by five errors behind them, as only two runs by the Mariners were earned.
CLAIREMONT 7, EL CAPITAN 3: At Clairemont, the Vaqueros best chance to break into the win column was thwarted by the host Chieftains broke a 2-2 deadlock with two runs in the 5th and three more in the 6th to take Tuesday's (Mar. 5) GMC Tournament pool-play contest. The Vaqs are winless in seven starts.

Senior outfielder Charles Rodriguez batted 2-for-3 with a walk and an RBI, while Austin Bell and Martin Sedano also drove in runs for El Cap. Bell's RBI came on a double, while Martin Sedano and Brandon Williams also stroked two-base hit.

The Vaqueros tried to rally in the 7th, as pinch-hitter Rene Ponce II singled, eventually scoring on a Rodriguez hit.

Clairemont (4-4) moved to 4-0 at home.
MORSE 15, EL CAJON VALLEY 2 – The Braves held a 2-1 lead through 2 1/2 innings.
After the Tigers scored four in the third, a 10-run fourth turned in the game into a lopsided result.
Senior AARON RODRIGUEZ had a sacrifice fly in the top of the first for a 1-0 Braves lead.
Senior KEVIN TY walked and scored a run in the second inning for El Cajon Valley.
ROBERT VERDUGO had a pair of hits for the Braves (0-2).