ROUNDUP: Vaqueros down Patriots in GMC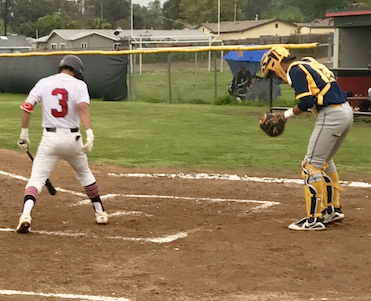 Mount Miguel steps in against Morse on Monday. / photo by Dave Dickens
2019 EAST COUNTY PREP BASEBALL
East County Sports staff report
EL CAJON (3-12-2019) – It took a lot longer than desired, but El Capitan High finally claimed its initial check into the victory column after surprising host Christian, 5-2, in Monday's (Mar. 10) GMC Tournament contest at Mitchell Field. The victory snapped a season-long 6-game skid.

Kevin Allison knocked in a pair of runs for the Vaqueros, while pinch hitter Austin Barker had another RBI to help mount a 5-0 advantage, then staving a late comeback by the Patriots.

In the 3rd, Rene Ponce and Jake Pfitzner both scored due to errors. The Vaqueros tacked on three more markers in the 5th.

Bell was hit by a pitch to leadoff as rain started to fall, then Jake Bergherm accepted a one-out walk. Barker followed with an RBI single, then Allison lined a 2-run single to center field.

Christian rallied with single runs in the 5th and 7th inning. Late-inning substitute Caleb Leonard was involved in both rallies.

In the 5th, Leonard singled and move to second base on a wild pitch. Carson Stroman then lined a two-out single for the run.

Two innings later, Matthew Souza drilled a double to center, with Leonard driving him in with a base hit.

The Patriots later brought the potential game-tying run to the plate, but Vaqueros pitcher Austin Bell escaped with a strikeout to cap his complete-game effort. He recorded 6 strikeouts.

For El Capitan (1-6), Bergherm batted 3-for-3 with a walk.

Christian (3-5), which has lost 5-of-6, saw Strohman and Leonard reach register two of the Patriots' six hits. In addition, Leonard fired 2 1/3 innings of scoreless relief.
STEELE CANYON 6,UNIVERSITY CITY 4: Suffering a 3-hit shutout through five innings, the bottom half of the Cougars batting order erupted to drive in five of the ballclub's six runs late to shock the Centurions in a Cougar Classic elimination contest. Steele Canyon scored four times in the 6th, then to more in the 7th, which proved important when University City also scored twice in the 7th to make things interesting.

Jake Entrekin and Eli Page both delivered a pair of RBI to fuel the comeback.

Trailing 2-0 in the 6th, three consecutive hits produced the initial Cougars run. Billy Tellous stroked a lead double, Carlos Camacho singled to place runners on the corner, then Entrekin doubled to trim the deficit to 2-1, with a ground out by Richard Pedrin tying the contest.
"Today was a great win for the team," Pedrin said. "I couldn't have done it without all my teammates. 
Steele's Brad Barkley went the first round innings before leaving down 2-0.

Later in the inning, Page sent the ball down the right-field line for a go-ahead, 2-run triple. From the No. 9 spot in the batting order, Page is now batting .714 in his last three outings.
"Today we were pretty low energy in the first three innings," Page said."But Brad once again held them to only two runs.
"When Billy hit that double everything started to go our way, and the momentum switched. Then after that triple, I think we all knew that we had it. Bubs (Pedrin) was pounding the strike zone forcing them to hit the ball, He was extremely consistent. I was once again super proud of my boys today. We definitely had to fight for this one."
An inning later, Granados singled then reached third base on a pair of wild pitch. Tellous walked, An out later, Sebastian Granados scored on another wild pitch, then Entrekin sent a sharp grounder through the left side for an RBI.
"The game was for sure a wild one," Entrekin said. "It felt great to get the bats rolling late in the game to give our pitchers some breathing room. It was also nice to finally close out a game like we can and should've been doing our past few games."

University City mounted a pair of comebacks, but only scored once.
The rally in the 6th was thwarted when Cougars third baseman Aaron Taylor turned a double play to prevent a runner at third base from scoring.

The Centurions pushed across two runs in the 7th and the potential go-ahead run at the plate, but Pedrin, the Cougars relief pitcher, capped his 3-inning stint with a game-ending strikeout to gain the victory.
"I was hoping Coach Evans would call my number and he did," Pedrin said.  "I want the team to see me as a big closer this season. Our bats kicked came alive in the top of the 6th. 
"Jake Entrekin is hot with the bat and had clutch RBI hits. We continue to improve on offense and defense after a slow start to the season. We should have all the kinks worked out by the start of league."

For Steele Canyon (3-4), Sebastian Granados also registered a pair of hits.

University City received 3 RBI from Colin Ruthenberg on a hit and three walks. Zay Pena, Anthony Nelson and James Engebretson also had two hits each.

CATHEDRAL CATHOLIC 5, GRANITE HILLS 2: The Dons gained a measure of revenge from an earlier loss by topping the Eagles in Monday's (Mar. 11) GMC Tournament game.

Cathedral Catholic (3-4), once 0-4, is now on a 3-game winning streak.
Granite Hills (6-3) had its 6-game winning streak snapped.

When Granite Hills downed the Dons on Feb. 26, the win not only ended the Eagles' 0-2 start, it created the first 0-2 start for CCHS since relocated to Carmel Valley.

Moments into the contest, the first three Dons batters registered hits for a run, then a double play grounder made it 2-0. An inning later, three more runs came home for a 5-1 cushion, featuring a 2-run double by No. 9 hitter Lewis Barnum.

That was all Dons pitcher Jake Rons would need in his complete game. He struck out six Eagles, allowing just one earned run on five hits.

For Granite Hills in the 1st, T.K. Parker led off with a single later scoring on an error. In the 3rd, No. 9 batter Dillon Goins lined a single to right, coming home when Austin Smith also lined a base hit to right.

Afterward, the Eagles accepted a one-out walk in the 4th, then Rons retired the final 11 consecutive batters.
"We battled," Granite Hills head coach James Davis said. "Rons is a very tough pitcher. One of the better ones in the county. We had some good swings against him. Ponce was unfortunate in the first couple of innings but actually pitched very well."
MIRA MESA 2, VALHALLA 1: In a play reminisce from the motion picture "Major League." Marauders junior Bryce Hall took two bases on a bunt for the walk-off run, allowing the hosts to shock the Norsemen.

Wall was hit by a pitch to lead off, moving to second base when Conner Little walked.
Now, no one saying Gabe Jones, the ensuing batter, pretended to "call his shot" and declare he was going to hit a home run as portrayed in the movie, but Jones did lay down a bunt toward third base. The throw beat the runner for the first out, but Wall kept on chugging around the corner and scored.

The triumph lifted Mira Mesa's record to 4-3-1. The Norsemen, with an opportunity to climb into the country rankings, instead fell to 7-2.

In the 6th, Valhalla broke up the pitchers' duel, but Mira Mesa immediately countered with runs in the home-half of the 6th and 7th to win.

Norsemen designated hitter Trey Henige singled home Ryan Perot with two outs in the 6th, snapping the shutout bid by Fletcher, who went 5 1/3 innings.

However, the Marauders tied the ballgame when Stephen and Thompson and Aaron Leicester posted consecutive base hits. Thompson singled to the hole at shortstop for an infield hit, stole second base, then tied it when Leicester took the ball to right field for the RBI.

The Norsemen finished with six hits, including two by Joseph Ingrassia.
For Mira Mesa, Jones had two of the club's four hits, while Thompson tossed 1 2/3 innings of no-hit ball from out of the bullpen to collect the victory,

MORSE 7, MOUNT MIGUEL 2: The visiting Tigers scored the game's first seven runs to take Monday's (Mar. 11) neighborhood rivalry against the Matadors.

The 3-4 batters for Morse did the damage, as Alonzo Durazo batted 4-for-4 with 2 RBI, while Kevin Romero went 2-for-4, also driving home a pair, allowing Ezekiel Arcelona and Lawrence Nelson to each score twice.
Tigers pitchers Michael Chapman and Chris Westover combined on a 4-hitter.

The Matadors runs came in the 6th. as Eric Kelly (lead walk) scored on an error, then JoJo Castillo singled, coming home on a sacrifice fly to center field by Johnathan Frivaldo.

MATER DEI CATHOLIC 20, FOOTHILLS CHRISTIAN 8: At Stars Field at Barona, the Knights offense got healthy with 11 hits, but the pitching staff took a step backward in falling to the Crusaders in Monday's (Mar. 11) GMC Tournament contest.

Foothills Christian second baseman Corbin Harris raised his season batting average to .462 after going 3-for-4, scoring twice and stealing a base. Jack Wurts and Jaden Bankhead also recorded two hits each.

Meanwhile, Jalani Brown added a bases-loaded clearing double, when the Knights (2-7) tallied five times in the 6th.

At the 1,400-foot altitude of Barona Indian Reservation, the first inning took more than an hour to complete, when Mater Dei Catholic assumed a 9-3 advantage.

The Crusaders (5-4) stopped a mild 2-game losing streak as leadoff batter Paul Samson went 3-for-4 and scored five times, while Ildephonso Ruiz batted 3-for-3 with three RBI and three runs.