ROUNDUP: Grabowski's Sharks win thriller; Lions score 23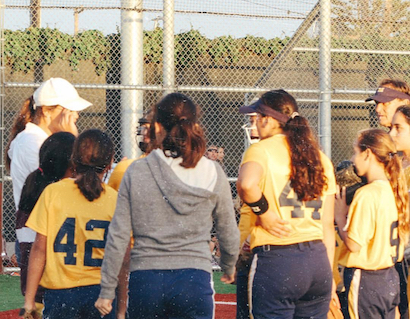 Bayfront Charter and head coach Mary Grabowski during a preseason practice.
2019 EAST COUNTY PREP SOFTBALL
East County Sports staff report
SPRING VALLEY (4-13-2019) – If you're Mary Grabowksi, the 2011 East County player of the year out of Christian High before becoming a four-year starter for the University of San Diego, you can come home again.

In her first regular-season contest in East County as the second-year coach for Bayfront Charter High of Chula Vista, she directed the Sharks — last season's third-place team in the CIF San Diego Section Division V playoffs — to an exciting 10-7 win in 8 innings over host Monte Vista in Tuesday's (Mar.12) non-league ballgame.

The contest was filled with several lead changes, key hits and missed opportunities before Bayfront tallied three times in extra innings to avenge a 12-2 loss to the Monarchs last season.

The deciding run saw Bayfront No. 9 hitter Alejandra Franco reach on an error, then stole second base. Flipping to the top of the order, Annabel Ortega drove the ball to left-center field for a base hit.

Grabowski, the third base coach, gambled and sent Franco home, scoring the go-ahead run.

"Monte Vista did a great job answering back after being down 4-0 at the beginning — the game went back and forth so many times," said Grabowski. "They've had our number lately, so it was nice to see our girls keep their composure and also come back."

Entering the 7th, Monte Vista held a 6-5 advantage, then the Sharks regained the lead, but the Monarchs again battled back when Narissa Segrist reached with an infield single to leadoff, stole second base, then moved to third on a ground out. Finally, with two outs, Vanessa Varela lined a clutch, RBI single past the shortstop to tie it.

In the 8th, Monte Vista again brought the game-tying run to the plate. However, Jeanne Camiling, Bayfront's No 2 pitcher, was able to escape on a fly ball to right fielder Liliana Sandoval.

Both schools are now 2-3, with Bayfront on a 2-game win streak after three early losses, Meanwhile, Monte Vista is going in the other direction by dropping three straight after opening with a 2-0 mark.

The Sharks mounted a 4-run lead, capped by a 4th-inning, 2-run homer to center field by Sara Lim.

The Monarchs responded to take a 5-4 run after scoring four times in the 4th. Afterward, there were three additional lead changes.

For Bayfront, Ortega batted 2-for-2 with 2 runs and a pair of RBI.

Monte Vista received 2 RBI each by pitcher Abigail Johnston third baseman Mia Owens. Both are sophomores.
LIBERTY CHARTER 23, MOUNT MIGUEL 13 (6 inn.): At Lemon Grove, after losing a senior pitcher who received an NCAA Division II scholarship, the Lions pitching was expected to slip a bit, but the offense to off to a fast start. In three starts, the school already has posted 49 runs (18.3 runs per game) after scoring a season-high in mauling the Matadors in a run-rule shortened, non-league contest.

Lily Schallock and Katie Peet posted career days at the plate for the Lions (2-1).

Schallock, a junior third baseman, reached base on all six of her plate appearances. She batted 3-for-3 with three walks, driving in four runs and scoring three times.

Meanwhile, Peet, a senior utility player who has asked to try to replace Stephanie Uribe in the pitching circle, belted a triple and a double. She batted 2-for-3 with a walk and was hit by a pitch, good for three RBI and scoring three times.

Mount Miguel (1-1) shook off the rust from not playing for more than two weeks by quickly scoring five times in the 1st inning — no details were available since the Matadors have yet to submit a roster — but it was all Liberty Charter over the balance of the afternoon.

Other top performances by the Lions include leadoff batter Sarah Johnston (3-for-3, 4 walks, 4 runs, 2 RBI), Gisselle Gonzalez (3-for-5, 3 runs, 2 RBI), and Adriana Rodriguez (2-for-3, 2 walks, 4 runs).

A note on the Matadors, a photo was submitted which recognized the shortstop as senior Jacqelyn Espinoza. The boxscore listed her as batting 2-for-3 and came home twice.

SD-HIGH TECH 5, EL CAPITAN 2: At Robb Field in Ocean Beach, the visiting Vaqueros allowed a pair of early leads slip away, but the Storm weathered the deficits to claim Tuesday's(Mar. 12) non-league ballgame.

Down 1-0 and 2-1, Storm pitchers Chelsea Runyon and Gillian Weinstein combined to limit El Cap to just one hit over the final 4 2/3 innings to allow the offense to rebound.

Runyon finished with 8 strikeouts in her 5 innings for the victory. Weinstein earned the save by facing the minimum six batters, surviving a 7th-inning error when second baseman Tiare Rieger turned a game-ending, tag-and-throw double play.

The Vaqueros scored right out of the box in the 1st. Madison Rosalis opened the contest with a walk, then scored two pitches later by taking two bases on a passed ball, then home on an error.

After the Strom got even, El Capitan re-claimed the lead in the 3rd. Rosalis smacked a one-out double to right field, immediately scoring when the ensuing batter, Bailey Olaveson grounded a single up the middle.

Olaveson, who batted .366 last season, went 2-for-3 to raise her average to .500 (7-for-14). The only other El Cap hit was recorded by Allyson VonYokes.

However, the Storm (4-1) answered with two runs in the 3rd. Following consecutive base hits by Danye Albritton and Rieger, both came home on a Rachel Warrens double.

Albritton, the Storm leadoff batter, finished batting 3-for-4, with an RBI and two runs scored.

SAN DIEGUITO at HELIX, ppd., wet grounds: This non-league game was rescheduled for Mar. 25.

Also postponed were Foothills Christian at Julian, and Borrego Springs at Gompers Prep.