Henry topples Granite; El Cap, Hillers, Cougs win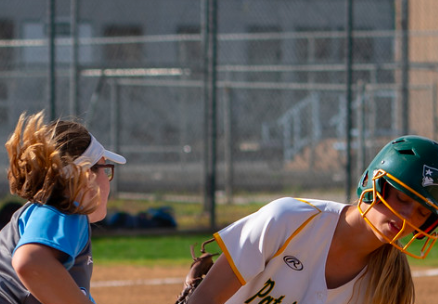 A Henry runner returns to first against Granite Hills on Wednesday. / CS PRO PHOTO
2019 EAST COUNTY PREP SOFTBALL
East County Sports staff report
DEL CERRO (3-14-2019) – The anticipated pitching duel disappeared posthaste when sluggers from both Granite Hills and Patrick Henry high schools belted first-inning home runs.
Afterward, the host Patriots simply made more plays, downing the Eagles, 7-4, in Wednesday's (Mar. 14) showdown between CIF-San Diego Section-ranked ballclubs.
Granite Hills senior Staci Chambers ripped a 3-run homer to ignite the contest, but Patrick Henry's Lauren Nett immediately answered with a 2-run shot to center field.
However, the difference came in the 2nd when Granite Hills thought they escaped a two-out jam with a ground ball after loading the bases on a series of walks. However, the "inning-ending" ball was booted to allow Kaiah Altmeyer and Jessica DeWitt to score the tying and go-ahead runs, a lead the Patriots would maintain.
Altmeyer, the leadoff batter, proved to be a factor all afternoon. She batted 3-for-3 with a double plus a walk and stealing a base, scoring all four times.
She is the younger sister of former Pats standout Sierra Altmeyer, the 2014 East County co-player of the year (with Courtney Horne of West Hills), who capped her college career at UC Santa Barbara in high style by slugging two home runs in her final day with the 2018 Gauchos.
LINK: http://ucsbgauchos.com/sports/w-softbl/2017-18/bios/altmeyer_sierra_hoab
Patrick Henry pitcher Olivia Gigante settled down following Chambers' second homer of the season, blanking the Eagles for the next six  innings before Baily Wallace and Rylee Omahen pumped consecutive one-out doubles for a run in the 7th.
Wallace finished with a pair of doubles in a 3-for-3 outing. Amaya Esparza also doubled, as five of Granite Hills' nine hits went for extra bases.
EL CAPITAN 3, SOUTHWEST (El Centro) 2 (8 inn.): At Lakeside, Alexa Williams belted a one-out double, then Bailey Olaveson delivered the walk-off, game-winner, as the host Vaqueros stopped the road-weary Eagles of El Centro in Wednesday's (Mar. 13) non-league ballgame.
"We definitely could not have won without Alexa," Olaveson said. "She was such a spark today. It felt so good to finally get redemption from last year."
The Eagles defeated El Capitan, 8-0, in last season's San Diego CIF Division III final. The Vaqueros came into that game against the top-seed as the No. 9-seed.
The triumph on Wednesday ended Southwest's stretch of six consecutive victories to open the season.
Williams, the third baseman, sent a line drive to right field. She batted 3-for-4, featuring a solo homer.
Olaveson followed with a single to right, with coach "Papa O." sending pinch runner Katie Collier home to trigger the on-field celebration after rallying from a 2-0 deficit.
"I knew I had to get a hit for my team," Bailey Olaveson said. "The pitch was a fastball up and away. It felt so great seeing the winning run cross the plate and my team all running towards me
Southwest scored twice in the 3rd, but the Vaqueros answered with single runs in the 4th and 6th to force extra innings.
In the 4th, Williams led-off with her blast to right field. Two frames later, Williams again led-off, as she and Katy Hicks both reached on Raiders errors. Allyson VonYokes followed with a game-tying fly.
Meanwhile, El Capitan pitcher Kylie Mead tossed a 3-hitter. She struck out 7 batters. After allowing two runs. she closed by firing 5 1/3 innings of no-hit ball.
"Kylie pitched amazing today," Bailey Olaveson said. "She battled out of a few jams to put our team in a great position to win the game."
El Cap (2-2) ended a mild, 2-game losing skid. The Raiders (6-1) has allowed just 11 runs in their season-opening, 6-game winnign streak.
GROSSMONT 7, MISSION HILLS 1: On the La Mesa-El Cajon border, Foothillers second baseman Halle Sweiss paced a balanced attack that saw seven players register hits or RBI, backing a 3-hitter from pitcher Samaria Roope to ground the Grizzlies in Wednesday's (Mar. 13) non-league game.
Sweiss batted drove in three runs, as the Hillers scored on the ballclub's first four trips to the plate to secure the advantage early. Meanwhile, Roope started equally as fast, retiring the first six batters she faced to send the Grizzlies into hibernation.
Mission Hills errors helped account for the opening trio of Grossmont runs.
In the 1st, Katilina Contreras walked, moving to second base when Aly Allmann singled to the outfield. But when the ball rolled through the defender, Contreras scored.
An inning later, Sweiss intentionally grounded the ball to bring home Jordan Brown from third base. Sweiss was safe on an error, yet received the RBI since the runner wouldn't scored anyway.
The Hillers broke the contest open with three runs in the 3rd, going station-to-station around the diamond, as Natie Emery reached on another Mission Hills boot, then walks to  Contreras and Roope loaded the bases.
Brown walked to force home a run, then Sweiss followed with a 2-run base hit to right field to cap her strong performance at the plate.
Contreras later doubled and scored in the 6th, capping a 3-for-3 performance, with three runs and an RBI.
STEELE CANYON 8, OUR LADY OF PEACE 1: At Rancho San Diego, Cougars senior Lexi Hutchinson registered a pair of RBI singles, then the bench took over in the late innings and matched the starting unit by also scoring four runs in piling on the Pilots in Wednesday's (Mar. 13) non-league contest.
Hutchinson , the left fielder, capped a 3-run outburst in the 1sti with a sharp, line single to right field, bringing home Bianca Morales (single) and Danielle Directo, the courtesy runner for catcher Maggie Carpenter (single).
Hutchinson is not related to former Cougars standout Molly Hutchison, the 2012 East County co-player of the year (with Santana's Amber Schisler), who was a four-year starter at North Carolina State, earning All-Atlantic Coast Conference laurels in both softball and academics.
LINK: https://gopack.com/roster.aspx?rp_id=4263
Leading 5-1, Steele Canyon (3-3) tacked on four runs in the 6th thanks to the reserves.
Kassandra Jaggard and Masen Pearlstein opened with consecutive base hits to center, then with one out  Masen Pearlstein added another identical single for the RBI.
With two outs, Directo, Grace Richter and starting designated player Carlie Williams (they ran out of subs) went back-to-back-to back with run-scoring singles as Steele Canyon batted around.
CRAWFORD 32, EL CAJON VALLEY 15 – The Braves scored 15 runs but lost to the Colts.