Freshman Ramuno leads Highlanders past Storm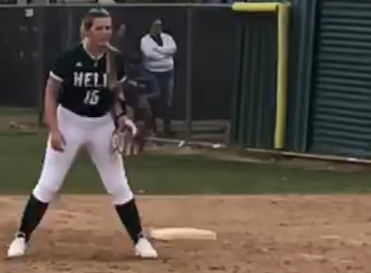 2019 EAST COUNTY PREP SOFTBALL
HELIX 2, HIGH TECH SAN DIEGO 1
By Tyler Gribble
Special to EastCountySports.com
OCEAN BEACH – Helix Highlander freshman Sophia Ramuno spun a dazzling seven innings and drove in a run en route to a victory over the High Tech SD Storm.
Ramuno allowed one run on six hits, while striking out five.
In the top of the first inning, the Highlanders struck with two outs.
Junior Erin Brown (1-3, 2R) pulled a seeing-eye single through the 5-6 hole, making her the first Helix baserunner of the day.
Sophomore Nicole Hernandez (0-2, BB) battled her way to a full-count walk, followed by Ramuno helping out herself and the team with a fly ball that dropped for a single just inside of the right field foul line, driving in Brown for the first run of this low-scoring affair.
In the top of the third, Brown got on base with two outs again, reaching second base thanks to a throwing error.
The next batter, Hernandez, hit a ground ball to third. This too was misplayed, with a wide throw allowing Brown to reach home, giving the Highlanders their second and final run scored of the afternoon.

Trailing 2-0, the Storm threatened Helix's narrow lead the bottom of the sixth, as Alliyah Sample (1-3, R) lined a ball over the left fielder for a one-out double.
Chelsea Runyon (1-3, RBI), on the tenth pitch of her at-bat, pulled a ground ball through the infield for a single, bringing Sample home and putting the Storm on the board.
The next batter, Gillian Weinstein (1-2, 2B, BB) drew a walk, putting runners on first and second base, but Ramuno battled, inducing a groundout and an infield popout to first baseman Zoe Kuhlken end the threat.

For Helix (3-2), leadoff batter Avery Perez went 1-for-2 and walked twice.

The Storm (4-2) also received a solid performance from a leadoff batter, as Danye Albritton went 2-for-3.