ROUNDUP: Sultans, Braves earn tourney wins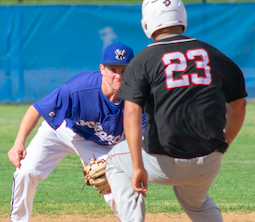 West Hills waits to pace a tag on the Castle Park runner Friday. / photo by Melissa Honick
2019 EAST COUNTY PREP BASEBALL
East County Sports staff report
CARMEL VALLEY (3-16-2019) – Santana High pitcher Blake Taylor carried a shutout into the 7th inning, backing Santana to a 3-1 opening-round triumph over Cathedral Catholic in the Lolita's Tournament. The win forged a split in a "2-game series" at Manchester Field.

On Wednesday, Cathedral downed Santana to end one tournament, then by coincidence, met again in Friday's (Mar. 15) opener in a different event.
Taylor struck out four Dons batters before allowing a lead walk in the 7th.
Although the runner would score, Santana escaped when shortstop Davin Burroughs snared a soft liner, firing the ball to freshman second baseman Elijah Reber for a game-ending double play. Riley Hamilton gained the save.

The Sultans, which generated just six singles, still gained the early lead with two runs in the 3rd.

An error by the Dons extended the inning, then Tyler Glowacki singled to load the bases. A pair of passed balls on consecutive pitches to Ben Hart allowed both lead runners

The bonus run came in the 6th. Glowacki lined a one-out double to center, eventually scoring when Sean Iverson singled to right.

For Santana (5-5), Glowacki batted 2-for-3.

Cathedral Catholic (4-5) had a 4-game win streak snapped, yet avoided a second home shutout loss to a Grossmont Conference opponent. Granite Hills turned the trick on Feb. 26. The last time the Dons surfed consecutive shutout losses came in 2017, when Granite Hills and Grossmont blanked them.

EL CAJON VALLEY 7, HOOVER 6: At historic Ted Williams Field in City Heights, senior Aaron Rodriguez pulled a drive to right field for a go-ahead, leadoff home run in the 7th inning, giving the Braves a dramatic victory over the host Cardinals in Friday's (Mar. 15) non-league contest. The blast ended a 4-game winless streak for El Cajon Valley (1-3-1).

Hoover responded with three straight strikeouts, but then Braves pitcher Greg Sanchez overcame a late single by capping a complete-game effort with two strikeouts of his own. Sanchez finished with 6 strikeouts.

Rodriguez (2-for-4, 2 runs) and Saul Castillo both finished with two RBI.
Hoover (3-6) rallied twice to move even, overcoming 2-0 and 6-2 deficits.
Senior Uly Zepeda and junior Tyler Chan each registered a pair of RBI.

The Braves' 4-run rally in the 3rd saw Mario Jacobs walk, scoring the go=ahead run on a triple by Rodriguez.

LINCOLN 11, MOUNT MIGUEL 10: At Lincoln Acres neighborhood of San Diego, the Matadors rallied with two runs in the 7th inning, but Hornets relief pitcher Jacob Scott registered a game-ending ground out to cap five innings of work out of the bullpen, escaping with Friday's (Mar. 15) GMC Tournament victory.

This wild ride saw three lead changes and the three ties before determining the winner.

The Matadors got even at 8-all in the 6th when No. 9 hitter J.D. Laverdiere reached on catcher's interference to lead off. Laverdiere reached third base on a failed pickoff attempted, then came home on a basehit by JoJo Castillo.

Lincoln answered with three runs in the 6th, the first two on a triple by A.J. Reynolds, but the Matadors once again came back with a two-out rally.

Facing match point, pinch hitter Ricardo Partida was hit by a pitch, Nico Camacho singled to center, then Laverdiere doubled both runners home.

Austin Ortiz (2-for-4) was hit by a pitch to lace the potential game-tying and go-ahead runs on base before Scott got out of the jam.

For Mount Miguel (2-7), Cameron Beauzec joined Castillo, Ortiz, Camacho and Laverdiere with two hits each among the 14 by the Matadors.

For Lincoln (3-4-1), Rafa Villalobos batted 2-for-3 with 4 RBI, including a 2-run homer in the 3rd to tie the game at6-all. Reynolds went 3-for-3 with 3 RBI and 3 runs.

LIBERTY CHARTER 15, MOUNTAIN EMPIRE 1: At Campo, the Lions scored in five of their six trips to the plate to drop the host RedHawks in Friday's (Mar. 15) non-league game, called after six innings.

Junior Wade Bellon, the No. 9 hitter, and freshman Isaiah Hilke each posted 2 RBI, as seven different players knocked in runs for Liberty Charter (3-4).

Hilke also gained the pitching win with a 2-hiter, striking out 8 batters to avwngw an earlier 9-1 loss to the RedHawks.

For Mountain Empire (1-3), Angel Jiminez drove in Jacobe Noland in the 1st for the team's lone run.

OLYMPIAN 9, MONTE VISTA 5: At Spring Valley, the first game of the GMC Tournament became the last game of pool play in a rain makeup from Mar. 5.

The top seven hitters in the batting order for Olympian (6-3) all drove in runs, inclduing a pair each hy Victor Zazueta and Aaron Garcia. The win propels the Eagles to Saturday's title contest against Mission Bay.

Down 6-0, Monte Vista (6-4) received a solo home run from leadoff batter Ernie Arambula, who posted two hits along with mid-game substitute Chris Leask.
"We played a sloppy game," Monte Vista coach Craig Neu said. "We made mistakes on base paths, and in the field.
"We are usually very detailed, but today we made the miscues. Olympian took advantage of our mistakes and made us pay.
"Offensive we swing it pretty well, but we couldn't find the holes. That is baseball. All you can control is your approach at the plate. Just because you take a good swing, it doesn't guarantee success
"We play Olympian in two weeks at their place.  We will put forth a better effort."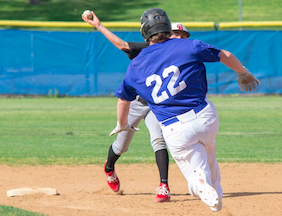 CASTLE PARK 6, WEST HILLS 3: At Wolf Pack Park in Santee, the Trojans' Christopher Romero knocked in three runs, capping the GMC Tournament with a wire-to-wire win in Friday's (Mar. 15) rain makeup contest.

West Hills (1-9) has lost nine straight ballgames, each to a different South Bay school, despite another quality start from their pitching staff. Christian Schmid allowed just five hits over 4.1 innings, but only one of the five runs to score were earned.

Devin Kondyra recorded two hits and an RBI for the Pack. Devin Bevilacqua and Kai Dennis also had two base hits each.