East teams back in form with GMC wins
Gavin Kondyra of West Hills (10) heads to second against Southwest. / photo by Melissa Honick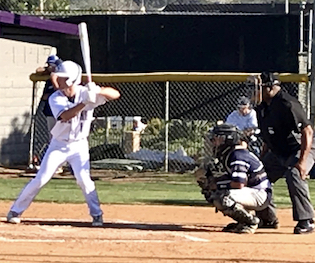 2019 EAST COUNTY PREP BASEBALL
East County Sports staff report
SANTEE (3-15-2019) – Pitchers from both ballclubs made late mistakes, but when Santana was able to cover the mistake and Madison could not, it led to a 3-2 victory over the Sultans

The go-ahead run came in the 6th inning in a most unconventional manner.
Aidan Donovan gained three bases when Warhawks pitching couldn't seem to handle the pressure. He was hit by a pitch,, advancing on a wild pitch and a balk.

So Sultans head coach Rigoberto Ledezma turned up the pressure to produce the needed run. The skipper asked late-inning substitute Cole Contreras to put down a squeeze-play bunt. The ball went towards the pitcher, but his lone play was to first base, as Donovan scored.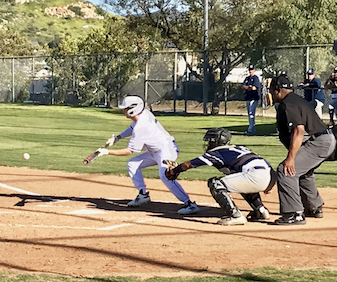 Madison tried to come back in the 7th by taking advantage of a hit batter, but Sultans reliever Riely Hamilton answered back to collect the victory from out of the bullpen.

The two-out rally saw Madison senior captain Adam Lovato singled, but Hamilton plunked sophomore Victor Arreola on a 1-2 pitch, pushing the game-tying runner into scoring position. However, Hamilton blended three straight fastballs into the game-ending ground ball out to second baseman Elijah Reber.

Hamilton went the final 1.1 innings in relief of Tyler Glowacki, who lasted 5.2 strong innings but came away with no-decision. He struck out 6 and allowed just 2 hits.

For Santana (4-5), Brandon Glowacki doubled and walked twice.
Madison (5-6) has now lost 3-of-4.
HELIX 4, SCRIPPS RANCH 3 (9 inn.): At La Mesa, senior catcher Adam Martinez singled home Jordon Thompson with the game-winning run in the bottom of the 9th inning Thursday (Mar. 15), capping the Scotties' GMC Tournament victory over the Falcons.

The winning rally was ignited by Eric Smelko with a single. Thompson replaced him on a fielder's choice, then Alonzo Richardson walked. Then with two outs, Martinez lined the ball to left field on an 0-1 pitch.

Trailing 3-0, Helix (4-5) countered with four unanswered runs to claim their second straight win.

In the 3rd, Smelko registered his first leadoff single, moving to third base on an error, then ending the Scripps Ranch shutout bid by scoring on a double-play ground ball.
"We did a great job over coming adversity," Smelko said. "As a team we are finally knocking off the rust. Our leadoff hitter Jack Sothras did a great job today and Noah Lane made some great plays in the outfield. Thomas Caneday did a great job starting for us especially with his health.
"Christopher (Paruleski) did an even better job by coming in and shutting them down.
"The Scripps Ranch pitchers did a good job keeping us off balance but we finally got to them and came up with the big hit."

An inning later, Helix moved even at 3-all after No. 9 hitter Devin Baker started the rally with a walk.

Jack Sothras, who went 3-for-5, singled, then Thompson cleared the bases with a triple down the right-field line.

The blows by Thompson and Martinez made a winner of relief pitcher Paruleski. The senior fired the final five innings, limiting Scripps Ranch (5-5) to just one hit with two strikeouts.
"It was surely a great feeling to walk off the field with the win," Martinez said. "Yet, it all couldn't have been put into place without it being a team effort, setting me up with runners on and the opportunity to put the game away. I believe we have turned our season around with our last two wins, and as you can see, when we play as a team we are without a doubt able to compete against the best in the county."

Helix next hosts historic local rival Grossmont on Wednesday at 4 p.m. in this season's opener in the revamped Grossmont Hills League. The circuit now consists of just four schools — seven now fill the Grossmont Valley League — so this "Battle of La Mesa" is the first of four regular-season meetings this season (instead of the traditional two or three showdowns).
EASTLAKE 3, GROSSMONT 2: On the La Mesa/El Cajon border, the decisive 6th inning saw the visiting Titans score three times to offset an early Foothillers run, but the hosts could only respond with a single run in falling in Thursday's (Mar. 15) final pool-play contest is the GMC Tournament.

With the victory, should advance to the championship game, meeting Cathedral Catholic this Saturday at Granite Hills. Game time is slated for 10:30 a.m. However, MaxPreps lists Grossmont as the opponent for Cathedral, even though the Titans own a better record (4-1 vs. 3-2) and owns a head-to-head win against the Hillers.

The long-time event is held annually in memory of Bill Dickens, the long sports editor of The Daily Californian newspaper and managing editor of East County Sports website.

Eastlake tied the contest on an RBI double by leadoff batter Marcelo "Marc" Mayer, a sophomore. With two outs, Keoni Cavaco was intentionally walked, but cleanup batter Noah Niehaus followed with a 2-run single.

Grossmont countered immediately when Isaiah Gomez took an 0-2 pitch deep for a leadoff home run to right field. However, Eastlake got out of the frame by turning a double play.
"Our pitcher Andrew Shirvanian threw a heck of a game for us and kept us in the game," Gomez said. "We just couldn't rally together enough hits today and fell short at the end. Well-fought game and all we can do now is get better and get ready for our next game coming up."

In the 7th, the Hillers placed the potential game-tying and winning runners on base, as Kaleb Tedokon was hit by a pitch and Austin Wittmayer singled.

However, Cavaco was summoned from the bullpen (actually, he was at third base), striking out the final batter to save the game for Titans starting pitcher  Ricky Tibbett (6.2 IP, 6 strikeouts). Taking the loss was Grossmont's Shirvanian, despite allowing just four hits in his complete game.
"Drew did a great job today. It just didn't go our way," Grossmont head coach Jordan Abruzzo said."We try and build a culture where we don't make excuses, it's always on us so we didn't do enough to get a win today. Give credit to Eastlake."

MOUNT MIGUEL 16, HOOVER 4: At Spring Valley, the host Matadors erased an early 3-0 deficit by rolling up 10 runs in the 4th inning to crunch the Cardinals in Thursday's (Mar. 14) GMC Tournament game.
"You know it was I think the fourth inning and coach (Frank Coit) had a very inspiring speech when we were losing 3-0 that just sparked a flame in me and we ended up coming through as a whole and having a great inning and game," said Mount Miguel junior Eric Kelly, who had two hits, including a double and an RBI.

Cameron Beauzec and Thomas Ringer each collected two of Mount Miguel's seven doubles on the afternoon, part of the ballclub's 15 hit attack. The other 2-base hits were collected by J.D. Laverdiere, and Austin Ortiz.

Ringer finished with 4 RBI. Meanwhile, No. 9 batter Laverdiere went 2-for-4 with 3 RBI and scored twice.
"We were sleepwalking through the game to that point," Coit said. "I had to light them up between innings, some colorful words, to say the least, they responded to me challenging their manhood."

The huge outburst featured 6 hits, 3 walks and a pair of errors among the 15 hitters for Mount Miguel.
"We're starting to play as a team more and more," said Mount Miguel senior Rico Partida, who singled, drove in a run and scored. "I did decent for today. I need to start working now on my swing more. But the team is way better on communication."

The keys hits included a 2-run double by Ringer to move within 3-2, a go-ahead RBI single by  Laverdiere, and a 2-run single by JoJo Castillo. Ringer came up a second time and drilled another 2-run single, giving him four RBI in the outburst.
"I just felt like I needed to focus on my mechanics because I've been out for a while," Laverdiere said. "Once I had the pitcher's timing down it just all flowed together to result in my two hits.
"And to be able to play baseball is great because I can showcase my talents in both sports (including football) and I'm able to play with such a great group of guys this year on my team."

Meanwhile, pitcher Nico Camacho struck out a career-high 12 Hoover batters over his six innings to gain the victory.
"Ringer had a great day today," Coit said. "Even closed the game for Nico. We had two contagious offensive innings where each guy fed off the previous guys and attacked the pitcher (we have been missing that. It was fun to witness."
Ringer was also dead-on with two strikeouts in the 7th for Mount Miguel (2-6).
"I thought we did really good today," Camacho said. "Bats started a little late but once they did it was over, just need to start them up at the beginning or sooner and we can compete with any team.
"As for the 12k's, I just felt really good and had good control on my fastball and had a good curveball that I could rely on, although I through manly fastballs until the 5th and 6th."

Hoover (3-5) received a 2-run double from Mario Macias.

MONTE VISTA 9, SWEETWATER 1: At National City, Monarchs pitchers Abraham Sanchez and Carlos Esparza combined on a 2-hitter Thursday (Nar. 14), as the ballclub gained a championship game berth in its division of the GMC Tournament.
"It has taken me five years to build this program the way I wanted to," Monte Vista coach Craig Neu said. "Now my kids are all grown up and we are playing exceptional baseball. The county needs to know the rich history of Monte Vista Baseball is back.
"It isn't so much about me as it is the kids.  I gave them structure and a plan for success.  They are the ones that embraced the change and challenged themselves to be better students, players and people."

Monte Vista (6-3) needs to defeat visiting Olympian on Friday to complete a perfect 5-0 slate in advance of Saturday's title game.

Sanchez yielded just a single base hit in his five stellar innings before being pulled with a 9-0 lead in case he's needed later this week. Sanchez was staked to a quick 6-0 cushion after Monte Vista scored three times in both the 1st and 2nd innings, with third baseman Andy Canedo contributing doubles and scoring each time.
"Today was a good win because we scored most of our runs early and didn't let the other team get comfortable," Sanchez said. "The team did get help from Aaron with three hits and brought in some runs.
"But for Andy, he's really seeing the ball well right now. I have personally known Andy since I was young. And I try to teach him on the mental side of the game and I feel like he's been using the advice the last couple of games and it's been paying off."

Canedo's first double to left-center field opened the scoring for a 2-0 lead, then he came home on an error.
"We would never have the program we have now if it wasn't for our coach," Canedo said. "He not only teaches us something new every day on the field but life lessons, as well."

An inning later, Abraham Sanchez lifted a sacrifice fly to bring home Aaron Zuniga (lead single), who went 3-for-4 against the Red Devils.
"We are playing great baseball," Neu said. "We are playing all three phases of the game well. We have a tough opponent in Olympian tomorrow, so it should be a fun one at our place."

Canedo followed with another double, Andrew Savoy walked to load the bases, with both scoring on Derrick Wiley's base hit to center.
"We were all very relaxed, very aggressive, and just happy to be on the field and playing our brand of baseball," said Zuniga, a sophomore. "Keeping the mentality that we have is the key to winning the mental part of the games we play. We have the guys to be able to compete.
"Before my very first at-bat of every game I give myself a little pep talk. I tell myself to just relax and to realize that I have the skill set to make good solid contact. I let that thought swarm through my head before walking over to the batter's box.
"For the (out)field, I just felt like I was in my zone and I couldn't get out and it felt great. I just wanted to make the plays for my team so there's no momentum towards the other team, so we get the win."
Monte Vista's players are starting to get attention from a certain local Division I program.
"The fact that I have USD interested in some of my players is surreal to me," Neu said. "We didn't have a kid with good enough grades to even consider playing baseball at 4-year school.
"Now we have a team GPA of 3.0 and my best players are Honor Roll kids. Abraham Sanchez is a 3.3 student, Andy Canedo is a 3.5 student. Ernie Arambula is a 3.8 student. I can get these kids to college and it excites me. They are good baseball players but better people."
CHRISTIAN 3, MONTGOMERY 2: At Otay Mesa, right after the host Aztecs ended the clean-sheet by scoring in the 4th inning, the Patriots answered with three markers in the 5th, then held on to Thursday's (Mar. 14) victory.

Winning pitcher Caleb Leonard allowed just four hits while surviving four errors in his complete game.
"Caleb Leonard deserves all the recognition today," Christian coach Bryan Mitchell said. "He made his first start today and it may have been our team's best pitching performance of the year. He works so quickly and efficiently that our guys love to play defense behind him.

Christian's game-winning rally saw Peyton Berroth and Clay Wehsener both walk, then Matt Armijo fouled off three straight pitches before lining a single to center field to load the bases

Pinch-hitter  Alex Markowicz followed with a game-tying base hit, Then with two outs, Isaiah Owens also singled home a run for a 2-1 lead.

Christian head coach Mike Mitchell then went to the bench for a second time, again finding magic as Eric Markowicz walked to force home a run.

Markowicz and Owens each finished with two hits among seven by the Patriots.

PATRICK HENRY 13, VALHALLA 6: At Rancho San Diego, the top third of the Patriots lineup were too much for Norsemen pitching, combing for 8 hits in Thursday's (Mar. 14) romp.

Dante Juliano (3-for-4, 3 runs), Garrett McKee (2-for-5, 3 RBI, 2 runs) and Ryan Preciado (3-for-4, 2 RBI, 2 runs) played havoc with Valhalla all afternoon, leading a 14-hit attack. Meanwhile, Mateo Medina added two doubled and a pair of RBI for Patrick Henry (6-2).

Valhalla (8-3) saw four players stroke RBI singles, but there were no multiple players in terms of hit, runs or RBI against five Patriots pitchers.

SERRA 5, EL CAPITAN 2: At Hostetler Field in Lakeside, the host Vaqueros fell to 2-7 after getting conquered by the Conquistadors. The Q-Dawgs tallied three times in the 6th inning to break a 2-2 deadlock.

Down 2-0, El Cap got even in the 3rd on a 2-run, line single to left field by Jake Bergherm (2-for-4), advancing both Austin Bell (single) and Jake Pfitzner (safe on error, wild pitch) from second and third base.

For Serra, the top two batters in the order produced all five runs, as Luke Reece batted 2-for-3 with 2 RBI, then Evan Zimmerman went 2-for-3 with 3 RBI.

The the 6th, even though El Cap recorded an out at the plate, Serra re=-loaded the bases, Reece walked to force home the go-ahead run, then Zimmerman delivered a 2-run single.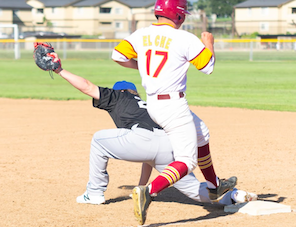 SOUTHWEST (San Diego) 9, WEST HILLS 4: At Nestor, the Wolf Pack dropped their 8th straight, all to different schools from the South Bay after falling to the host Raiders.

The Pack (1-8) held a 4-2 lead in the 3rd inning, but Southwest answered with seven unanswered runs.

The corner outfielders for West Hills did most ofd the damage, as right fielder Parker Craft batted 3-for-4, while left fielder Kole Klingerman went 2-for-3.

KEARNY 7, EL CAJON VALLEY 0: At ECVHS, three Komets pitchers combined for a 1-hit shutout at the winless Braves in non-league action. The lone hit by the hosts came off the bat of Robert Verdugo with a ground single to center field in the 5th inning.

Kearny (3-4-1) pulled away with four runs in the 7th.