HILLS: Sultans have Hart; Eagles in ten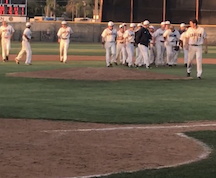 Granite Hills celebrates following the win over Helix on Wednesday.
2019 EAST COUNTY PREP BASEBALL
EastCountySports.com staff report
EL CAJON (4-11-2019) – Grossmont High, the closest contender to front-running Helix for the Grossmont Hills "Super" league title, may have lost its best chance at preventing the Highlanders from capturing a fourth straight league crown.

On Wednesday (Apr. 10), after recently learning the Foothillers lost their standout pitcher Jack Hyde for possibly rest of April or maybe longer to a lower-body strain, visiting Santana came to the town and claimed a 7-1 decision over the Hillers.
All seven Sultans runs came in the 4th inning, as starting pitcher Ben Hart belted a grand slam, then allowed just one run over six innings to garner the victory.
"We started 2-0 and we faced Jack Hyde who's very tough and lost that and it seemed like we lost all of our confidence at that point," Hart said. "Helix is a very good team too, but we didn't compete the same way we did earlier in the season."

Meanwhile, Helix fell to Granite Hills, 4-3 in 10 innings, yet maintained its 2-game lead with four games remaining in GHL play.

Santana collected just two hits through three innings, then went wild in the 4th,

The big inning started tame enough thanks to "small ball."

Brandon Glowacki and Tyler Fitzgerald opened with ground ball singles, both advancing into scoring position on a surprising sacrifice bunt by No. 5 hitter Sean Iverson.
Blake Taylor walked to load the bases, but they were quickly unloaded when Hart drove the very first pitch over the right-field fence.

Aidan Donovan, Glowacki and Fitzgerald would later add RBI singles to mount the 7-run cushion.

Santana (8-11 overall, 3-5 GHSL) saw Fitzgerald bat 3-for-4, while Hart also had two-out hit for a double.

Grossmont (11-9, 4-4 league) tallied its lone run in the 6th on a lead home run by Zakary Farris.
"Obviously, not having Jack due to injury is tough but we don't make excuses," Grossmont head coach Jordan Abruzzo said. "We will find a way to compete.
"This is Grossmont. Nobody is going to feel sorry for us so there is no time to feel sorry for ourselves. Back to work we go."

GRANITE HILLS 4, HELIX 3 (10 inn.): At Granite Hills, the Eagles' received hits from the heart of their batting order to humble Helix.
A one-out line single by Max Bodtke was followed by an RBI double by cleanup hitter Brian Smith to produce the walk-off game-winner.
"The pitcher kept challenging me with his curveball and off-speed," Smith said. "I knew I had to come up big for the team. The win was needed greatly to get us back into it and ready for the (Lions) Tournament next week.
"I know we have everyone in our rotation. We are ready and we will come out and compete."

It was a near "reverse no-hitter" for Granite Hills reliever Austin Smith.
Entering with one out in the 4th, Austin Smith fired the final 5.2 innings without allowing a hit to gain the victory.
Austin Smith struck out four batters, as a trio of Eagles pitchers combined on a 3-hitter.
"It was a great team win," Austin Smith said. "I was locating good today and it feels good to give up no hits and to dominate on the hill. Everyone played hard baseball and that's why we came out with the win."

Helix held leads of 2-0 and 3-2 but was caught each time, as both teams scored once in the 5th before the parade of zeros mounted on the scoreboard.

Most of the damage by Granite Hills (8-11 overall, 3-5 GHSL) came from the top of the order, as TK Parker went 3-for-5, scoring once, and Ryan Fenn had a couple of hits and scored once.
"I felt that we were gonna win," Parker said. "We just had a different mentality. If we all come together, we will win. We want to win."

For Helix (12-7, 6-2 league), Jack Sothras, Carlos Oquita and Eric Smelko posted two hits each.
"It was a great high school game," Smelko said. "Both teams battled and they both didn't give up.
"Jordan Thompson pitched really well for us today. We were able to get hits but we weren't able to knock them in.
"You have to give a lot of credit to their pitchers today. They did a great job of keeping us off balance.
"We will learn from this game and go out tomorrow and play our game."
The Hills-leading Highlanders face Steele Canyon, co-leaders in the Valley League on Friday in a non-league contest in Spring Valley at 4.