Wolf Pack, Matadors, Monarchs win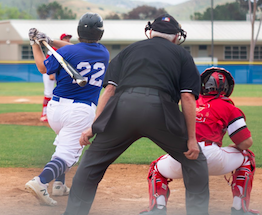 West Hills DEVIN BEVILACQUA smacks a pitch on Tuesday. / photo by Melissa Honick
2019 EAST COUNTY PREP BASEBALL
East County Sports staff report
SANTEE (4-17-2019) – West Hills third baseman Devin Bevilacqua, who last posted a multiple-RBI outing in the second game of the season, drove in a season-best four runs Tuesday (Apr. 16), leading the host Wolf Pack to a 10-2 Lions Tournament victory over the Imperial Tigers, the second-place squad in the Imperial Valley League.
The contest was part of the action in the 4A Division of the 69th edition of the tournament. For the Wolf Pack, the victory gives them a 2-0 record in the event.
Included in Bevilacqua's day was a go-ahead, RBI single in the 3rd when the Pack tallied five times to overcome a 1-0 deficit and gain the lead for keeps. Bevilacqua capped his performance with a 2-run triple, bringing home Josh Gaylord and Joe Thrailkill.
The triumph was the fifth straight for West Hills, matching the school's longest since March 2010.
In addition, center fielder Kai Dennis batted 3-for-4 with the runs and a pair of RBIboth coming on singles. Dennis also doubles, then scored on a double-steal attempt when the Tigers recorded an out on the runner at first base, but too late on the throw to the plate.
West Hills (8-12) has gone 7-3 in its last 10 contests following a 1-9 start.
Imperial (15-7) received two hits by shortstop Roberto Gonzalez, otherwise, was held to just five total hits by Wolf Pack pitchers Kyle Dobyns (win) and Peyton Honick (save).
MOUNT MIGUEL 10, KEARNY 4: At Spring Valley, Mount Miguel third baseman Erik Kelly made Tuesday (Apr. 17) Erik Kelly Day with a pair of home runs and five RBI, as the Matadors' unheralded star ignited a come-from-behind triumph over the Komets in the Lions Tournament's 3A Division.
Trailing 2-0, Kelly belted a go-ahead, 3-run homer to left in the 3rd. An inning later, Kelly again went to left with a 2-run shot.
Matadors pitcher Thomas Ringer fired a complete game, 4-hitter.
"I gave up the lead early, but they always had my back," Ringer said.
Meanwhile, Cameron Beauzec posted four hits.
"Today was a big bounce-back win for us," Beauzec said. "We all had some form of contribution, some on offense and some defensively.
"Erik had a day to remember at the plate giving us the lead in his second at-bat but also hitting his second homer of the game. The kid had 5 RBIs with 2 nukes, that's special. I'm glad to see that we all had some fun again in the dugout in today's game."
Four Mount Miguel teammates JoJo Castillo, Nico Camacho, Austin Ortiz and Kelly registered two hits each.
"The pitchers were trying to pound fastballs," Ringer said. "Again, like the pitchers yesterday, they were not tossing anything special.
"We just saw the ball well today and started to swing the bats and luckily get back in the game and won it. Tons of credit to Erik Kelly today, the best hitting performance I've seen of anyone this year."
Mount Miguel (6-13), following a 3-10 start, is now 3-3 in April. The only thing they lost was the coin toss to determine the home team.
For Kearny (9-9-1), Devin Fregoso and Diego Mooreman each drove in two runs.
MONTE VISTA 6, EL CAMINO 1: At Oceanside, Monarchs pitcher Andrew Savoy was in mild trouble all afternoon after allowing eight hits, yet only one run scored as Savoy tamed the Wildcats in Lions 5A Division action Tuesday (Apr. 16). Savoy also batted 2-for-4.
Monte Vista improved to 2-0 in the tournament pool play.
"The pitch that was working well for me was my curveball," Savoy said. "I had good control of it and I started a lot of batters off with an outside curveball which allowed me to mix in my fastball and changeup to keep the batters off balance.
Derek Wiley also was huge with several big catches in the outfield. He saved me a couple of times. Cameron Schuler came up big tonight with a hit down the line that gave us a three-run lead and allowed me to pitch more comfortably.
Leading 2-1, Monte Vista finally gained some breathing room with two runs in both the 6th and 7th innings.
"We are playing really good baseball," Monte Vista head coach Craig Neu said. "My young guys are starting to mature.It is really tough to beat us when we play our game.
"Andrew pitched a great ball game. He was the star of the show."
For Monte Vista (13-9), shortstop Ernie Arambula registered three hits with a double, as the ballclub won its third straight.
"Ernie came up big tonight getting on and stealing bases," Savoy said. "He did what he always does. Get on with a hit, steal a base, and score on a hit by one of the big hitters behind him."
Arambula scored a pair of runs.
"(I'm) seeing the ball very well and waiting for my pitch to hit hard and driving the ball," Arambula said. "My team is doing an excellent job they are playing hard and giving it they're all."
Arambula finished with three stolen bases.
"Ernie impacted the game in so many ways," Neu said. "He put constant pressure on El Camino that led to several runs."
El Camino (7-12-1) cut the deficit to 2-1 on an RBI single by third baseman Kevin "Chipper" Korbacher in the 5th.
FOOTHILLS CHRISTIAN 6, PLEASANT GROVE 3: The Knights scored four times in the sixth inning, highlighted by a bases-loaded triple by sophomore Kip Famolaro to break open a 2-1 Foothills lead.
Sophomore Brendan Campbel went 4 2/3 innings, allowing an unearned run while striking out six.
Max Merlan drove in a run for FCHS.
Jalani Brown had two hits and scored a run for the nights.
Cade Cabral scored two runs, reaching on a hit and a walk. He also got the save.
"Brendan Campbell was the star," Foothills Christian head coach Dave Lewis said. "Great defense, great pitching, big hits."
SERRA 14, EL CAPITAN 1: At Lakeside, the Conquistadors tallied seven times in the 2nd inning to mount an 8-0 cushion, skating past the Vaqueros at Hostetler Field in a Lions 6A Division contest.
Q-Dawgs pitcher Desmond Szalapski struck out four batters in tossing a 4-hitter.
The bottom of the Serra batting order — Evan Zimmerman and Justin Cervi — plus leadoff batter Luke Reece, all registered two RBI.
El Capitan (6-14) saw Austin Barker collected two hits, but the Vaqueros dropped their fifth straight contest. Serra is now 12-9 overall.
HERITAGE CHRISTIAN (Northridge) 16, EL CAJON VALLEY 2: At Hoover, the Warriors posted 10 runs in their initial team at-bat to bury the Braves in Lions Tournament play in the 2A Division.
Heritage Christian (7-14) saw eight players drive in one run, while nine players garnered one hit each.
El Cajon Valley (2-14-1), which stroke a pinch-hit, RBI single, has dropped six straight since shutting out Liberty Charter.
CARUTHERS 14, LIBERTY CHARTER 2: The short-handed Lions (10-8-1), once 10-5-1, dropped its third straight lob-sided decision the Blue Raiders (11-9-1), which hail from a small town south of Fresno, easily took Tuesday's (Apr. 16) Lions Tournament contest in the 1A Division. No game details reported.