RedHawks' Elliott is East's King of Ks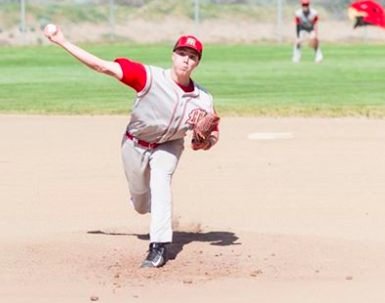 2019 EAST COUNTY PREP BASEBALL
MOUNTAIN EMPIRE 15, OCEAN VIEW CHRISTIAN 1
EastCountySports.com staff report
PINE VALLEY – Mountain Empire senior Trevor Elliott recorded career strikeouts No. 400, No. 402 and No. 406 on Tuesday afternoon, all of which had a milestone significance for the RedHawk right-handed pitching great.
In a combined no-hitter from Elliott and Jacobe Noland, the RedHawks moved to within a half-game of the Citrus League lead while all-but-eliminating the Patriots from pennant consideration in Tuesday's (Apr. 23) one-sided affair in the backcountry, 15-1.
But the day belonged to Elliott, the son of the second-greatest pitcher in the program's long history. The elder Elliott has watched all of his school records fall by the wayside as Trevor surpassed nearly all of them.
After exiting the last game against Chula Vista Learning Community, as scheduled, with 399 career Ks, Elliott added to his strikeout total right away on Tuesday, registering seven of his nine outs via the punchout to gain the victory.
His first strikeout was the first batter of the game, which made Elliott only the third section pitcher to reach 400 career strikeouts.
With his third strikeout of the game, which came with one out in the second inning, Elliott moved to No. 2 all-time on the section career strikeout list.
Elliott now has 99 strikeouts on the season and 406 for his career. He still trails the all-time section leader by 89 strikeouts.
Elliott, who averages 11.6 strikeouts per outing this season, is likely to have at least three, maybe four, regular season appearances, then possibly two or more appearances in the postseason.
Elliott is averaging more than two strikeouts per inning this season. A deep postseason run could boost the four-year varsity player to near the all-time leader.
The East's King of Ks has a 5-1 record this season with a 0.43 ERA.
Ironically, Noland did even better in this game (on a percentage basis), registering five of his six outs on strikes to garner the save in the run-rule shortened contest.
Elliott and Noland also led the offense with slugging doubles, as did Angel Jiminez (2 RBI) and Sam Jones (3 RBI), as every starter for the RedHawks (9-5 overall, 2-1 league) had at least one hit or one RBI.
Ocean View Christian (9-5, 1-3 league) gained an unearned run in the 1st, then Mountain Empire answered with 15 unanswered runs, including seven markers in the 2nd inning to mount a 10-1 cushion.