ROUNDUP: Valley leaders win; Patriots edge Vikings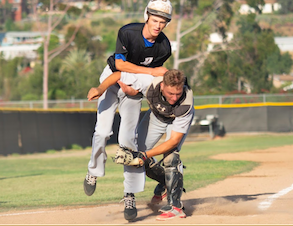 West Hills and Mount Miguel collide at home plate on Wednesday. / MelissaHonickPhotography.com
2019 EAST COUNTY PREP BASEBALL
East County Sports staff report
SPRING VALLEY (4-25-2019) – Unlike many ballclubs which fail to plan ahead, West Hills was all set with available pitching for the championship round of last week's Lions Tournament.
One problem: the Wolf Pack failed to advance out of pool play.
So with arms itching and scratching to go following a week off, West Hills continued its late drive with another victory.
Senior Kai Dennis allowed just four hits and struck out eight batters, carrying a 1-hit shutout into the seventh to pace the Pack past host Mount Miguel, 7-1, in Grossmont Valley League action Tuesday (Apr. 24).
With the triumph, West Hills moved into sole possession of third place after winning for the seventh time in eight starts.
Dennis (4-4) leveled his record with his third straight pitching victory.
"Dennis dominated our hitters with his fastball," Mount Miguel head coach Frank Coit said. "Kudos to him, he challenged our offense and we did not respond to the challenge."
Meanwhile, one of the recipients to the revamped Wolf Pack batting order is junior center fielder Kole Klingerman, who batted 3-for-4 with a pair of RBI.
Since becoming a regular, Klingeman owns an 8-game hitting streak, going 13-for-24 (.542) during his siege.
Meanwhile, Dennis batted 3-for-4, giving him a second 3-hit outing in three starts. He is currently on a 7-for-11 (.636) hot streak.
West Hills broke up the pitchers' duel with a two-out rally in the fourth. Klingerman singled, Gavin Kondyra reached on catcher's interference, then right fielder Peyton Craft doubled both of them home for a 2-0 advantage.
An inning later, Dennis and Andrew Ritayik stroked lead singles, then Devin Bevilacqua walked to load the bases with no one out.
Mount Miguel followed with an out at the plate, but Klingerman followed with an RBI single for a 3-0 lead.
In the 7th, a trio of consecutive RBI doubles by pinch-hitter Josh Gaylord, Tommy McCormick and Klingeman made it 7-0.
The Matadors ruined Dennis' shutout bid on a series of three singles — by Michael Camacho, JoJo Castillo and Trevor Darby — to open the inning, followed by a fielder's choice grounder by Carlos Sanchez allowed Camacho to score.
Nico Camacho went 2-for-3 with a double.
"Rough one," Coit said. "Nico pitched well, but four errors behind him sealed his fate.
West Hills (9-14 overall, 6-3 GVL) also received two hits from Peyton Honick, clinching no less than a .500 record in league play.
Mount Miguel (7-15, 3-6 GVL) saw Camacho pitch three scoreless innings before the Pack scored in the fourth.
VALHALLA 14, MONTE VISTA 1: At eastern Spring Valley, Norsemen pitcher Riley O'Sullivan, the king of the no-decision with six in nine starts, made sure his 10th start would be anything but a blank space in tossing a complete-game six-hitter at the host Monarchs in Grossmont Valley League action Wednesday (Apr. 24).
O'Sullivan (3-1) finished with five strikeouts with Monte Vista's 4th-inning run coming unearned. It was an important stop because it left the Norsemen barely in front with a tight 2-1 lead — until they tallied 11 times in the sixth to turn the ballgame into a romp for the GVL leaders.
Leading 3-1, the big inning started innocently enough. Aaron Lopez (2-for-3,3 runs) leadoff with a single, moving to third on a double by Luke Clark, then Ryan Perot walked to load the bases, with a run scoring on a sacrifice fly by leadoff hitter Kyle Casper.
Then Monte Vista simply couldn't register an out.
After some nickel-and-diming, the Norsemen erupted with a bases-loaded triple by Clark, then a two-run double by JoJo Ingrassia to cap the double-digit frame.
"We were having good at-bats and really in the game," Monte Vista head coach Craig Neu said. "We came unglued in the sixth inning with a slew of walks and errors, (which is) completely uncharacteristic if our team.
"The game was much closer than the final score. We will regroup and put forth a better effort on Friday."
For Valhalla (16-6 overall, 5-1 GVL), Ethan Dunnam and Ingrassia (3 RBI) each finished with three hits.
Monte Vista (14-11, 3-4 GVL) scored after an infield single by Ernie Arambula, who took second on an error. He moved to third on a Jacob Savoy base hit to center field, then home on a sacrifice fly off the bat of Derrick Wiley.
Wiley had an incredible diving catch in the top of the first to save two runs from scoring.
Savoy recorded two of the six hits off O'Sullivan.
Note: In a conversation with CalHiSports, they note that no official state record is kept in regards to Valhalla's streak of nine consecutive extra-inning victories, but they will put it out there for research as a new listing in the state record book, but with an asterisk until they probe deeper into its historical database.
STEELE CANYON 5, EL CAPITAN 1: At western Rancho San Diego, the Cougars have now captured 10 of their last 11 contests against CIFSDS opponents by stopping the visiting Vaqueros.
The victory keeps Steele Canyon a half-game behind Valhalla for first place in the Grossmont Valley League; its make-up game El Cajon Valley is slated for Saturday at 10:30 a.m.
Cougars pitcher Jonathan Kenney finished with seven strikeouts over his six innings, closing with 5.1 frames of shutout ball. Jack Schlotman closed the contest with one solid inning or relief.
The pitching tandem was supported by firepower, but from the bottom of the batting order, as No. 8 batter Jonathan Ramirez batted 2-for-2 with a walk, scoring all three times, including a go-ahead, solo home run in the second.
"It felt great," Ramirez said of his solo clout. "He left a fastball up and in and my approach was just to attack any fastball I see and that's exactly what I did.
"It felt good on the first pitch knowing that that's what I wanted to do was drive the ball. And it always is great to jog around the bases.
Meanwhile, No. 9 hitter Eli Page went 3-for-3, making him 8-for-10 over his last four starts since moving from the upper-third of the batting order.
"We got something special going this year," Page said "This is the best team I've been a part of. With the way we are playing right now, people shouldn't write us off just yet. I feel that we are strong in all aspects of the game right now including team chemistry. I wouldn't wanna play us right now."
Cougar center fielder Richard Pedrin also registered a pair of RBI, as he and Aaron Taylor both registered sacrifice flies for runs.
"I feel that we really have figured out our swings and are comfortable at the plate at this point in the season," Pedrin said. "Our pitchers have been doing great and holding teams to very minimal runs, as well."
Steele Canyon (14-7 overall, 5-1 GVL) failed to receive a vote in the most recent media poll despite leading eighth-ranked Valhalla in the league standings. The two teams have virtually the same power rating entering the week.
"Polls are polls, we're a good team and we're doing good so we just have to keep winning as we have," Ramirez said.
El Capitan (6-16, 3-4 GVL) utilized a two-out rally to score in the first. Austin Bell and Jake Pfitzner whacked consecutive doubles, both on drives to center field. Both players had two hits each, accounting for half of the Vaqs' eight total base hits.
CHRISTIAN 4, LA JOLLA 3: At Mitchell Field, the Patriots avenged a Sweetwater Invitational loss from February 28 by staving a Vikings comeback to capture Wednesday's (Apr. 24) non-league ballgame.
The key play came in the 6th inning when the Vikings scored on a double by senior Blaise Gimber, but the base coach sent another runner to the plate with the potential game-tying run.
However, Christian executed a perfect relay for the out at home after left fielder "Wild" Will Carlock threw a strike to shortstop Peyton Berroth, who then connected with catcher Matt Souza for the inning-ending out but in a violent collision, which resulted in an ejection of the base runner.
Starting pitcher Alex Markowicz struck out six La Jolla batters over his five innings to garner the win.
Markowicz was making his first start since throwing a no-hitter last week against a school from New York at the ESPN Wide World of Sports Complex in Orlando, Fla.
Andrew Young (hold) and Braeden Ross (a 1-2-3 7th for the save) each followed with an inning of relief, as Christian was able to hold on to an early 4-0 lead.
"Coach (Mike Mitchell) told me to snap my best curveball and that's what I did," Markowicz said. "It was a good game and a good confidence booster."
Christian scored in the first on a pair of Vikings errors, then posted three more markers in the third for the 4-run cushion.
Following walks to Mike Pohle and Ross, a double to center field by Berroth made it 2-0. Later, Young singled in a run, with another coming home on a wild pitch.
For the Patriots (9-15 overall), Ross reached base three times on his RBI single and a pair of walks.
La Jolla (12-11) left fielder Devin Brown registered a pair of hits.
MOUNTAIN EMPIRE 26, THE ROCK 3: At Liberty Station, the RedHawks snapped their second-place deadlock with the Warriors with a one-sided triumph, leaving them one full game behind CV-Calvary Christian at the midway point to the Citrus League schedule.
Sam Jones drove in five runs and Angel Jiminez and Jacobe Noland knocked in four each, as eight of the nine Mountain Empire starters registered multi-hit games in a blistering 25-hit attack.  Noland led the way with a 5-for-6 outing, while Nick Rose went 4-for-5.
Noland also tossed a 6-inning complete game, striking out 14 Warriors batters among the 18 outs.
Among the 25 hits by Mountain Empire (10-5 overall, 3-1 league), 21 were singles, Jones slugged a triple, with double from Sean Hodge, Noland and Rose.
The Rock (11-4, 2-2 league) saw senior Sho Tsuruta collect three o the team's five hits.
ESCONDIDO CHARTER 8, FOOTHILLS CHRISTIAN 3: At Hidden Valley Middle School in Escondido, the host White Tigers broke their deadlock for third place in the Pacific League with the Knights by taking Wednesday's (Apr. 24) opening ballgame in a home-and-home series.
Escondido Charter built a 5-0 lead, but when Foothills Christian answered with three runs in the 6th inning, the White Tigers did the same to re-claim a 5-run cushion.
The Knights (7-17 overall, 1-3 league) received run-scoring singles by Cade Cabral, Corbin Harris and Max Merlan.
Escondido Charter (13-8-2, 2-2 league) saw junior Theo Cogmon and freshman Jacob Ronalds each collect two RBI.