ROUNDUP: Pilots fly past Christian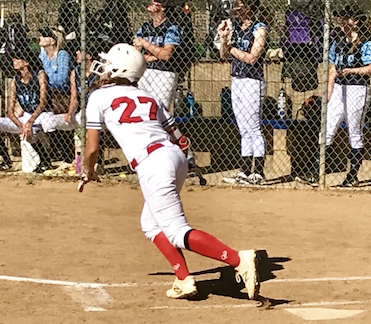 Audrey Shebloski after connecting on Thursday. / photo by Dave Dickens
2019 EAST COUNTY PREP SOFTBALL
East County Sports staff report
UNIVERSITY CITY (4-26-2019) – It's a situation faced annually by the University of Hawai'i and in pro hockey by the Winnipeg Jets: a long and grueling travel schedule.
And such a nightmare scenario may finally be catching up to the Patrick Henry High softball team.
Forced to play on the road all season, the Patriots are showing signs of the wear and tear, dropping their third game in four contests in Thursday's (Apr. 25) 5-3 loss to University City in Western League play. This wasn't just a loss, but a bad one to a Centurions side which ended a 6-game losing streak with the upset,
The Patriots, once the top team in the CIF San Diego Section's Division II power rankings, now has fallen to third place behind Brawley and El Capitan.
And with upcoming games against Cathedral Catholic and Scripps Ranch among their final three on the schedule, they need a sweep to win the league.
Four runs in the 4th inning by University City was enough to offset a 2-run homer by Olivia Giganti in the 6th.
However, Cents pitcher Ashley Legler, who was rocked in the teams' first meeting, survived a lead walk in the 7th by retiring the next three batters for the victory.
The only other Patrick Henry run came three batters into the contest.
Kaiah Altmeyer opened with a lead double, lining the ball to center field, Then with one out, Lauren Nett drilled an RBI double to right field.
UC's big inning was aided by three errors and run-scoring singles by both Legler and Jayla Briggs.
Giganti's homer followed a one-out walk to Dez Patman. The homer was the ninth of the season for the freshman, snapping a 3-way tie for the East County lead with Katalina Contreras of Chambers of Granite Hills.
Patrick Henry (14-5 overall, 3-2 league) saw Nett and Giganti gain two hits each among the club total of six. The other hits were by Altmeyer and Sydney Newton, a sophomore who gained a start in the outfield.
University City (8-12, 1-4 league) earned its second straight series split with the Patriots after not beating them all century.
OUR LADY OF PEACE 6, CHRISTIAN 2: At Dawson Field, the visiting Pilots broke open a 1-all contest with two runs in the 6th and three more in the 7th to pull away and claim Thursday's (Apr. 25) Eastern League contest.
OLP freshman pitcher Cassidy Mulgrew tossed a 4-hitter, but her team never gained the lead until the 6th inning, when a squeeze bunt by sophomore Isabella Riggs brought home Natalia Frias (leadoff single).
It was a tough loss for Christian pitcher Mallory Steele, who was tagged for a pair of unearned runs in the seventh to make a close game look a bit one-sided.
"I feel like I gave it my all for my team," said Steele, who will be attending Cornerstone University in Grand Rapids, Mich., in the fall. "All pitches were moving around. We need to hit and make the simple plays."
Steele struck out four Pilots against just one walk.
"I think Mallory has been a rock star considering how tough of a season has been," Christian High senior captain Audrey Shebloski said. "She has been blessed to win two CIF Championships while at Christian so I think she is more appreciative of those seasons. I know I am."
Down 1-0 early, the Patriots got even on a run-scoring single by Kate Manes in the 4th, bring home Devyn Krystek.
Two innings later, Christian moved to within 3-2  when Krystek and Manes slapped consecutive singles to open the frame, with a pair of wild pitches giving Krystek her second run scored.
For Christian (4-16 overall, 0-4 league), Manes recorded half of the team's four base hits. Steele also singled.
"Mallory pitched great but a few errors lead to a big inning for the other team and the hole we dig ourselves is really tough to get out of," Shebloski said. "OLP's pitcher threw a great game and deserves the credit for the win. I still am hopeful that as tough as this rebuilding season has been, the growing pains will help us going forward."
Our Lady of Peace (5-14, 2-3 league) received three hits from leadoff batter Solana Martinez.
FOOTHILLS CHRISTIAN 5, GUAJOME PARK 1: At Santee, Knights freshman pitcher Kaylee Guler struck out seven batters to fillet the Frogs, tossing a 3-hitter in a Pacific League triumph Thursday (Apr. 25).
It was the final Foothills Christian tune-up prior to Tuesday's first-place showdown with co-leading Orange Glen; both sides are 6-1.
s scored once in all three (possible) odd-numbered innings. But when Guajome Park ended the shutout bid by Guler, her teammates responded with a 2-run rally in the sixth to clinch the victory.
The offense again centered around Carissa Wolford, who batted 3-for-3 with an RBI and two runs scored. She needed a home run to complete the cycle, but as the home team, she never got a fourth at-bat.
Wolford had a single in the 1st, scoring on a two-out double by Carly Robbins (2-for-3), In the 3rd, Wolford slammed a lead triple, scoring when Holli Johnson followed with a base hit. And in the 5th, Genevieve Meyers reached on an error, scoring on Wolford's RBI double to left.
For Foothills Christian (11-3 overall, 6-1 league), Robbins batted 2-for-3.
Guajome Park (2-11, 0-6 league) remains tied for last place with Escondido Adventist.