ROUNDUP: Pitchers dominate on Wednesday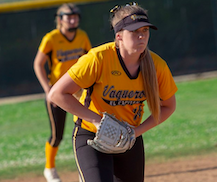 Kylie Mead delivers on Wednesday. / elc softball pics
2019 EAST COUNTY PREP SOFTBALL
East County Sports staff report
EL CAJON(5-2-2019) – Grossmont High pitcher Samaria Roope has caught her second wind. In fact, she was a big "hit" in more ways than one.

Following a strong start to the season, even head coach Jerry Lerud admitted the senior might have been over-worked at one point.

Now rested and ready for a playoff run, Roope yielded just one unearned run through five innings while teammates posted seven runs for a 7-1 lead to breeze past visiting Santana, 8-4, in Grossmont Hills League action Wednesday (May 1).

Even when the Sultans touched her for a pair of runs in the sixth, Roope countered with her bat, slugging a leadoff homer in the home-half of the inning to re-establish control of the ballgame.

The home run was the only time Santana pitched to Roope. On her first three trips to the plate, the senior was hit by a pitch. The latter two came with the bases loaded for free runs, giving her three RBI on the afternoon.

Although the CIF San Diego Section record book does not contain a listing for most HBP, the CalHiSports record book does. The state record is listed at four, but with no San Diego entrants, so it's safe to assume Roope tied the record covering San Diego and Imperial counties.
Getting plunked led to three Grossmont runs in the third, then four more markers in the fourth.
Roope's first HBP RBI tied the score at 1-all, then Grossmont took the lead for keeps on a 2-run base hit by Rainee "Raindog" Foster.
An inning later, three straight singles loaded the bases, with Kati Contreras receiving a free RBI on a walk to force in a run, then Roope was hit again for a 5-1 advantage.

Jordan Brown followed with an RBI single, then a ground ball by Foster pushed the lead to a 7-1 margin.

Grossmont (16-11 overall, 4-3 GHL) saw Natalie Emery and Hallie Sweiss collect two hits each.

For Santana (10-9, 5-2 GHL), center fielder MacKenzie Sims recorded a pair of RBI singles in the 1st and 7th.

HELIX 17, MOUNT MIGUEL 1 (5 inn.): At La Mesa, the Highlanders spotted the Matadors a run in the top of the first, thanks to a couple of defensive miscues, but it wasn't enough to sway the outcome as the Helix bats romped en route to a 17-1 win Wednesday afternoon.
The Highlanders totaled 15 hits, with major contributions from Camryn Jonilonis (2-for-4, HR, 2 R, RBI), Jolene Giles (3-for-3, 3B, 4 R, 3 RBI), Avery Perez (2-for-3, 2B, 4 R, 2 RBI), Zoe Kuhlken (3-for-3, 2B, RBI), and Sophia Ramuno (2-for-3, 2B, 3 RBI).
Defensively, the Highlanders pitching shined as Kuhlken (2 IP, 1 K, 0 ER), Ramuno (2 IP, 5 K, 0 R), and Kasey Castro (1 IP, 2 K, 0 ER) combined to pitch a no-hitter – with the only Matador baserunners reaching via a walk, fielder's choice, and an error.
The Highlanders return to the road on Friday with another league matchup, this time against Monte Vista.
Meanwhile, the Matadors will look to bounce back as they play host to the El Cajon Valley Braves.
– Tyler Gribble contributed to this report
GRANITE HILLS 13, VALHALLA 0: At El Cajon, Eagles pitcher Staci Chambers registered 11 of her 15 outs on strikes in firing a 5-inning no-hitter against the Norsemen. It was Chamber's second no-no of the season, as she struck out the side three times.

However, Chambers missed her attempt at a perfect game by one batter on a two-out error in the 5th inning.
Meanwhile, a 14-hit attack backed Chambers, including a pair of doubles by Amaya Esparza. Also garnering 2-base hits where Brooke Bertussi, Sydney Huse and Haley Johnson
The RBI leader was Sydney Huse, who nearly doubled her season total by driving in four runs to raise her court to nine.

For Granite Hills, No. 9  hitter Paige Baird went 2-for-3 with a pair of RBI.

Granite Hills (18-8 overall, 7-0 GHL) can clinch at least a share of the league crown with a win in any of the school's final three games.

The lone baserunner for Valhalla (6-18, 1-6 GHL) was second baseman Yanely Gonzalez.
STEELE CANYON 8, WEST HILLS 2: At Rancho San Diego, Cougars pitcher Grace Richter carried a shutout into the 6th inning in downing the visiting Wolf Pack in GHL action Wednesday (May 1).

Richter hit the scale with six strikeouts against just one walk.

Meanwhile, the muscle of the Cougars produced two more home runs, as J.J. Venzor and Bianca Morales each hit solo shots in the fifth to mount a 4-0 cushion.

All three West Hills hits came in the sixth, when they scored twice, as Sabrina Brown doubled to left field to bring home Callia Rooks (hit by pitch) and Shannon Kim (single).

However, the Cougars answered with four runs to clinch the triumph. The rally was capped by a 2-run, pinch-hit single by Marley Rimoldi.

Steele Canyon (11-13 overall, 3-4 GHL) received three hits from both Bianca Morales and Venzor.

For West Hills (6-14, 1-6 GHL), Star Gaylord registered the ballclub's only other hit.

MONTE VISTA 16, MORSE 0: At Skyline, Monarchs pitcher Abigail Johnston dished-out a 1-hit shutout to capture Wednesday's (May 1) non-league contest.

Ionna Upham belted a solo homer to support Johnston, while Narissa Segrist drove in three runs.

For Monte Vista (13-8 overall), three other Monarchs — Meeah Matanane, Dessire Corona and Vanessa Varela — each added two RBI.

Morse (10-12) got a single with one out in the fourth.

EL CAPITAN 21, EL CAJON VALLEY 0: At Lakeside, a trio of Vaqueros pitchers — Alexa Williams, Kylie Mead and Brooke Horn — combined to throw a no-hitter at the visiting Braves in Wednesday's (May 1) GVL game.
Alexa Williams capped a 12-run rally in the 2nd inning with a grand slam, giving the Vaqueros a 16-0 lead. She finished with five RBI, while leadoff batter Madison Rosales knocked in three runs.

El Capitan (18-5 overall, 6-0 GVL) can clinch the league title on Senior Day when they host Monte Vista on Wed., May 8.

ECVHS (0-14, 0-6 GVL)  saw Damarise Martinez record a stolen base.