VALLEY: Norsemen win pennant on walk-off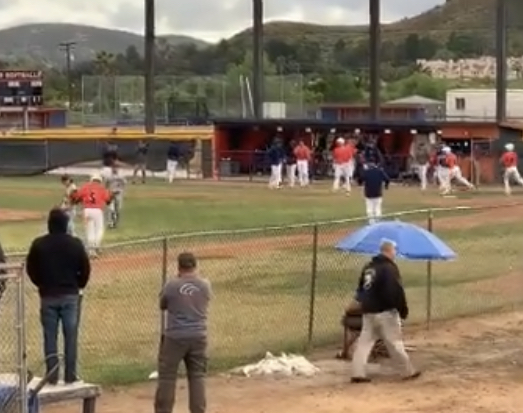 Valhalla celebrates after the walk-off base hit on Monday.
2019 EAST COUNTY PREP BASEBALL
East County Sports staff report

RANCHO SAN DIEGO (5-7-2019) –
Valhalla High junior Ingrassia
couldn't win Monday's (May 6)
Grossmont Valley League showdown as a
pitcher, so he did so as a hitter.

Following six innings of shutout ball
in a pitcher's duel against senior
Jack Schlotman of Steele Canyon,
Ingrassia delivered a walk-off, RBI
double in the 8th inning, lifting the
Norsemen to the league pennant with a
1-0 verdict against the Cougars.

Valhalla (20-6 overall, 10-1 GVL)
holds a two-game lead over Steele
Canyon (17-9, 8-3 GVL) heading into
Wednesday's matchup between the
ballclubs at the Cougars' diamond.

Ironically, with Ingrassia and
Schlotman, who also pitched six
shutout innings on three hits, both
received a no-decision. Instead, Riley
O'Sullivan, the No. 1 starter for the
Norsemen, pushed his record to 4-1
with two frames of shutout relief. He
leads the Grossmont Conference with an
amazing seven no-decisions.

Ingrassia also struck out 12 batters
for his fourth double-digit Ks figure
this season. He now has 104 for the
season, well ahead of Mount Miguel's
Nico Camacho (60) and Santana's Ben
Hart (57) for the conference lead.
O'Sullivan has 54.

The county leader is Trevor Elliott of
Mountain Empire with 133 strikeouts.

The winning run was created when No.
9 hitter Ryan Perot belted a one-out
double to right field. Kyle Casper was
intentionally walked to set-up the
double play, but Ingrassia lined a
double to right field to plate Perot.

Both squads stranded runners at third
base in the first. In the fourth, the
Cougars tried to steal third base, but
Norsemen catcher Ethan Dunnam fired
the ball to third baseman Luke Clark.
MONTE VISTA 3, EL CAPITAN 2:  At
eastern Spring Valley, immediately
after the visiting Vaqueros doubled
their lead to 2-0, the Monarchs
tallied three times in the home-half
of the 6th inning to secure a
thrilling triumph in Monday's (May 6)
Grossmont Valley League contest on
Senior Day at Monte Vista.

Jacob Savoy, one of East County's
leaders in stolen bases, registered his
9th steal of the season by taking home
for the tie0breaking run. The play
came moments after El Capitan turned a
double play.
"Coach Neu made a great decision with
two outs and a runner on first and me
on third to call an early steal," Savoy said.
"The pitcher threw it to second and I
stole home when he did."

In the seventh, a Vaqueros' lead
double was erased on a fielder's
choice at third base. The next batter
singled, but Monte Vista pitcher
Carlos Esparza coaxed a ground ball,
as third baseman Anthony Canedo
started a game-ending double play.
"It feels amazing especially on an
important night to some of my
teammates with it being Senior Night,"
Esparza said. "The pitch best working
for me was my outside slider that my
catcher Jacob Savoy was calling and
my defense helping me to make
the out when I needed it the most."

Canedo pitched the final two innings
to garner the victory. Starting
pitcher Andrew Savoy yielded just four
hits, but left after five innings
trailing 1-0.

Monte Vista's game-winning rally saw
Abraham Sanchez record a lead single,
Canedo was hit by a pitch. then
Derrick Wiley reached on an error to
load the bases.

Savoy ended El Cap's shutout bid with
a single to the left side, scoring a
pair to knot the ballgame at2-all.

Ramon Varela followed with a fly ball
in an attempt to grab the lead on a
sacrifice fly, but Vaqueros left
fielder Austin Barker fired a strike
to catcher Jake Bergherm for a double
play.

The key was Savoy taking third base on
the throw. And when pinch-hitter Aaron
Zuniga was hit by a pitch, the
Vaqueros were looking toward first
base for a possible double-steal — a
hot staple in Grossmont Conference
baseball over recent weeks.

Instead, Savoy simply took off for the
plate, beating the throw to give Monte
Vista (16-13 overall, 5-6 GVL) the
lead.
"I got a chance to play all my seniors,"
Monte Vista head coach Craig Neu said.
"A fun game to be a part of. Carlos got
the win in relief, which is really cool."

El Capitan (7-19, 4-7 GVL) registered
single runs in the 4th and 6th
innings.

Jake Pfitzner singled home Barker to
snap the pitcher's duel. Barker also
scored the second run on a Conner
Crist base hit.
MOUNT MIGUEL 9, EL CAJON VALLEY 0 —
At western Spring Valley, Matadors
starting pitcher Nico Camacho struck
out five batters over his three
innings, then was followed by relief
pitchers Cameron Beauzec, Thomas
Ringer and Michael Camacho in firing a
combined no-hitter at the visiting
Braves.

Beauzec came through with seven
strikeouts in his two full innings.
Seven? Two batters had a chance to
reach base on dropped third strikes,
with one batter reaching on a passed
ball. Beauzec also intentionally
struck out the other five Braves.

The only other ECVHS baserunner was
hit by a pitch in the 1st inning.
"Pitching by committee this week
(under 50 pitches) trying to get everyone
some innings in preparation for playoffs,"
Mount Miguel head coach Frank Coit said.
"Pitchers did a good job, threw a lot of strikes,
attacked the zone all day, just what we ask for."

Mount Miguel expanded an early 3-0
lead by scoring six times in the
fifth, all crossing the plate after
two were out.

Ricardo Partida doubled in a run to
make it 4-0, then Beauzec  who
finished with a pair of doubles to go
3-for-5, had an RBI single to drive in
his third run of the ballgame.

For Mount Miguel (8-17 overall, 4-7
GVL), cleanup hitter Trevor Darby
added two hits, moving the Matadors
into a tie for fifth place with El
Capitan.
"We are trying to get a little mojo back after a rough four-game stretch leading up to this week," Coit said.

ECVHS (2-19-1, 0-11 GVL) saw Greg
Sanchez reach by getting plunked,
while Salvador Morales reached on the
dropped third strike in the fifth.
Meanwhile, pitcher Robert Verdugo
struck out a season-high 10 batters
over 4.1 innings.
"Verdugo, their lefty, threw away, away, away," Coit said. "We were slow to adjust.
SD-HIGH TECH 15, LIBERTY CHARTER 8: At
Liberty Station, the Knights slim
chance at the Summit League crown were
eliminated Monday (May 6) by the host
Storm. No game information was
reported.