Sultans, Cougars make playoff move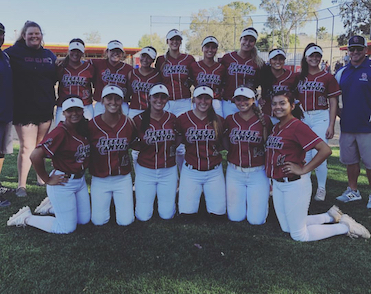 Steele Canyon following its victory on Tuesday over Mt. Carmel
2019 EAST COUNTY PREP SOFTBALL
SAN DIEGO CIF PLAYOFFS
East County Sports staff report

SANTEE (5-15-2019) – For Santana
High senior pitcher Madison Mendez,
this was not the way to traditionally
toss a shutout.

Mendez, an all-East County performer,
allowed nine hits and walked a pair of
batters, yet stranded 10 baserunners
while the Sultans defense turned a
double play, gaining a 5-0 verdict over
visiting Olympian in Wednesday's (May
14) CIF Division I play-in contest.

Mendez stranded three runners in the
2nd and 7th innings, tossing her fourth
(and second consecutive) shutout of the
season. She struck out five Eagles
batters.

Meanwhile, the double play came in the
second, immediately after the Sultans
secured a quick 2-0 lead.

Following an Olympian single, third
baseman Lakaila Aquiningoc-David
fielded a grounder to start a
traditional around-the-horn twin-
killing. Aquiningoc-David fired the
ball to second baseman Ashley Madrigal,
who went to first baseman Shelby
Holmquist.

Holmquist, a senior, also singled in
the first two runs. Following a leadoff
walk to Brianna Jerig, Mendez doubled
to deep center field to put two runners
in scoring position.

Mendez and Nicole Penton March also
registered RBI singles, as the Sultans
tallied their five runs on just six
hits. Mendez and Holmquist struck for
two hits each.

Santana (14-10 overall), the No. 8
seed, moves on to Wednesday's first
round at top-seeded Scripps Ranch.

Olympian (9-19) received two hits each
from sophomore Bella Hurtado, and
freshman Itzell De Los Rios and Katie
Steinmetz.

STEELE CANYON 8, MT. CARMEL 3: At
Rancho Peñasquitos, Cougars first
baseman Audrey Bagge tied the all-time
school record for home runs in a season
with her 10th, while Jessica "J.J."
Venzor also homered to power the Women
of Steele past the Sundevils in CIF
Division I action on Wednesday (May
14).
For Mt. Carmel, they were eliminated by
a Grossmont Conference opponent for the
third straight season, but this time at
home.

Even at 3-all, Steele Canyon tallied
twice in the 5th inning, then Bagge
extended a streak of five unanswered
runs with a 3-run shot in the sixth.
Her clout to left field also brought
home Marley Rimoldi (lead single; sac
bunt to second by Grace Richter) and
Venzor (walk).
Venzor's homer capped a two-out rally
in the second. Already leading 1-0,
Danielle Directo walked, then Venzor
took the ball out to center field for
her 8th of the season.

The school mark of 10 was originally
set by Molly Hutchison, the co-East County Player of the Year and all-CIF selection, in 2013.
Hutchison went to North Carolina State,
where she was an all-Atlantic Coast
Conference player as a junior in 2016,
where she also was a USA Softball's National
Collegiate Player of the Week.

Richter gained the pitching win, despite one poor inning by the Cougars, which allowed a pair of unearned runs to score to knot the contest in the fourth.

However, Steele Canyon immediately responded to re-grab the advantage with a pair of runs in the fifth.

The Veznor-Bagge tandem again teamed for the lead on a leadoff walk and an RBI double. Then with two out, Amanda Whipple collected a clutch RBI single on a hard ground ball up the middle.

For the contest, Bagge drove in four runs on 3-for-4 hitting, Venzor tied a school playoff record by scoring four times after batting 2-for-2 with two walks and a pair of RBI for 9th-seeded Steele Canyon (14-15).

On Wednesday, the Cougars travel to meet second-seeded San Marcos.

Mt. Carmel (16-12), the No. 8 seed, saw junior shortstop Ally Troche, the team captain, collect half of the team's six hits. She fell a home run short of hitting for the cycle.

The Sundevils were previously ousted from the playoffs by Santana (2018) and Grossmont (2017).