ROUNDUP: Monarchs want 30-year repeat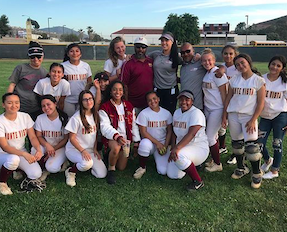 Monte Vista following its playoff victory on Tuesday. / @MonarchSports1
2019 EAST COUNTY PREP SOFTBALL
East County Sports staff report
SPRING VALLEY (5-15-2019) – Thirty
years ago, Monte Vista High captured its
last CIF softball championship — a
dramatic 1-0 victory in 10 innings over
arch-rival Mount Miguel in 1989 —
under legendary players such as East
County player of the year Suzy
Lawrence, all-CIF sisters
Kristy and Kelly Howard and power-
hitter Danelle Silva.
Since then, the times have changed as
to the school's playoff fortunes,
except in one key area: no matter how
well the Monarchs do (or don't do) in
the regular season, they always win
their CIF opener.
With just two mild exceptions, Monte
Vista plays with skill, confidence, and
nothing-to-lose approach. And they
continued the trend by racing to a fast
5-0 lead to eliminate 10th-seeded
Francis Parker in Tuesday's (May 14)
CIF Division IV play-in contest.
The 10th-seeded Monarchs advance to
Wednesday's first ballgame in the main
draw by traveling to No. 2 seed Canyon
Crest.
By the time the fans settled onto the
bleachers, Monte Vista was already
leading 3-0 in the first.
Ionna Upham opened with a lead single,
taking second base on an error, then
taking two bases to score on a line
single to center field by Meeah
Matanane, who happens to also play in
center.
Two batters later, cleanup hitting
shortstop Dessire Corona fouled off
three pitches before taking a 3-2 pitch
deep over the center field fence for a
2-run homer.
And when the Monarchs posted two
additionals runs in the second —
another RBI single by Matanane, then
Upham stole home — it was another
first-game postseason exit by a Monte
Vista opponent.
Upham, the catcher, scored three times,
running her East County and Division IV
leading run total to 45 with at least
two more contests to come. Should Monte
Vista keep winning, Upham could
approach the Grossmont Conference
record of 53 set by Santana's Amanda
Carpenter in 2008.
Francis Parker answered with three runs
in the third, but Matanane again singled
home Upham for an important insurance
run in the fifth. Except for the
Lancers' one inning, Monarchs pitcher
Abigail Johnston pitches six shutout
frames in her complete-game. She struck
out four without yielding a walk.
Monte Vista (16-10 overall) saw Upham
bat 3-for-4, while Matanane went 2-
for-3 on the afternoon.
For Francis Parker (6-12-1), junior
pitcher Katie Austin settled in after
the first two innings, striking out 10
batters. In addition, cleanup batter
Danya Perket, the Lancers' first
baseman, slugged a double.
DIVISION III
MIRA MESA 11, HELIX 10: At Mira Mesa,
it took more than a decade, yet the
host Marauders finally gained revenge
on the Highlanders.
In 2008, Helix slapped around Mira Mesa
in an 11-1 first-round pasting, as the
Scotties would advance to the Division
I title game before falling to Granite
Hills.
Not this season.
Mira Mesa's Michelle Widelski singled
for the walk-off game-winner, part of a
2-run rally in the bottom of the 7th
inning to stun the Scotties and
eliminate them in the CIF Division III
play-in contest.
Helix was one out away from the win
after retiring the first two batters.
However, a single by Alyssa Lynch,
Angelique Schermerhorn and Kayla
Stanley, then an error tied the
ballgame before Widelski capped the
see-saw comeback.
Mira Mesa led 5-1 after one inning, but
forged ahead 9-6 after tallying six
times in the third.
For Helix, designated player Amber Young
and first baseman Joleen Giles each
knocked in three runs, while third
baseman Nicole Hernandez had two RBI on
3-for-5 hitting.
In addition, junior Camryn Jonilonis and
freshman Danika Munoz each recorded a
pair of base hits. In her 2-game varsity,
career, Munoz is now 4-for-6 (.667).
Helix, the No. 9 seed, posted a 17-12
overall record under first-year head
coach Darren Emery.
No. 8 seed Mira Mesa (13-16) advances
to meet top-seed Escondido.
DIVISION IV
PALO VERDE VALLEY 16,
FOOTHILLS CHRISTIAN 1: At Town Center
Community Park in Santee, the visiting
Yellowjackets (9-17), the last-place
club in the Imperial Valley League,
inflicted heavy damage to the Knights'
pitching staff in a one-sided Division
IV play-in game victory.
Everything about this contest, which was
cut-off after five innings, seemed
strange.
The Knights were ranked second in the
division according to the power
ratings, yet they were placed as the
No. 8 seed and barely received a home
game — which beats a 4-hour drive to
the middle of the Mojave Desert where
Interstate 40 crosses the California-
Arizona state line.
PVV, leading 6-0, tallied 10 times in
the 4th inning before the Knights got
on the scoreboard in the home-half of
the frame with an unearned run on a
single by right fielder Brianna
Phommavong to bring home left fielder
Zoe Meldrum.
Foothills Christian (13-6), which also
received base hits from Genevieve
Meyers, Carly Robbins and Kaylee Guler,
posted the third-best winning
percentage in school history.
For PVV, center fielder Hadley Phipps
belted a 2-run homer to start the 10-
run rally. Phipps batted 3-for-4 with a
triple, four RBI and scored three times.
Meanwhile, catcher Emilia Noriega went
2-for-3 with two RBI and a pair of run
scored.
Division V
BAYFRONT CHARTER 13, BORREGO SPRINGS 6:
At Mueller Charter High in Chula Vista,
the Rams stayed in the CIF playoffs was
brief after the host Sharks rode a wave
off offense to claim an 8-1 lead in
Tuesday's (May 14) CIFSDS play-in game.
Coached by Mary Grabowski, the former
East County Player of the Year out of
Christian High in 2011, the 6th-seeded
Sharks received five RBI by first
baseman Sam Ullman and three more from
cleanup hitter Alina Vargas as part,
the catcher, of a 17-hit attack.
For the Rams, first baseman Delaney
Barclay registered a pair of RBI on two
hits. She and catcher Vanessa Rodarte
also scored twice.
Winning pitcher Sara Lim allowed just
one run in her five innings, striking
out seven Rams batters without issuing
a walk. Limm also batted 3-for-3 and
walked twice, with two RBI and scoring
twice.
Bayfront Charter (9-12 overall), which
saw Ullman bat 4-for-4, advances into
the main draw of the playoff bracket,
next meeting third-seeded Maranatha
Christian on Wednesday.
Borrego Springs (9-7), the 11th seed,
still clinched its fourth winning
record over the past five seasons, the
Rams' best stretch since 2008.
Elsewhere, Julian (9-8), the third-place finisher in the Manzanita League, fell to Kearny, 14-5, in a Division V play-in affair held in Linda Vista.